Which Age Groups Like Crypto the Most?
It's no secret that Bitcoin and other cryptocurrencies have found their way into many households worldwide.
What might be surprising is knowing who the actual holders of digital assets are. Off the top of your head, you would probably say, that's easy: crypto is attractive to the younger generations. They are the owners, traders, and investors in Bitcoin.
But that isn't the whole truth. In the same way that crypto doesn't know international borders, it also doesn't discriminate based on the age of its users. Digital coins appeal to everyone, but in different ways.
People in all age groups own cryptocurrencies, and many plan to increase their stashes. In addition, crypto is used as a gift for birthdays and holidays. Surveys have shown that many individuals wouldn't mind being paid in Bitcoin or other coins.
Let's take a look at how the generational gap affects crypto holdings based on recent studies and surveys.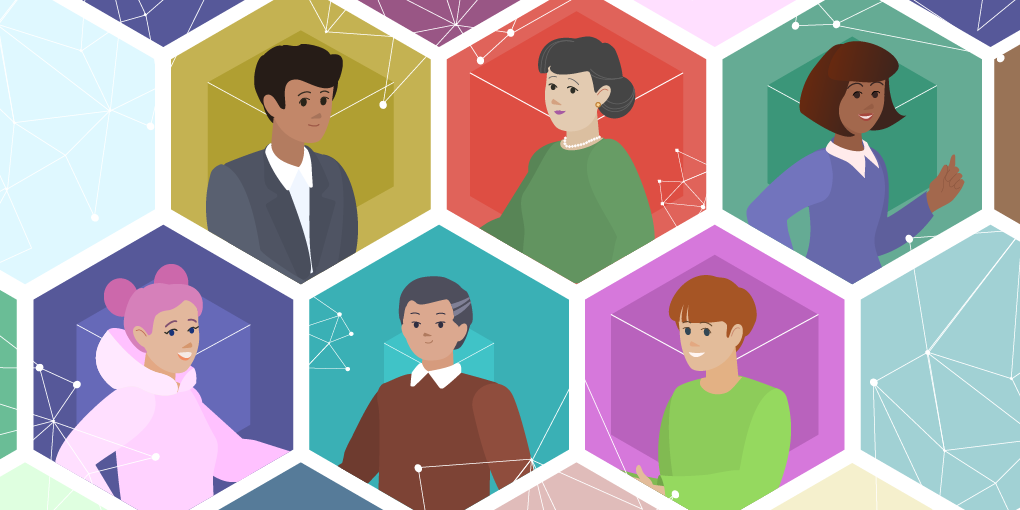 Which Age Group Is Most Interested in Crypto?
Stilt.com carried out a study based on the activities of more than 1.500 users who performed over 1 million crypto transactions between February 2020 and February 2021.
Age groups in 2022 can be defined in the following way:
Generation Z (Gen Z) are people aged 10-25.
Millennials are aged 26-41.
Generation X (Gen X) are men and women who are 42-57 years old.
Boomers are those aged 58 and above.
The Stilt study has shown that over 76% of all buyers are Millennials. Gen Z takes 2nd place with 17%. Generation X takes up almost 5% of the user share, while there are only 1% of Boomers. The data clearly shows that 94% of those who have bought crypto are 18-41, and only 6% are buyers aged 42 and older. The conclusion is that the younger you are, the more likely you will purchase digital coins.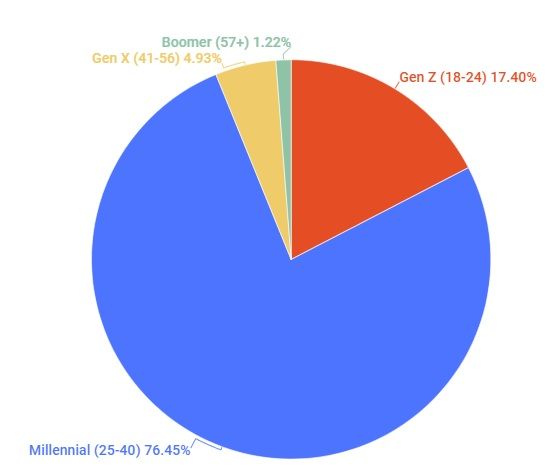 The second part of the study focused on how much money was invested in cryptocurrencies by the different generations. This is where the tables turn.
Generation X spent $9.611 on average during the year. That's more than what Millennials and Generation Z invested. Millennials spent an average of $8.596 in a year, while the Gen Z clan spent only $6.120.
Although the two youngest age groups greatly outnumber Gen X, investors aged 42-57 spend the most money on cryptocurrencies. The reasons for this may vary. They are more experienced and know how to recognize a good investment. But they also have more savings and capital to spend compared to young people.
Getting Paid in Crypto: Yes, or No?
A recent survey carried out by the financial institution the deVere Group has revealed some interesting data. It has shown that many people prefer to be paid in Bitcoin and crypto instead of traditional fiat currencies.
Among the respondents, 36% of millennials revealed that they would be pleased if they were paid 50% in crypto. 51% of subjects who belong to the Gen Z age group said the same thing.
These revelations aren't surprising, considering that young people grew up around the idea of decentralized currencies such as Bitcoin. A similar study supervised by bankrate.com showed that 51% of millennial Americans are either somewhat or very comfortable with investing in cryptocurrencies. Those are just some of the reasons why younger generations prefer to use a trustless and transparent ledger instead of submitting to the requirements and demands of the traditional banking system.
But 2021 was a remarkable year for many reasons. Bitcoin didn't just break its ATH. It also became more popular among boomers. BTC Markets, an Australian cryptocurrency exchange, have recently conducted research showing that more and more boomers are using Bitcoin.
Investors aged 60 and above have increased by 15% compared to previous years. That means that more than 16.000 boomers are now using the exchange. This group also recorded the highest average initial deposit amounts among all traders.
Cryptocurrencies As Gifts and Investments
CNBC performed research among millionaires who have invested $1 million or more in various markets. The study included all generations of investors. The results show that millennials keep significant portions of their wealth in cryptocurrency assets such as Bitcoin, Ethereum, and others.
83% of the surveyed millennial millionaires own digital currencies. A third of the respondents keep at least 75% of their wealth in crypto. In comparison, 53% of millennial millionaires have 50% or more in digital assets. The research showed that the investments of older generations differ considerably. Only around 25% of the surveyed Gen X millionaires have invested in cryptocurrencies. Boomers have even less faith in crypto because only 4% of them keep some in their portfolios.
For some of these millennial investors, this is just the beginning. Almost half of the research participants have declared that they plan to increase their bags during 2022. In addition, 39% have said they are satisfied with their holdings and plan to keep it as it's for the next 12 months. Lastly, only 6% are willing to cash out on some of their cryptos and reduce their investments.
CNBC's research has shown there is a major generational gap between younger and older investors in terms of wealth management. Millionaires from the older age groups still don't trust cryptocurrencies, their volatility, and the legal uncertainties. So, they prefer not to have them in their portfolios. However, those who grew up alongside the crypto movement know what returns they can generate.
Would You Gift Bitcoin and Crypto to Someone?
There are many ways to show that you care for someone. Receiving unique gifts is always appreciated. The younger generations who are into crypto used the opportunity to get their family and friends to jump on to the cryptocurrency bandwagon.
Cynthia is 23 and belongs to the Generation Z group. She gifted her mother and sister NFTs and virtual land in the metaverse for Christmas and New Year's Eve. Such gifts can cost several thousand dollars, but she considers it an investment in a different asset class. Her dad will be happy with a Ledger hardware wallet and a blockchain coding seminar.
Allison lives in Texas and is 24 years old. As a member of Gen Z, she is also drawn to cryptocurrencies. Last year, she decided to give her family and friends crypto instead of buying the gifts she usually spends money on. She sees great value in certain digital coins and wants to share them with those closest to her. Her gift bags were a mixture of Bitcoin, Ethereum, and Solana.
Cooper is a millennial crypto investor situated in LA. His plan was to spend around $10.000 on different NFT gifts and Ethereum Name Service (ENS) domains. He likes to purchase old digital artworks from well-known artists because he feels they are original and memorable gifts.
Who Are The World's Most Respected Crypto Influencers?
We have seen which generations own the most cryptocurrencies, how much they invest, and what they think the future holds. It's now time to see who they listen to and turn to for advice regarding crypto in general.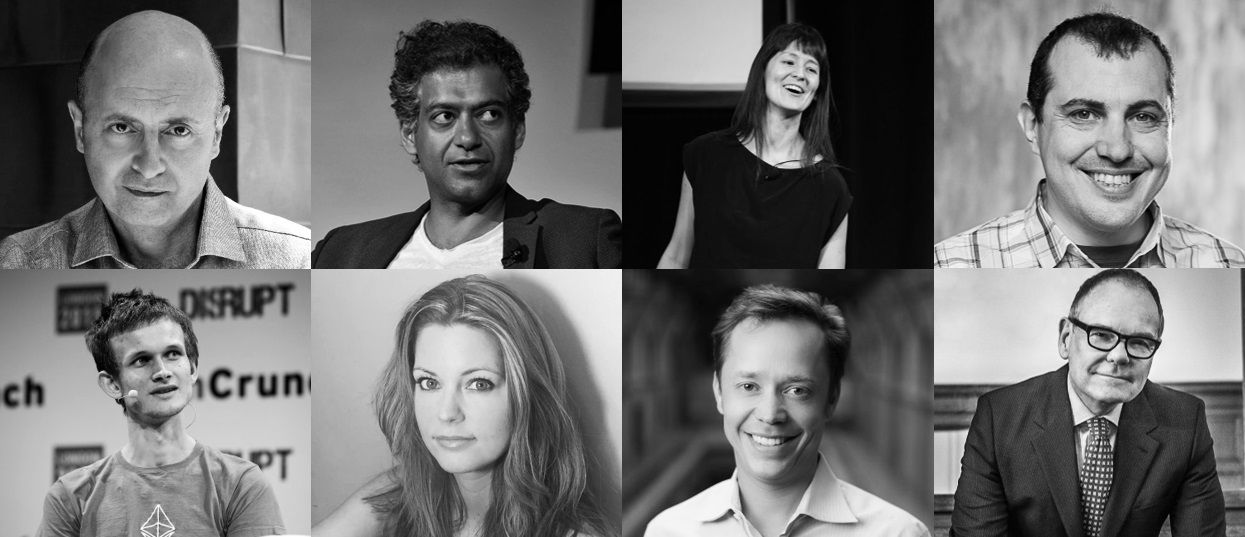 These are the 5 most influential thought leaders and pioneers when it comes to digital assets:
#1. Vitalik Buterin
Vitalik is 28 years old and is a millennial billionaire. He is a Russian-Canadian developer with over 3.3 million followers on Twitter. Vitalik is known as one of Ethereum's co-founders. Still, he also had a significant influence as a Bitcoin developer and is one of the co-founders of Bitcoin Magazine. He uses his capabilities to teach people how cryptocurrencies and blockchain technology work.
#2. Charlie Lee
Charlie Lee is a 35-year-old computer scientist born in the Ivory Coast. He is best known as the creator of the cryptocurrency Litecoin, but that's not all. He worked as a Director of Engineering at Coinbase, and he is the current Managing Director of the Litecoin Foundation. More than 1 million people follow this millennial entrepreneur over Twitter. He often shares the latest news and articles about Litecoin, Bitcoin, and other cryptocurrencies, including the occasional meme or comic.
#3. Anthony Pompliano
Anthony is an American investor and entrepreneur with a massive following over social media. He is an early-stage investor in tech companies and startups and a Bitcoin advocate. Nicknamed Pomp, this 33-year-old has over 1.5 million followers on Twitter and +350.000 on YouTube. Anthony is a millennial blockchain pioneer and a co-founder of an investment firm for digital assets. His channels feature various contents about Bitcoin and crypto, such as interviews, explanatory videos, discussions, etc. In addition, he runs a daily newsletter, The Pomp Letter, which informs his 210.000 subscribers on the most recent events in tech, finance, and business.
#4. Roger Ver
Roger is 43 years old and is nicknamed the "Bitcoin Jesus". This Gen X member is known as one of Bitcoin's earliest investors and promoters. He has been part of the movement since 2011 and has invested significant capital into Bitcoin, Ripple, Kraken, BitPay, etc. As of February 2022, he can boast of having over 740.000 Twitter followers. Among his fields of interest, you can find tweets about Bitcoin, Bitcoin Cash, and the issues surrounding digital coins.
#5. Andreas Antonopoulos
Mr Antonopoulos is one of Bitcoin's most likable characters. He is a 50 years old Greek author known for books such as Mastering Bitcoin and others. This public speaker is a teaching fellow at the University of Nicosia, a blockchain advocate, and a tech entrepreneur. More than 1 million people follow him on Twitter and YouTube combined. His Bitcoin for Beginners course explains complex topics in an easy way for newbies.
Summary
Crypto has become a viable investment for all generations. It's no secret that most buyers and traders are either Millennials or Gen Z. However, members of the older age groups tend to invest more compared to their young companions.
Recent market studies have shown that Boomers are starting to catch up and getting more and more involved with Bitcoin, both as traders and holders. No matter what age group interested parties belong to, they all don't mind getting compensated for their work in cryptocurrencies.
Social media has become an essential playing ground for everything related to crypto. Twitter and YouTube are the places where influencers share the latest news and research about digital coins. Among the 5 most popular crypto pioneers, 3 are Millennials, and 2 are Gen X. That shows that more trust is placed in the younger generation of entrepreneurs and thought leaders who were molded and grew up alongside Bitcoin and blockchain technology. Nonetheless, the experience and know-how of Gen Xs and Boomers are not taken for granted either.