GameFi in 2022: Trends, Issues, and Prospects
Last year, the GameFi segment became a major driver for growth of the cryptocurrency market and sparked a new wave of crypto adoption.
Over 1.4 million wallets were connected to blockchain game dApps, the total volume of in-game NFT trades exceeded $4.5 billion, and venture investors granted over $4 billion to the industry. In January 2022 alone, GameFi got $1 billion of funding, which is 25% from what the industry received in 2021.
NFT plays a primary role in the GameFi growth, offering the opportunities unavailable in traditional games – private property for in-game items and a sense of ownership. However, while NFT games are soaring, some of their centralized counterparts meet resistance from the players as they try to introduce the non-fungible token functionality.
GameFi changes the way blockchain games work: it implements the Play-to-Earn (P2E) model that allows developers, gamers, and content creators to profit. For some players, this is an opportunity to make extra income, while for others, blockchain games substitute full-time jobs. Let's see how GameFi is evolving today and what we expect in the future.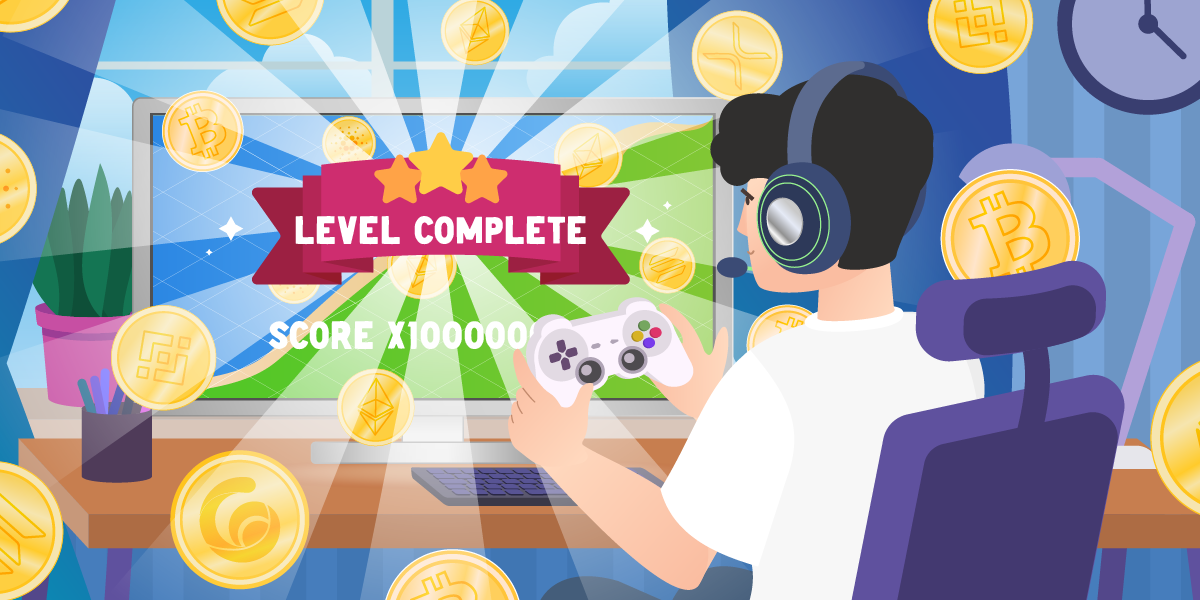 Blockchain Games Are Becoming the Most Popular dApps
According to a DappRadar report, blockchain games became the leading category of dApps in terms of user activity in Q3 2021. 45% of daily unique active wallets (UAW) were tied to GameFi, and in January 2022, it was already 52%.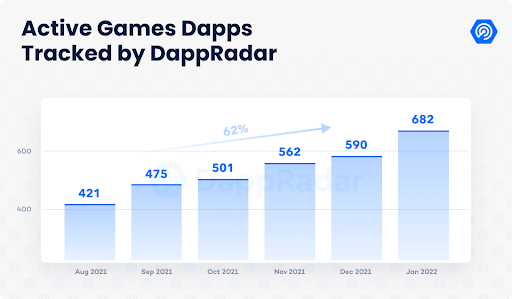 In 2022, the Crazy Defense Heroes game became the second most actively used Polygon dApp with 41,000 UAW daily. A BSC-based Bomb Crypto game took a leading position with 40,000 UAW. On the Harmony platform, a GameFi dApp DeFi Kingdoms had a $775 million of TVL, taking a 60% share of all funds locked in the protocol.
What's Behind the Rapid Rise of GameFi?
Gamers have learned to monetize their activity quite a while ago. They stream, sell in-game items on third-party services, boost and trade game accounts. Gamers are also involved in Esports – a market that is worth over $1 billion. Although these ways to profit have been around for years, video games officially consider some of them (like trading accounts) illegal, and the chances to become a top-tier streamer or a pro gamer are quite low.
The P2E model in GameFi leverages blockchain to grant unquestionable ownership rights over digital items to users. Gamers don't need sophisticated schemes of monetization anymore – all they have to do is to play and generate value that they can further manage and sell as they see fit. P2E platforms eliminate the need for intermediaries like streaming services or esports organizations that tell players what to do and charge considerable fees.
Examples like Axie Infinity have demonstrated that you can even earn enough money to buy a house by playing a P2E game.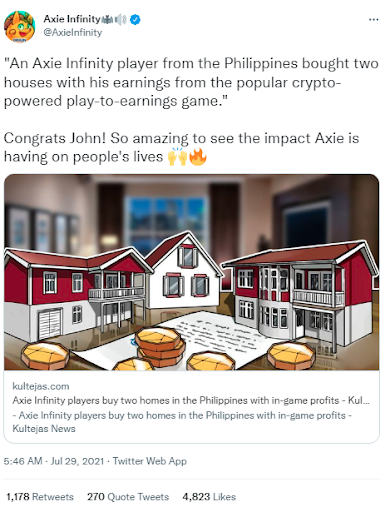 Therefore it's possible to earn in GameFi, but the outcome largely depends on the market situation, player's performance, luck, and the time they are ready to dedicate to the game. The rewards and restrictions set by developers also affect the final result.
For instance, in Axie Infinity, player's moves are limited by "energy" – a resource spent in every battle that is regenerated each day. The amount of energy depends on what Axie monsters the player owns and the current value of the Smooth Love Potion (SLP) token. Overall, the more time and money you invest, the bigger the outcome will be.
How P2E Games Allow Both Users and Developers to Profit
P2E projects are not simply games where you can raise money. To attract users and show good performance, protocols have to implement complex economic models that will ensure balanced distribution of resources.
The companies behind blockchain games are focused on generating income – they need a regular inflow of funds to ensure proper operation and development. Thus, teams are in a constant search for balance between an engaging gameplay and a system of incentives that will encourage users to invest their money and time.
Carra Wu, a crypto analyst at Andreessen Horowitz, emphasized the four drivers that form the underlying architecture of human motivation as outlined by behavioral economists:
The drive to acquire (tokens and NFTs),
The drive to bond (DAOs, friends),
The drive to invent (minigames, metagames),
and to defend (ideology, battles, territory).
Meeting these demands allows engaging users and helping them profit, and it is the way for games to build a stable economic model that can scale and generate profits for the company.
What Is the Role of NFT In the Rise of GameFi?
Game NFTs were first introduced in 2017 in famous CryptoKitties. There was a relatively simple mechanic where users could breed cats and sell them to collectors. As this helped gamers raise money, CryptoKitties is also one of the first P2E games.
Since then, the area of the NFT use cases in GameFi has significantly expanded. In such games as Axie Infinity or Medabots, NFTs are monsters and robots who battle. In Decentraland and Sandbox, NFTs are land parcels where their owners can create digital artworks that also exist as non-fungible tokens.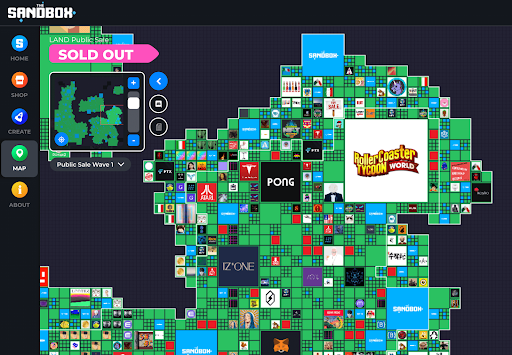 The map of Sandbox. Image source
NFT games have become popular as a way of generating income. An in-game NFT can be assembled, bred, and sold to collectors and other users, and holding NFTs can also bring extra rewards to users in P2E models. The more rare the NFT item is, the more it costs, and this becomes especially important as the number of NFTs increases.
People have always bought and traded in-game assets, but NFTs take this to a new level. ChangeNOW discussed this with Vitaliy Tyan, head of marketing at Radio Caca – a DAO and a token for the Universal Metaverse, a virtual world where users own lands, build stores and art galleries, create and play games.
Tyan suggests that NFTs offer a greater value proposition as they give space to the sense of ownership:
"Right to personal property is something we view as inalienable. We want our rights to private property to be protected, and we also never want to see someone else's property be taken away forcefully or manipulatively. NFT is digital personal property."
According to Vitaliy, digital artists and creators will continue producing digital items as NFTs help them affirm the right to personal property. NFT gives people the freedom to express who they are, helps them meet their demand to collect and to be unique and acknowledged while reaping the real-world benefits.
Another "beautiful aspect" of NFT, as Tyan suggests, is that your personal history, achievements, and memory will live on forever.
"Let's say you are playing a GameFi game, and then you get busy, maybe you have family and kids, and you can no longer play. Many years later, you dig through your wallet, and you find NFTs you've collected when you were a child yourself. During your absence, this company continues to grow its ecosystem. Now your NFTs are considered to be extremely rare and valuable. Imagine gifting it to your children, or listing it for sale, or simply recalling your digital adventures with a smile on your face."
Vitaliy Tyan believes NFTs and GameFi will converge together more and more, "all new games will take advantage of using NFTs to empower their community and enhance their digital/gaming experiences." To explore how Radio Caca implements this vision, see their whitepaper and the official Twitter. On ChangeNOW, you can buy RACA tokens without registration in just a few clicks.
How Traditional Games Are Entering the GameFi Space
Research confirms Vitaliy Tyan's predictions. According to a study conducted by Newzoo analytical company, in 2022, the P2E models will become more popular in games as devs are trying to diversify their sources of income.
In 2021, the gaming studios found that P2E can be another part of business along with streaming and esports. The Newzoo report claims that developers may leverage blockchain to create a more secure and legitimate trade between users in a decentralized environment. Metaverse games may become the most popular ones as young players spend much time in their proto-versions such as Roblox, Fortnite, and Minecraft.
Analysts predict that the virtual land frenzy is just in its infancy. This class of assets will attract more investment as more companies see the potential of metaverses.
In-game NFTs face opposition
The way to mass GameFi adoption will not be smooth, DappRadar report says. It brings an example of the Ubisoft game company that launched its first-ever NFT platform Quartz and received a negative reaction from users.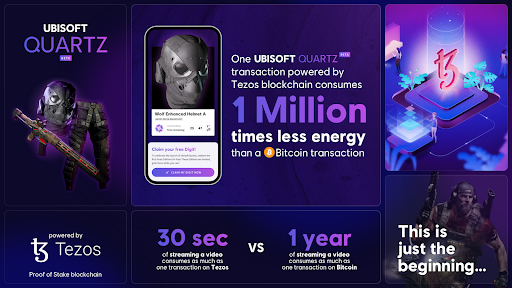 In 2021, Ubisoft announced the launch of the beta version of Quartz – the platform for trading in-game items minted as NFTs. This has become possible after Ubisoft signed a partner contract with Tezos.
Such a decision was met with a negative reaction from the community. Users roasted the environmental impact of NFTs, criticized Ubisoft for having no power to "reverse or cancel transactions, no liability for claims or damages," as well as the "artificial scarcity" of NFTs and their susceptibility to pump-and-dump schemes.
Nicolas Pouard, the Vice President at Ubisoft's Strategic Innovations Lab, said that the company expected a negative reaction but is still "a bit frustrated." Nevertheless, Pouard says, it's something the company can understand, so it strongly believes it's going in the right direction, and the integration will continue.
Bottom Line
The GameFi sector is rapidly evolving, and 2022 promises to set records in terms of money invested in the domain and the number of new users attracted. The P2E mechanics that GameFi has introduced gives blockchain games a chance to increase their profits, and for existing games, it's a way to establish better connections with the gamers and to raise income. Finally, for users, P2E games offer the opportunity to earn money as well.
To make it work, game developers have to create and maintain robust tokenomics and to make sure users have enough ways to engage and to profit. The protocols that ensure this will reap the most benefits in the long-term.