Fuse Network: Mobile Payments for Crypto Adoption
Fuse allows businesses and communities all over the globe to unleash the potential of simple and cheap mobile payments.
With Fuse Network, organizations can upgrade their communities into full-fledged micro-economies by building custom digital currencies and wallets. In this article, we will dive deep into the functionality of Fuse, and you will see why their solution may become the future of the mobile-oriented economy.
Mobile Payments Today
What is the global problem for today's mobile users? The traditional financial system fails to provide them with the possibility to easily and promptly send payments, leverage modern financial services, and raise passive income. Moreover, there are millions of people in the world with poor access to banks and reliable money transfer services. All they are left to do is deal with unstable local fiat currencies.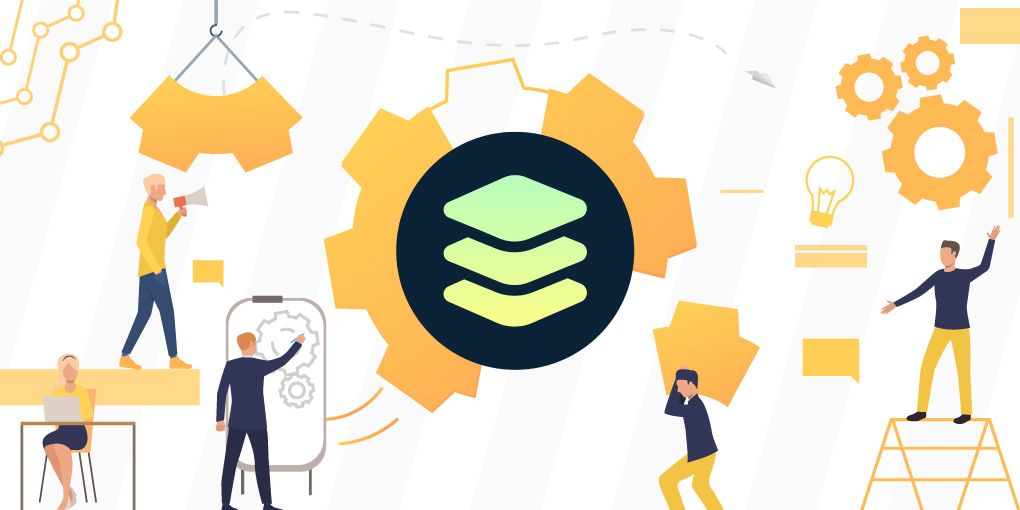 Meanwhile, say, in sub-Saharan Africa, more people have access to mobile phones with internet connection than to clean drinking water. There is a possibility to provide them with financial services of a good level. Many crypto services have been trying to do this, but most of them are relatively hard to use and fit advanced users, leaving little room for mass adoption.
Another problem relates to entrepreneurs and organizations. If a business or a community wants to start using mobile payments today, it has to rely on platforms like PayPal or Stripe or build its own solution from scratch. While the latter is too lengthy and expensive, the existing payment platforms charge high fees and don't allow sufficient customization.
How Fuse Addresses These Issues
Fuse Network provides organizations, businesses, and communities with simple and convenient tools to adopt crypto payments and DeFi services. Thus they can build mobile-first environments powered by digital tokens with customized mobile wallets.
Businesses can upgrade their audience to full-fledged micro-economies at low regulatory, operational, and development costs. Users get the opportunity to make easy, fast, and cheap payments (transaction cost in Fuse is less than $0.01).
Examples of Solutions Built on Fuse
Fuse was conceived in 2019 and since then, real-world implementations used by people on a daily basis have emerged. Here are a few examples:
GoodDollar – a yield-generating DeFi protocol that aims to deliver basic digital income on a global scale.
Fuse Cash wallet allows you to store crypto together with fiat currencies and deposit from a bank account to receive FuseDollar stablecoins and earn a 5% APR.
In the UK, there is a sustainable local economy project called The Peepl Network that helps socially conscious businesses prosper using next-generation mobile payments and rewards.
How Does Fuse work?
There are 3 main components in the Fuse network:
Fuse blockchain – a public chain compatible with the Ethereum Virtual Machine (a tool used by devs to create dApps on Ethereum). This blockchain is a backbone of the Fuse ecosystem.
Fuse Studio and Fuse Wallet – a mobile-first technology stack that gives organizations the opportunity to adopt crypto payments and customize their currency and wallet.
DeFi products and tools – FuseSwap DEX, Fuse Lending Network, rewards and staking platforms, stablecoins, and Fuse Cash Consumer-Facing Wallet.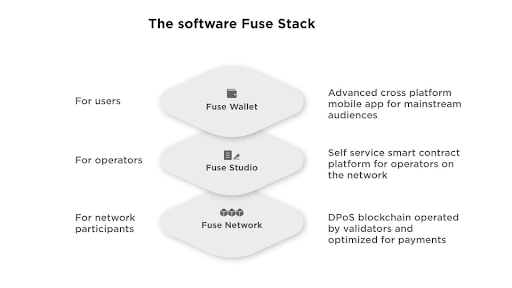 Fuse blockchain
Fuse blockchain lies at the core of the Fuse ecosystem. It runs on the dPoS consensus, meaning that there are many independent validators, one of which is maintained by the Fuse team. Validators can participate in governance by putting forward Fuse Improvement Proposals (FIPs). Users who don't run a validator node can stake FUSE instead and delegate their right to confirm transactions.
Native tokens of the platform are called FUSE and are used to pay gas fees, just like on Ethereum. The average block time in Fuse is 5 seconds (compared to Ethereum's 10-20 sec), and transaction fees are below $0.01 – this is much less than even on Binance Smart Chain that boasts low commissions. Fuse handles 60 transactions per second for ERC-20 tokens and 120 TPS for native Fuse-based assets.
The Fuse blockchain is fully compatible with EVM, meaning that any Ethereum smart contract can be deployed on it.
Fuse Studio
The Studio allows organizations, businesses, and communities to create and maintain token-powered environments. Here's what's in:
The Studio (Playground) Frontend. This app allows building a token on top of Fuse and integrating it in the community without a single line of code. For instance, you can use it to demonstrate a proof of concept.
The Studio backend. These are the tools to create smart contracts for token communities, Studio Server and IPFS nodes to store the community data kept off-chain, and the Fuse-funder service to fund community members.
The Studio API backend. With the API, Studio dApps can quickly request data in the Fuse blockchain. API also transmits heavy transaction flows on behalf of users.
There are also plugins that help customize a community in accordance with your needs. You can enable the Business List to add businesses to your ecosystem, introduce bonuses for community members, and allow easy bank account deposits and withdrawals.
Fuse Wallet
A business that wants to build a community around their token issued with Fuse Studio can also create a custom-branded wallet. For this, they can use the Fuse Wallet codebase provided by the platform, make a fork of it, and then add some custom necessary features.
Fuse wallet is a white-label Web3 wallet designed for Android and iOS. It's built on top of the Fuse network and can be used in any EVM-compatible blockchain. Fuse Wallet in non-custodial – users own private keys and control their data. By creating a custom wallet, businesses give users the opportunity to integrate into their community without the necessity to have ETH to start using your service.
DeFi Products and Tools
Besides Fuse Wallet and Studio, there is also a set of DeFi products that enrich the Fuse ecosystem. Some of them include:
FuseSwap AMM-based DEX allows swapping all tokens issued on Fuse and also some wrapped assets from other networks. The DEX infrastructure is a fork of Uniswap V2, but the DEX boasts Fuse's higher speed and lower fees.
FuseDollar (FUSD) – a stablecoin issued on the Fuse network to lower the barrier for mainstream users who are new to crypto and need some time to adjust.
Fuse Lending network based on the Ola Finance protocol allows you to lend and borrow WBTC, WETH, FUSE tokens and USDC, BUSD, FUSD stablecoins.
Fuse Rewards platform allows members of the Fuse community to participate in the yield farming programs. Anyone providing liquidity in the Fuse Rewards platform can stake their LP tokens and earn passive income.
FUSE Token
FUSE is the network's native token that has the following use cases:
Transaction fees. They are paid in FUSE, the same way as it happens in Ethereum.
Staking. You can stake FUSE and delegate your right to confirm transactions to validators.
Validation. If you have 100k FUSE or more, you can stake them and open a validator node.
Voting. Validators can vote for Fuse Improvement Proposals, and their voice is the more significant the bigger their stake.
Payments. FUSE can be sent in the Fuse network at even lower fees and faster speed than Fuse-based tokens since there's no need to interact with any smart contracts.
You can buy the FUSE Network token on ChangeNOW at competitive fees and without registration. Farming the token on Fuse-based DEXes is also possible.
Fuse Team
Fuse was founded by Mark Smargon – an Israel-based web developer with experience in e-commerce and UX. In the Fuse team, there are currently 13 core members who work in Tel Aviv and globally. The tech lead of the team, Leon Prouger, has been around in dApp development for 4 years already and has started his career as a developer back in 2012. To keep up with the Fuse team, follow them on social media: on Twitter, Medium, and Discord, or their website Fuse.io.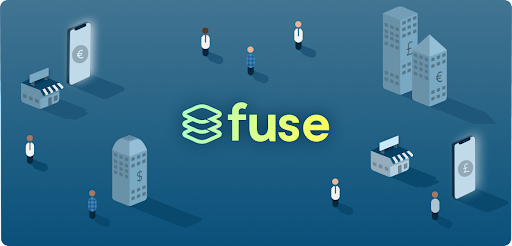 Fuse Roadmap
Since 2022 has just begun, we are looking forward to the announcement of the Fuse roadmap for the year – they did the same in January 2021. During last year, the team was seeking new scaling solutions to prevent network congestion, working on new governance features, improving the Fuse Studio, and partnering with new market players.
Bottom line
More and more communities and businesses are learning about the potential of crypto for building custom token-powered environments, but there has been a lack of handy solutions for building such. Moreover, the growing general audience's interest in crypto raises the demand for decentralized peer-to-peer currencies.
Fuse Network is at the core of this revolution – it allows businesses and communities to quickly assemble custom tokens and wallets to create micro-economies for their users with seamless mobile payments and non-custodial token storage. The Fuse team believes in such a future for global finance, and the recent surge in the FUSE token price seems to prove this. To join the revolution, head on to ChangeNOW and buy FUSE for 350+ other cryptocurrencies without registration and hidden fees.