From Fiat to PIT: How ChangeNOW Simplifies Adoption with Conversion
In the fast-paced world of cryptocurrencies, more and more people are jumping on the trend of buying digital assets using traditional fiat currency. However, with so many options out there, it's crucial to find a platform you can trust to make these transactions safe and hassle-free.
That's where ChangeNOW comes in. Our exchange platform has earned quite a reputation in the crypto community for its user-friendly interface and unwavering dedication to security. When it comes to converting your fiat currency into exciting cryptocurrencies like the PIT token, ChangeNOW provides a seamless experience that you can rely on.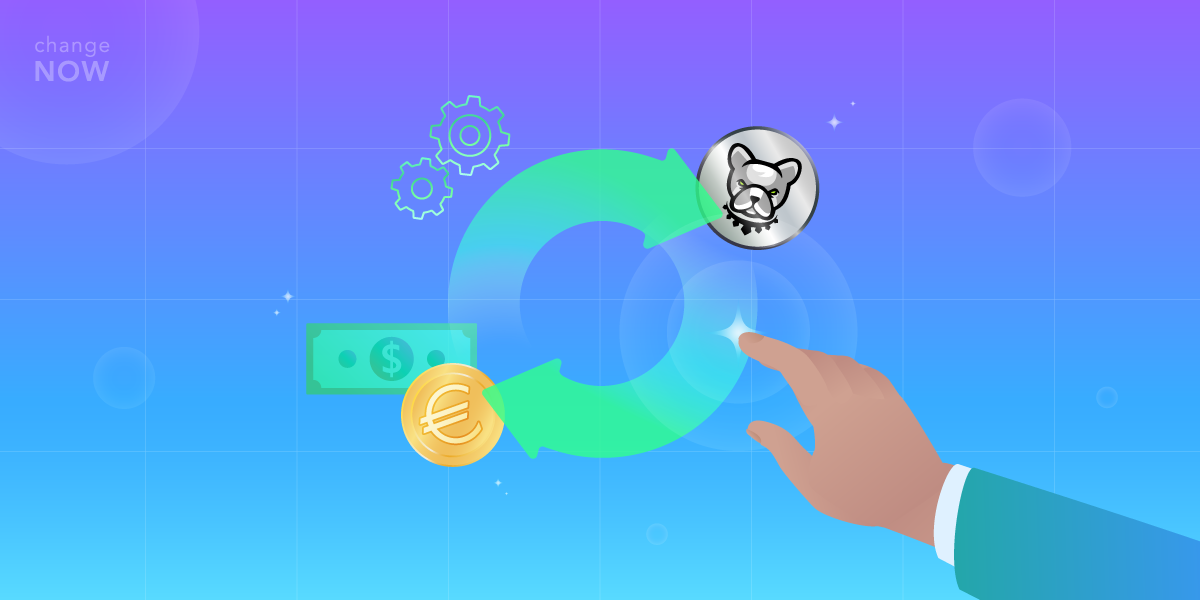 Fiat-Friendly Exchange
ChangeNOW prides itself on being a fiat-friendly exchange, allowing users to easily convert their hard-earned fiat currencies into cryptocurrencies like PIT. Whether you're looking to buy PIT with US dollars, Euros, or any other fiat currency, ChangeNOW has you covered. The platform accepts a multitude of fiat currencies, making it accessible to users from around the world.
A Multitude of Trading Pairs
One of the key advantages of using ChangeNOW is the wide range of trading pairs available. Not only can you buy PIT with fiat currencies, but you can also trade it against other popular cryptocurrencies like Bitcoin and Ethereum. This gives users the flexibility to diversify their portfolios and take advantage of different market opportunities.
Focus on Security
When it comes to cryptocurrency exchanges, security is of utmost importance. ChangeNOW understands this and has implemented robust security measures to protect user funds and personal information. The platform utilizes secure encryption protocols and follows strict Anti-Money Laundering (AML) and Know Your Customer (KYC) procedures to ensure compliance and mitigate risks. Additionally, ChangeNOW does not store user funds, further enhancing security and reducing the risk of potential hacks or breaches.
In addition to its fiat-friendly exchange, multitude of trading pairs, fixed or floating rates, and its focus on security, ChangeNOW also offers a user-friendly interface and exceptional customer support. The platform is designed to make the buying and trading process as seamless and intuitive as possible, even for beginners.
PIT: More Than Just a Token
The PIT token is not just any ordinary cryptocurrency. It is the native token of the Pitbull ecosystem, a comprehensive and innovative project built on the Binance Smart Chain. The Pitbull ecosystem consists of various products and use cases that contribute to the growth and sustainability of the project.
PitSafe: A Comprehensive DeFi Asset Manager
PitSafe is a powerful DeFi asset manager that provides investors with in-depth information about tokens on the Binance Smart Chain and other blockchains. It offers detailed insights such as token ownership, token price, market cap, and more. PitSafe is a valuable tool for investors looking to analyze potential projects and make informed investment decisions.
PitCharts: Charting and Analysis Tool
PitCharts is a charting and analysis tool that allows users to view and analyze tokens on the Binance Smart Chain. It provides detailed information and charts, enabling users to track the performance of various tokens. PitCharts also generates income from ad spaces and premium features, contributing to the sustainability of the Pitbull ecosystem.
PitFarm: Stake PIT-BNB V1 and Earn Rewards
PitFarm is an innovative use case for the PIT token that allows users to stake PIT-BNB V1 and earn points. These points can be redeemed for official Pitbull NFTs or used to purchase them outright. The NFTs can then be traded in the marketplace, with the sales proceeds going towards the Pitbull community fund and supporting artists. PitFarm promotes charity, project development, and the burning of Pitbull tokens.
PitSwap: Automated Market Maker Tool
PitSwap is an automated market maker tool that provides an easy and safe way for investors to buy PIT and other tokens. It is currently in the Alpha stage and offers a seamless trading experience. PitSwap has plans to evolve into a comprehensive ecosystem similar to PancakeSwap, with its own token that will work in tandem with PIT for staking, farms, routing, and trading fees. This will further enhance the utility and value of the PIT token.
PitStore: Marketplace for Official Pitbull Merchandise
PitStore is a marketplace where users can purchase official Pitbull merchandise. While currently accepting USD as the payment method, there are plans to integrate PIT into the payment system. This will not only create a stronger brand image for Pitbull but also generate funds for project development, charity initiatives, and token burning.
The Pitbull ecosystem offers a wide range of use cases and opportunities for PIT token holders. It demonstrates the commitment and dedication of the community to building a dynamic and versatile crypto ecosystem.
From Fiat to PIT on ChangeNOW
Converting fiat currency to PIT on ChangeNOW is a straightforward and seamless process. Here's a step-by-step guide on how to buy PIT using fiat currency on ChangeNOW:
Visit the ChangeNOW website.
Navigate to the exchange section on the ChangeNOW website. Select the fiat currency you wish to use to buy PIT and enter the desired amount.
Choose PIT as the cryptocurrency you want to receive in exchange for your fiat currency.
Review the transaction details, including the exchange rate and transaction fee. ChangeNOW provides transparent information on fees to ensure that users are aware of any costs associated with the transaction.
If you are satisfied with the details, proceed to complete the transaction. Follow the instructions provided by ChangeNOW to finalize the purchase.
Once the transaction is complete, you will receive the purchased PIT tokens in your wallet. You can then transfer them to an external wallet for safekeeping or use them within the Pitbull ecosystem.
It's important to note that cryptocurrency investments carry risks, and it's essential to DYOR and only invest what you can afford to lose. ChangeNOW provides a secure and reliable platform for buying and trading cryptocurrencies, including PIT, but it's always wise to exercise caution and make informed decisions.
Conclusion
The PIT token, in collaboration with ChangeNOW, offers a world of opportunities and use cases within the Pitbull ecosystem. From PitSafe to PitStore, each use case brings its unique value proposition, revolutionizing the way we approach DeFi, analytics, NFTs, and more. By leveraging the services of ChangeNOW, users can easily buy and trade the PIT token, unlocking its myriad possibilities.
To start your PIT token journey, visit ChangeNOW and experience the seamless exchange and purchase process. Embrace the potential of the PIT token and join the vibrant Pitbull community as we explore the endless possibilities together.