Floki Inu (FLOKI) Review 2022
Floki Inu calls itself the people's cryptocurrency, and it's another addition to the dog-inspired meme coins that were developed and boomed in 2021.
With Dogecoin's rise and success, many other developers took advantage of the trend and created their own digital assets. Floki followed in the footsteps of Shiba Inu, but they consider themselves a somewhat more serious project.
Floki's development team believes they have what it takes to dethrone Doge and Shiba as the world's most popular meme coin in 2022. To understand what this project is all about, it's essential to learn about its history, the team that created it, and the real-life solutions that it offers.
About Floki Inu (FLOKI)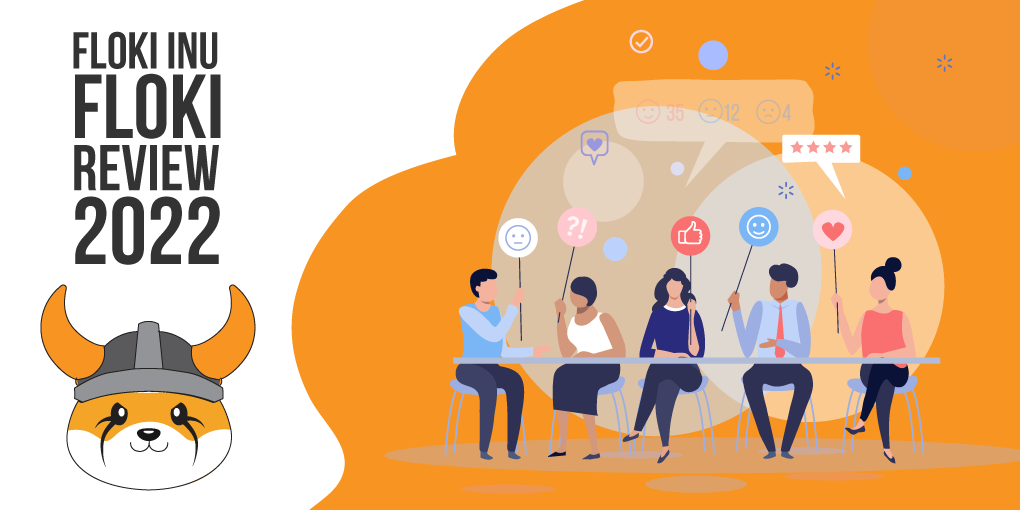 FLOKI is not just a token; it's a movement that combines the meme culture with charitable work and real-world utilities. Floki Inu was born in June 2021 following an Elon Musk tweet. In this tweet, Elon made it known that his new puppy would be called Floki. By the time the first pictures of the new dog got posted on social media, Floki Inu was already up and running.
The leading developers of the project originate from Shiba Inu. They are very ambitious and aim to become the most popular cryptocurrency in the world. Despite similarities in their looks, Floki is different to the SHIB coin and the community is involved in serious projects and charities.
They have partnered with the Million Gardens Movement, a gardening community affiliated with Elon's brother Kimbal Musk. The aim is to help people eat and live healthier by learning how to grow and farm their own food. FLOKI is currently the only crypto accepted by this charitable organization, which says a lot.
Floki Inu aims to become a standalone ecosystem with several use cases and utilities. The native token will be the integral piece of that. The creators believe that a cryptocurrency can only survive if it improves the world. That's why a lot of effort is put into charitable work, such as building schools in third-world countries.
Floki Inu (FLOKI) Team
Floki is a community-developed and led project. Some of its team members are publicly known figures, while others are only known by their nicknames and remain anonymous. The project was founded by several contributors and influencers.
The official website lists 7 essential team members. Among them are the Core Contributors, Mr. Brown Whale, and Sabre, B (The Viking). Jackie Xu is Floki's Lead Developer. The current team has paid tribute to dozens of Hall of Famers who are no longer part of the project but were of great importance in the beginning.
Floki is working with 11 experienced developers to create new elements of their ecosystem. This group can be further extended to take on further talented individuals if needed. Anyone interested in joining this community can do so by applying to one of the open positions in the career section.
Floki Inu (FLOKI) Roadmap
Floki has already achieved so much in a short amount of time. The roadmap shows all the goals they have.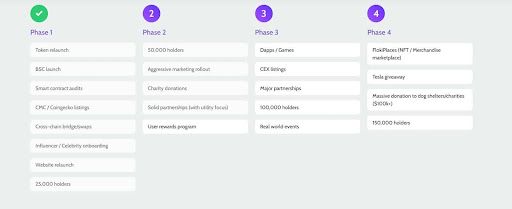 Achievements
The token has been launched on both the Ethereum and Binance Smart Chain.
The smart contract has been audited and verified by Solidity Finance and Certik.
Floki has integrated a cross-chain bridge for token swaps between the ETH and BSC networks.
They have partnered with the likes of Chainlink, NOW Payments, Curate, SSC Napoli, Bayer Leverkusen, Fenerbahce, etc.
Future Plans
The development of Valhalla, an NFT Metaverse game.
The launch of an online store called Flokiplace.
The creation of the education platform Floki University.
Floki intends to host a Tesla giveaway and donate over $100.000 to dog shelters and other global charities.
The Floki Inu (FLOKI) Network
FLOKI is a cross-chain token that can be stored on the Binance Smart Chain or the Ethereum blockchain. The maximum coin supply is 10 trillion units, and as of January 2022, 9.3 trillion are already in circulation.
A treasury tax of 3% is applied to every Floki transaction. The money collected this way is directed towards platform development, new partnerships, marketing, and donation campaigns, among other things.
The Floki community is vast, and they call themselves 'Floki Vikings'. As of January 2022, the token can boast almost 400.000 holders worldwide. In addition, they have incredible reach on social media, particularly Twitter, with over 280.000 followers.
The community intends to create a decentralized ecosystem made up of 3 unique parts.
The 1st pillar is Valhalla. This is a blockchain-based metaverse game that features a Play to Earn system. Players can purchase NFTs and use them in-game. The aim of the game is to do battle against other players and capture land and enemy characters. It will also be possible to grow your own food, create new NFTs, and sell them to other players.
Flokiplace is the 2nd essential element of the upcoming ecosystem. It's a store where you can purchase or trade various merchandise and NFTs. The FLOKI token will become the native currency of Flokiplace.
Floki is also creating its own educational platform named the Floki University. They want this to become the biggest source of cryptocurrency news available on the internet. Depending on your crypto knowledge and experience, you can customize the visible content on this platform.
How to Mine Floki Inu (FLOKI)
FLOKI is either a BSC or ETH-based token. The asset is not minable, but holders can stake it and earn staking rewards. In addition, the community is rewarded with extra coins just for holding the currency in their wallets.
Floki Inu can be staked on the DeFi platform Inverse Finance to earn interest in the platform's native INV token. It can also be used as collateral to borrow stablecoins, Bitcoin, Ethereum, and other cryptocurrencies. Inverse Finance will give FLOKI holders 50% of the amount they deposited as a loan. The APY rewards are currently set at 1.69%.
BarnBridge is another DeFi protocol that offers a FLOKI pool. You can participate in yield farming either as a Senior or Junior. Seniors are exposed to lower risks and, therefore, earn lower rewards. Juniors can achieve more significant rewards but with increased risk. You can check the estimated yield structure on the Floki pool on BarnBridge at any time.
Floki Inu (FLOKI) 2022 Price Prediction
FLOKI has been on a downward trajectory since January 2022 and is currently trading at around $0.00006/coin. But that's not a surprise considering the market sentiment at the moment. However, all the major crypto forecasters are bullish on this coin despite everything.
The predictors at Wallet Investor see FLOKI as a profitable long-term investment. They speculate a price increase of over 600% in a year from now. They believe that the trend will continue in the years to come and have released an optimistic forecast of $0.0018 per coin for 2027.
DigitalCoin predicts a slow and steady price rise for FLOKI. They believe that a 2x increase in the next year is expected. Their algorithm anticipates that the token will be worth $0.000133 three years from now. After seven years, their records indicate that Floki Inu will trade for around $0.00024/coin.
The team behind CryptoPredictions has also released their estimates. They expect this digital asset to finish 2022 with gains of around 90%. In 2025, the price is expected to break the 200% barrier for the first time. By 2026, CryptoPredictions foresees the value to be 210-230% higher than what it is right now.
How Can I Buy and Trade Floki Inu (FLOKI)?
FLOKI can be purchased on many exchanges and stored in several different wallets. Let's take a look at what is available for the Viking community.
Floki Inu (FLOKI) Wallets
This meme coin can currently not be stored on Ledger and Trezor hardware wallets. But luckily, there are plenty of software wallets to pick from.
The safest option is to keep your coins on ChangeNOW's NOW Wallet. The app is available for both Android and iPhone, and the asset can be stored either on the BSC or the ETH blockchain.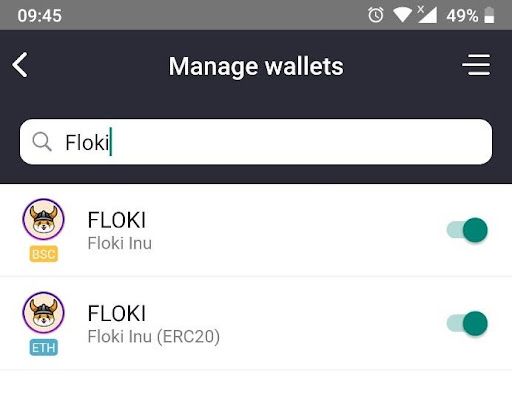 Besides NOW Wallet, FLOKI can be transferred to the Trust Wallet, MetaMask, Binance Chain Wallet, SafePal, or the imToken wallet.
Floki Inu (FLOKI) Crypto Exchanges
The quickest way to buy and sell Floki Inu is through our instant crypto exchange at ChangeNOW. We support both the BSC and ETH versions of this digital asset.
Thanks to our cooperation with the Floki Inu development team, it's also possible to purchase the coin with a credit card on the official website. Just click on the 'Buy with Credit Card' button and follow the on-screen instructions.
Some other exchanges that have listed this coin include Uniswap, PancakeSwap, Gate.io, Poloniex, LBank, and several others.
Floki Inu (FLOKI) Summary
Floki Inu is not a joke of a coin. Despite its funny name and logo, they take themselves seriously. They want to make the world better by giving back to the community. The team is involved in plenty of charities and donation campaigns.
2022 could become a prolific year for Floki. Several pillars of their decentralized ecosystem are expected to be finalized and released to the public. Once the token gets all of the promised use cases and utility, there should indeed be a positive effect on the price and market capitalization. The question is, will you have it in your portfolio when that happens?