Exploring the Fantom Frontier: Speed, Security, and Exceptional dApps
With an unerring focus on speed, security, and decentralization, Fantom has etched its place in the blockchain world, paving the way for a fresh breed of decentralized applications (dApps). Its distinctive attributes, centered around speed, efficiency, and innovation, have positioned it as a rising star in the ever-evolving blockchain universe.
The secret sauce to Fantom's rapid ascent lies in its unique Lachesis consensus algorithm. This proprietary technology enables developers to construct dApps that boast transaction speeds of less than two seconds, a feature that sets Fantom apart from the crowd​.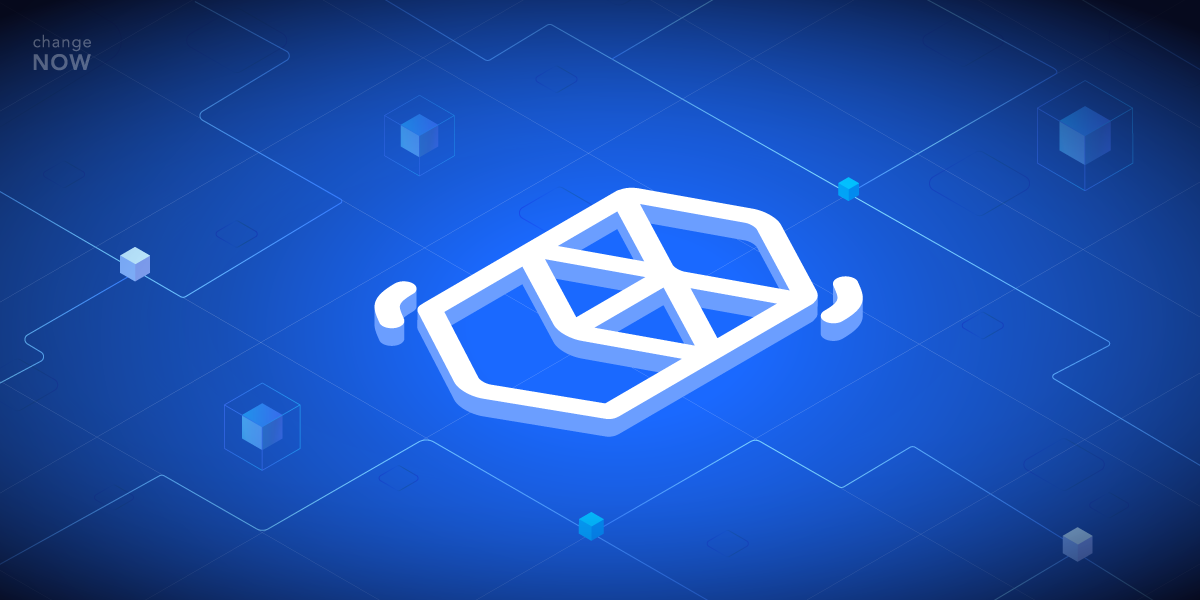 But it's not just speed that has catapulted Fantom to its current heights. The Fantom network has also struck a delicate balance between scalability, security, and decentralization, the three pillars of any robust blockchain platform. Its Proof-of-Stake (PoS) consensus mechanism, designed to be leaderless, ensures that no single participant has the power to validate block transactions. This democratic approach not only improves the network's security but also optimizes its efficiency, making it an attractive platform for developers and users alike​.
The combination of Fantom's speed, security, and decentralized structure has resulted in a vibrant ecosystem of dApps. From decentralized exchanges to Non-Fungible Token (NFT) marketplaces, Fantom's dApps cater to a broad range of financial activities, all while offering the quick transaction speeds and low fees that are characteristic of the Fantom network.
Let's dive deeper into some of the top dApps that have found their home on the Fantom network. These applications not only exhibit the potential and versatility of Fantom's blockchain platform but also provide practical, user-friendly solutions for crypto enthusiasts to engage with DeFi. Whether you're looking to trade tokens, purchase NFTs, or participate in yield farming, Fantom's dApp ecosystem has something for everyone.
Top Fantom dApps
Here are some top decentralized applications (dApps) running on the Fantom network:
SpookySwap: SpookySwap is an all-in-one decentralized exchange for leveraging diversified funds across ecosystems, operating on the Fantom Opera network. It offers services like token swapping, liquidity supplying, and staking at farms to earn BOOs. They are working towards a platform governed through community voting and are known for their speed, security, and scalable transactions​.

WigoSwap: WigoSwap is a Super dApp aiming to revolutionize the Fantom DeFi ecosystem by establishing itself as the go-to platform for dApps on Fantom. It has introduced DeTasker, a decentralized work platform, and has a unique Gamified Burning Mechanism (GBM) to incentivize user engagement. They plan to expand their offerings to include a suite of decentralized applications catering to various user needs​​.

Equalizer: a decentralized exchange aimed at becoming the main trading mechanism for the Fantom network. It utilizes the Solidly perpetual model with adjustments to fee structures and emissions to sustain emission token prices. The model rewards liquidity providers with valuable tokens, akin to the Curve model. This approach aims to balance rewards for token holders and incentives for liquidity providers while maintaining sufficient liquidity for low-slippage trades.

SpiritSwap: SpiritSwap is a decentralized exchange (DEX) on the Fantom Opera Chain, with its design initially based on the Uniswap constant-product automated market maker (AMM). With the introduction of the V2 model, SpiritSwap has significantly diverged from the original Uniswap design, offering a unique experience to the Fantom community. It is similar to SpookySwap, also offering yield farming opportunities but with lower fees​​.

PaintSwap: An NFT marketplace where users can mint, buy, and sell NFTs at affordable transaction costs​.

Beethoven X: A balancer-style automated market maker (AMM) available on Fantom​.
Navigating the expansive landscape of Fantom dApps can seem like a daunting task, especially when considering the essential aspect of security. Blockchain technology has revolutionized the way we approach data, finance, and online interactions, but it also introduces unique security challenges. While Fantom's architecture and consensus model contribute to its robust security framework, users must still exercise caution when interacting with dApps, as they would with any online platform.
Now, let's shift our focus to one of the key gateways to these dApps - NOW Wallet. Whether you're a seasoned blockchain enthusiast or a newcomer to the world of decentralized finance, learning how to safely connect your wallet to Fantom dApps is crucial. In the following section, we'll guide you through this process.
Before we dive into the steps, it's vital to ensure that you're accessing a legitimate dApp, as the crypto space is unfortunately not immune to scams and fraudulent schemes. Always double-check the website URL to confirm it matches the official dApp's site. Moreover, never share your private keys or seed phrase with anyone or any site - legitimate platforms will never ask for these.
Now, let's walk through the process of connecting your NOW Wallet to a Fantom dApp:
Find the Right dApp: Navigate to the official website of the Fantom dApp you wish to connect with. As mentioned, always double-check the URL for accuracy to avoid falling victim to phishing attacks.

Connect Your Wallet: Look for the 'Connect Wallet' button on the dApp's homepage. This button is typically found in the upper right corner of the site.

Choose Your Wallet Provider: A list of supported wallet providers will pop up. From this list, select 'WalletConnect'. WalletConnect is a popular choice due to its emphasis on secure connections between wallets and dApps.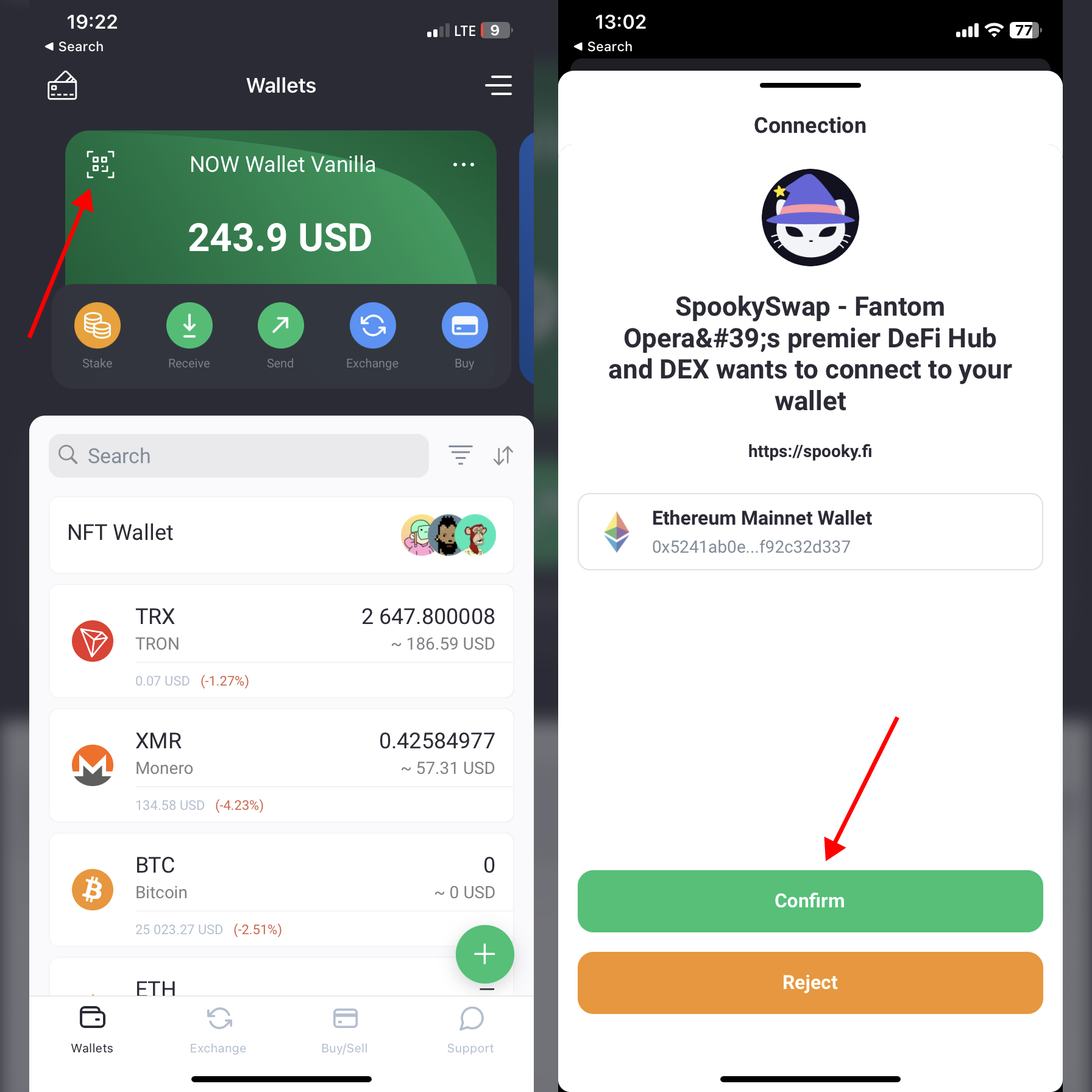 Scan the QR Code: The dApp's website will generate a unique QR code. To scan this code, open your NOW Wallet app, tap on the QR code symbol (located at the top-left corner of your screen), and point your device's camera at the QR code displayed on your computer screen.
Confirm the Connection: Once the QR code is scanned, you'll receive a prompt on your NOW Wallet to confirm the connection. Tap 'Confirm' to finalize the link between your wallet and the dApp.
Remember, always keep your software up-to-date and ensure your device is secure. Follow these steps, and you'll be well on your way to exploring the world of Fantom dApps with your NOW Wallet. Happy exploring, and stay safe!