Exchanges Rush to List ENS as Price Doubles
Over the course of the last 24 hours, Ethereum Name Service (ENS) has risen by over 44%, making it the second-biggest gainer on the crypto market.
ENS Price Skyrockets
Barely a week after it was airdropped, the ENS governance token is marching upwards on market charts and is leading hundreds of coins in weekly performance.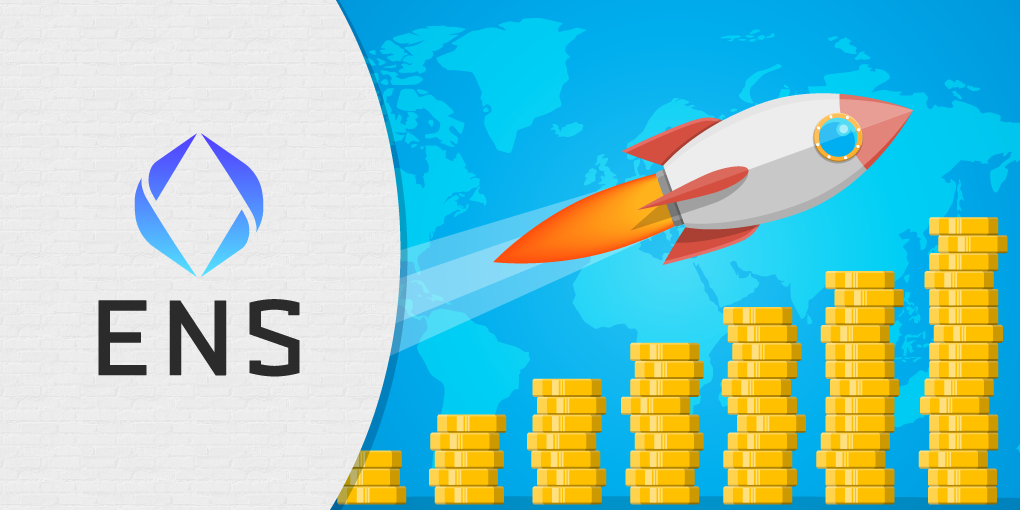 There are over $1.4 billion in trades on ENS per day, meaning that the market capitalization of the ENS token is a reasonable estimate at $1 billion. With its recent bullish climb, it is evident that traders are super excited with the token's introduction, and are securing .eth addresses to get their hands on the token.
For users who have spent time in the NFT space, addresses ending in "_.eth"_ are becoming a common occurrence. A username can be rented through Ethereum Name Service for use on Web 3.0. Similar to a domain name, you can easily register a name to receive ETH coins from anyone. By using a name service, users can shorten and simplify an Ethereum address on Metamask — transforming strings of letters and symbols to something as memorable as mybeautifuladdress.eth
Although Ethereum Name Service has been around for several years, its ENS token was only released on November 8th. The Ethereum Name Service released an Airdrop for its ENS governance token on November 2nd. As a condition of participating in the Airdrop, it was necessary to register a .eth domain with the service.
ENS was eagerly listed on some exchange platforms following its release, which explains its explosive growth. ENS was listed by Binance two days after the token's release, with other exchanges following suit.
In light of the project's high credibility, and also because of its novelty as a listed token on major exchanges, ENS prices have risen over twofold in the past two days. It's been only three days and ENS is already the 220th largest cryptocurrency in terms of market capitalization, with a valuation of $1 billion.
Ethereum Fees Surge
There are suggestions that the ENS hype is driving gas fees as Ethereum's expensive transaction fees spike even higher in recent days. The surge has been attributed to ENS climb because to claim the governance tokens, gas must be used.
On the 9th of November, average Ethereum transaction fees reached their second-highest level ever according to Bitinfocharts. Gas prices peaked on May 12 when they averaged $70. At present, a transaction costs an average of about $57.
Depending on the transaction type, gas costs are expected to be different. The cost of an ERC-20 transfer is much lower than one involving a complex smart contract. In order to send an Ethereum-based token, Etherscan estimates that it will cost around $45 per transaction.
While the prices are high, securing .eth addresses are even pricier, at ~250$. That is not stopping traders from trading ENS tokens, as the new entrant continues to get the hype. ENS trades at $60.33 at press time.
You can buy or trade any of your preferred tokens on ChangeNOW without any registration.
Welcome to the NOW experience! The ChangeNOW team presents you with the new community-inspired crypto wallet – NOW Wallet.