Enhancing the Functionality of ARKVault with ChangeNOW API Integration
In today's fast-paced world of blockchain technology, it's essential to stay ahead of the curve. As businesses and individuals strive to find secure and efficient methods for managing their digital assets, the ARK Ecosystem has emerged as a leading solution. At the core of this ecosystem is ARKVault, the official ARK Wallet and a powerful tool that enables seamless cryptocurrency transactions.
Taking a monumental leap forward, ARKVault has integrated ChangeNOW's API, introducing a wide range of benefits and exciting opportunities for users. In this article, we will delve into the ARK ecosystem, explore the functionalities of ARKVault, and uncover the advantages brought about by the integration with ChangeNOW's API.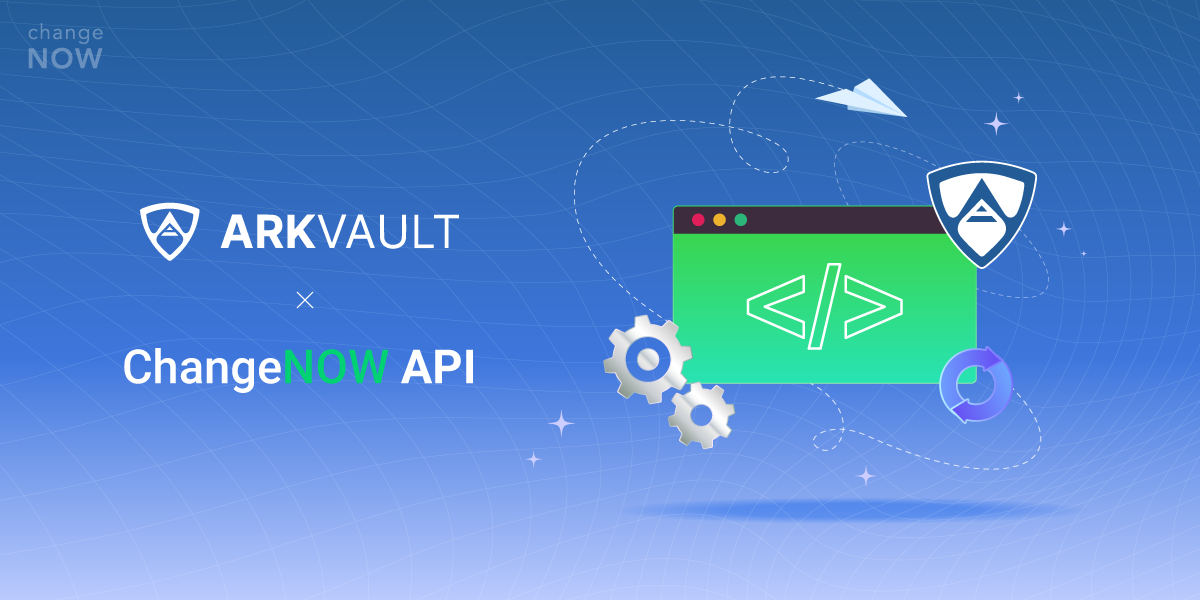 The ARK Ecosystem: A Foundation for Innovation
ARK is a blockchain-based development platform that empowers users to create their customized and interoperable blockchains. Founded in mid-2016, ARK quickly gained momentum and launched its public network in March 2017. Since then, it has become a go-to solution for blockchain enthusiasts, startups, and even Fortune 500 companies. The ARK ecosystem comprises an open-source blockchain technology stack, the ARK Public Network, standaloneblockchains, business entities, and a thriving community of users, developers, and service providers.
ARKVault: Unleashing the Power of Seamless Transactions
At the core of the ARK ecosystem is the ARKVault, a state-of-the-art application that allows users to manage their ARK transactions with ease. ARKVault offers a wide range of functionalities, making it a versatile tool for blockchain enthusiasts and businesses alike. Let's explore some of the key features that make the ARKVault wallet a top choice for managing digital assets.
Accessible Anywhere, Anytime
The ARKVault is a web-based application that can be accessed from any major browser, including Chrome, Safari, Firefox, Brave, and even Internet Explorer. This means that users can manage their ARK transactions from any device with an internet connection. Whether you're on a desktop, laptop, mobile device, or tablet, ARKVault provides a seamless and consistent user experience. It is also a PWA(Progressive Web App), allowing users to download and install it to use outside of browsers.
Cross-Platform Compatibility
ARKVault is compatible with virtually any operating system, including Android, Windows, macOS, and Linux. This broad compatibility ensures that users can access their wallets regardless of their preferred device or operating system. Whether you're an Android user on the go or a Windows user at your office desk, ARKVault has got you covered.
Customizable and User-Friendly
One of the standout features of ARKVault is its customizable interface. Users can personalize their wallet's appearance, making it feel like their own. With multilingual support, users from around the world can navigate the ARK wallet in their preferred language, further enhancing the user experience.
Seamless Transaction Management
ARKVault enables users to create both online and offline transactions effortlessly. Online transactions can be executed instantly, providing real-time access to your funds. On the other hand, offline transactions offer an added layer of security by allowing users to sign transactions offline and broadcast them later. This flexibility ensures that users have full control over their transactions and can choose the method that best suits their needs.
Extensive Functionality
ARKVault offers a comprehensive set of features, empowering users to manage their ARK transactions efficiently. Some of the built-in functionalities include wallet and profile management, transaction creation, wallet summary, and stylistic customizations. With ARKVault, users have all the tools they need to navigate the ARK Ecosystem seamlessly.
ChangeNOW API Integration: A Gateway to Enhanced Functionality
In a move that further solidifies ARKVault's position as a leading crypto management tool, it has integrated ChangeNOW's API. ChangeNOW is a trusted cryptocurrency exchange platform that enables seamless and secure swaps between various digital assets. The integration of ChangeNOW's API with ARKVault brings a host of benefits and opportunities for users.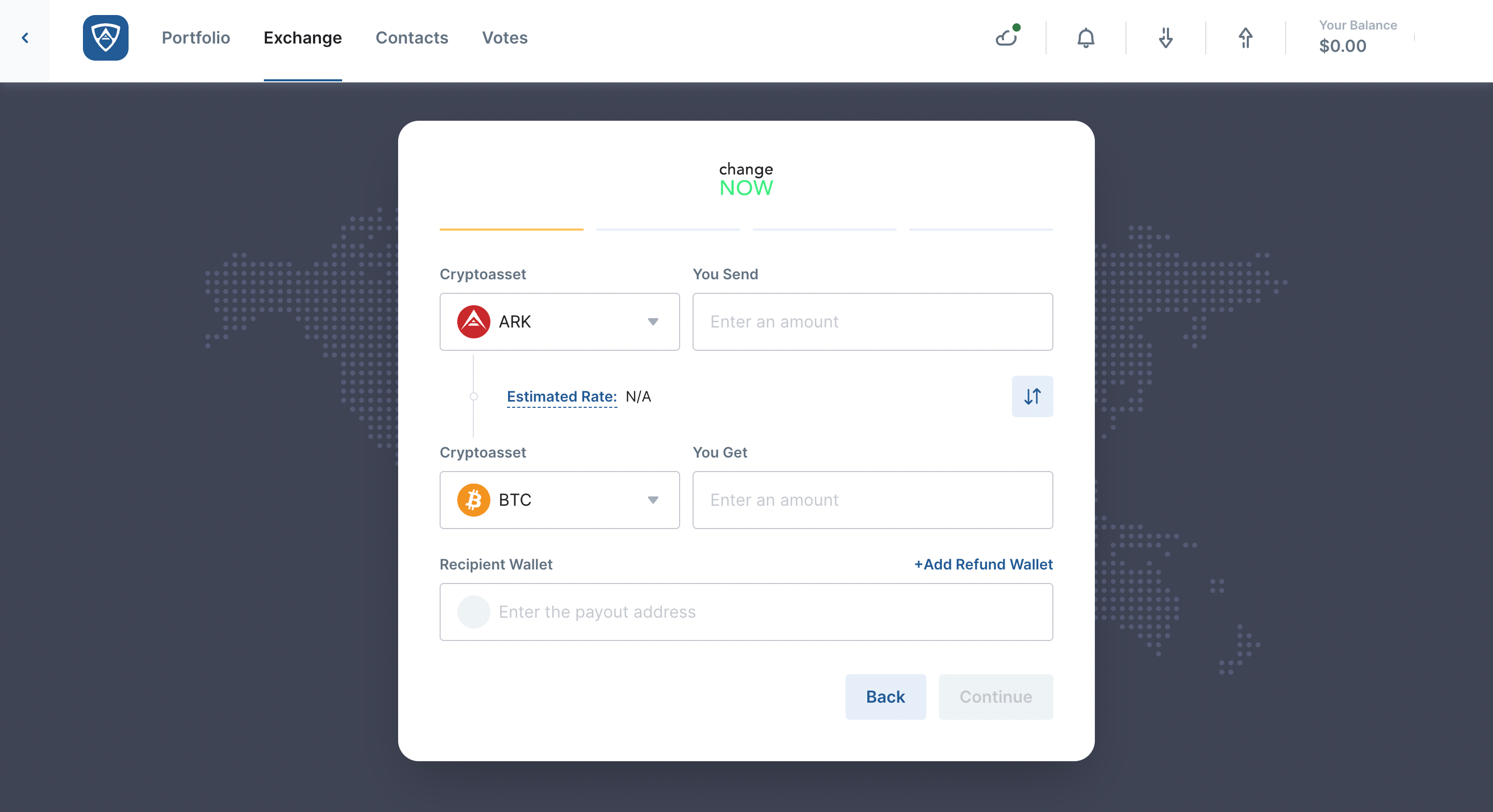 1. Streamlined Token Swaps
With the integration of ChangeNOW's API, ARKVault users can now enjoy streamlined token swaps directly within the wallet interface. Swapping between different tokens has never been easier, thanks to the seamless integration of ChangeNOW's services. Whether you're looking to diversify your portfolio or take advantage of market opportunities, ARKVault's integration with ChangeNOW's API provides a hassle-free and efficient solution.
2. A Wide Selection of Supported Cryptocurrencies
The ChangeNOW API integration also expands the range of supported cryptocurrencies within the ARK wallet. From popular mainstream coins to emerging tokens, users can diversify their portfolios and explore exciting trading opportunities. The integration ensures that users have access to more than 850 digital assets, empowering them to make informed decisions and stay ahead in the ever-evolving crypto landscape.
3. Reliable and Secure Transactions
ChangeNOW is renowned for its commitment to security and reliability. By integrating ChangeNOW's API, ARKVault inherits these qualities, providing users with a trusted platform for their crypto transactions. The integration ensures that all swaps and transactions executed within ARKVault adhere to the highest security standards, giving users peace of mind and confidence in their digital asset management.
4. Expanding Use Cases for ARKVault
The integration of ChangeNOW's API opens up new possibilities and expands the use cases for ARKVault. Users can now leverage the wallet's functionalities not only for managing ARK transactions but also for seamless token swaps. This integration positions ARKVault as a versatile tool in the crypto space, catering to the evolving needs of blockchain enthusiasts and businesses.
Integrating ChangeNOW's API: Unlocking the Full Potential of Your Business
Integrating ChangeNOW's API into your wallet is a straightforward process that unlocks a world of possibilities. By seamlessly integrating ChangeNOW's services, you can enhance the functionality of your wallet and offer your users a seamless and convenient experience. Whether you're a developer or a business owner, integrating ChangeNOW's API can be a game-changer for your crypto wallet.
To integrate ChangeNOW's API into your wallet, we provide a comprehensive step-by-step guide that will walk you through the process. Once the integration is complete, your wallet will be equipped with the power of ChangeNOW's seamless crypto exchange functionality. Users can now enjoy the convenience of initiating swaps directly within the wallet, expanding the possibilities for managing their digital assets.
Embrace the Power of Seamless Crypto Transactions
As blockchain technology continues to reshape industries, the ARK Ecosystem stands at the forefront, providing a platform for businesses and individuals to thrive. Whether you're a blockchain enthusiast, a startup, or an established enterprise, exploring the ARK Ecosystem and integrating ChangeNOW's API into your wallet can unlock new opportunities and propel you towards success in the digital asset landscape.
Embrace the power of seamless crypto transactions and take your wallet to the next level with ChangeNOW's API integration. Visit ChangeNOW today and explore the possibilities for your business!