Enhancing Security and Offering Diversity: The Onez White Label Crypto Wallet's Integration of ChangeNOW's B2B Solutions
In the rapidly evolving landscape of global finance and blockchain technology, the need for secure and diverse solutions is paramount. Onez, a top-notch international fintech and software development company, meets these needs head-on with their suite of cutting-edge products. Onez is a leading company in ready-made products such as white-label self-custody crypto wallets, a crypto exchanges, and various solutions for crypto payments, crypto accounting, and digital banking.
Onez's White Label Crypto Wallet: A Comprehensive Crypto Platform
The Onez white-label crypto wallet has gained recognition for its robust features and secure platform. Supporting the TOP Сoin Market Cap cryptocurrencies, it facilitates transactions with a range of popular cryptocurrencies such as BTC, ETC, BNB, SOL, TRX, and more. The wallet also provides opportunities for staking with cryptocurrencies like TRX, SOL, AVAX, BNB, KSM, and DOT. Furthermore, recognizing the growing importance of non-fungible tokens (NFTs) in the crypto market, the wallet offers management and trading features for ERC-721 and ERC-1155 NFTs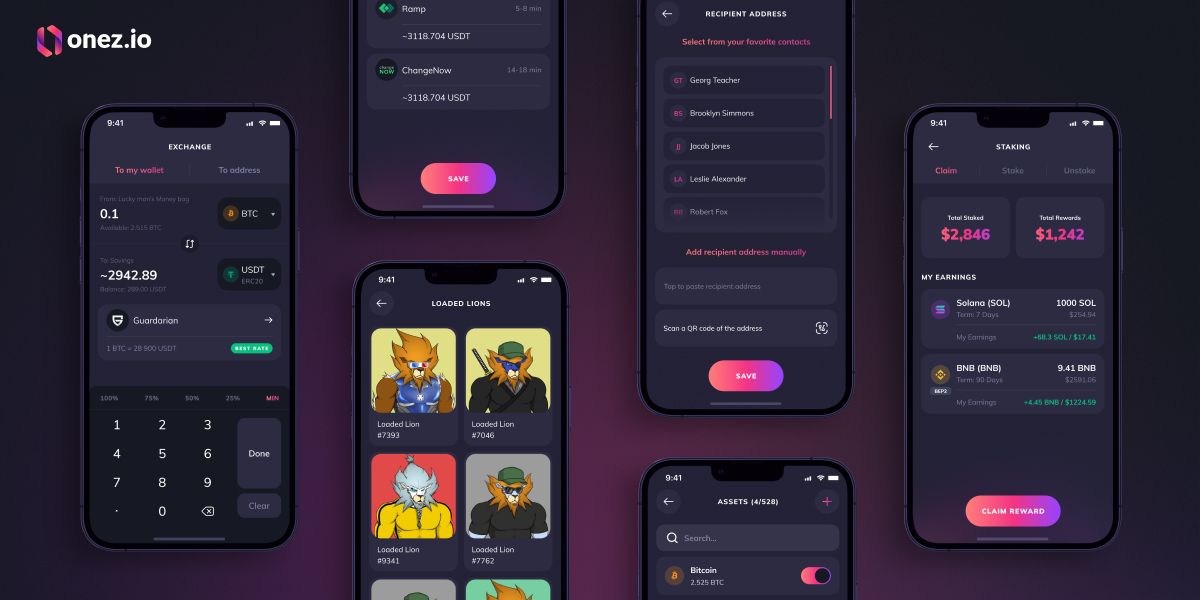 Onez White Label Crypto Wallet features
Institutional-Grade Security: The wallet employs mnemonic phrases for security and privacy, along with Face/Touch ID for additional protection. Onez's White Label Wallets support all types of the mnemonic phrases. The transaction history feature allows customers to track their activity and maintain a comprehensive record of their digital assets.

Extensive Cryptocurrency Support: The Onez white label wallet supports all major coins and tokens, ensuring that your customers can store, send, and receive a wide array of digital assets.

Multi-Portfolio Management: This feature allows customers to efficiently manage multiple wallets within the same application. It's a streamlined experience for those who own a variety of digital assets across different wallets.

Instant Swap & Buy: Customers can conveniently exchange digital assets within the wallet using the integrated ChangeNOW API. This feature simplifies the swapping process and enables quick and easy conversions between different cryptocurrencies. Additionally, the wallet offers an integrated buy/sell feature to purchase cryptocurrencies with fiat currency.

Support for NFTs: Onez wallet has built-in support for NFTs, allowing your customers to easily manage their digital collectibles. This feature can help you tap into the growing NFT market.

Staking Capabilities: The wallet also supports staking of various cryptocurrencies, enabling customers to earn rewards by holding certain digital assets in their wallet.

Customizable Interface: The personalized dashboard lets customers view their portfolio, track transactions, monitor the market, and conduct transactions quickly with saved contacts. They can add or remove widgets to customize their user experience. Various business sectors can customize the dashboard to suit their business needs. In this way, Onez can create a deeper integration between the wallet and the client's business by adding custom widgets for the client.
Collaboration with ChangeNOW: Integration of B2B Solutions
In a bid to further elevate the security standards in the crypto industry, ChangeNOW, a highly-regarded cryptocurrency exchange platform, has announced a strategic partnership with Onez. This collaboration aims to integrate ChangeNOW's suite of B2B solutions into the Onez white-label crypto wallet. These solutions, including Exchange API for efficient crypto exchanges, the opportunity to earn crypto, and the addition of NOW token listing, will enhance the wallet's capabilities.
Understanding ChangeNOW's API as a Secure Solution for Businesses
ChangeNOW's Exchange API is a powerful tool that connects businesses to ChangeNOW's cryptocurrency exchange platform. It is a secure and reliable communication protocol that enables businesses to offer crypto transaction processing to their customers. With over 850 cryptocurrencies available for exchange, ChangeNOW's API provides businesses with a wide range of options to cater to their customers' needs.
How to Integrate ChangeNOW's API
Integrating ChangeNOW's API into a platform or wallet is a straightforward process. The API documentation provides comprehensive guides and resources to assist businesses in the integration process. By following the step-by-step instructions and utilizing the provided code samples, businesses can seamlessly integrate ChangeNOW's API into their platform, enhancing the security and functionality of their services.
Who Can Benefit from ChangeNOW's API?
ChangeNOW's API is designed to cater to a wide range of businesses operating in the cryptocurrency space. Whether it's a crypto wallet provider, an exchange platform, or a fintech company, ChangeNOW's API offers a reliable solution for crypto transaction processing. By integrating ChangeNOW's API, businesses can enhance the security measures of their platform, provide a seamless user experience, and expand their service offerings to include a wide range of cryptocurrencies.
A Bright Future: A Stronger, More Secure Crypto Wallet
This strategic partnership between ChangeNOW and Onez heralds an era of enhanced security and utility in the crypto industry. The integration of ChangeNOW's B2B solutions into the Onez white label crypto wallet promises to provide users with a more comprehensive, secure, and efficient platform for managing their digital assets. This collaboration aligns perfectly with the ongoing mission of both companies to foster a safe and vibrant ecosystem for crypto asset management.
To take advantage of the secure and reliable features provided by ChangeNOW's API, businesses operating in the cryptocurrency industry are encouraged to integrate this powerful tool into their platform. By doing so, they can enhance their security measures, provide a seamless user experience, and offer a wide range of cryptocurrencies for their customers to transact with. Embrace the future of crypto management and integration by visiting ChangeNOW today and revolutionize the way you handle digital assets.
Integrate Exchange API for your business today and unlock the full potential of your platform!