El Salvador Continues Crypto Expansion Despite Probe
El Salvador's Court of Accounts, which regulates the conduct of law officials, will probe a complaint about the government's Bitcoin purchases and its construction of cryptocurrency ATMs across the country, as Bitcoin makes an interesting start in El Salvador.
The monumental introduction of Bitcoin as a legal tender of El Salvador's economy on the 7th of September has sparked worry amongst its populace just as well as it has sparked excitement. Last week, groups of Salvadorans took to the streets to protest against President Bukele's Bitcoin law, which they described as an act of "dictatorship". Cristosal, a human right organisation based in the country, lodged an official complaint to the country's Court of Accounts, leading to the beginning of a probe into six members of the Board of Directors of the Bitcóin Trust, identified by Cristosal. The Court of Accounts is a tier of El Salavdor's legislature designated to check public officials.
However, despite the discomfort of an investigation and some protests, President Bukele's government has bought extra 150 BTCs in Bitcoin's brief dip over the past 24 hours and also announced the establishment of more than 200 Bitcoin ATMs across the country.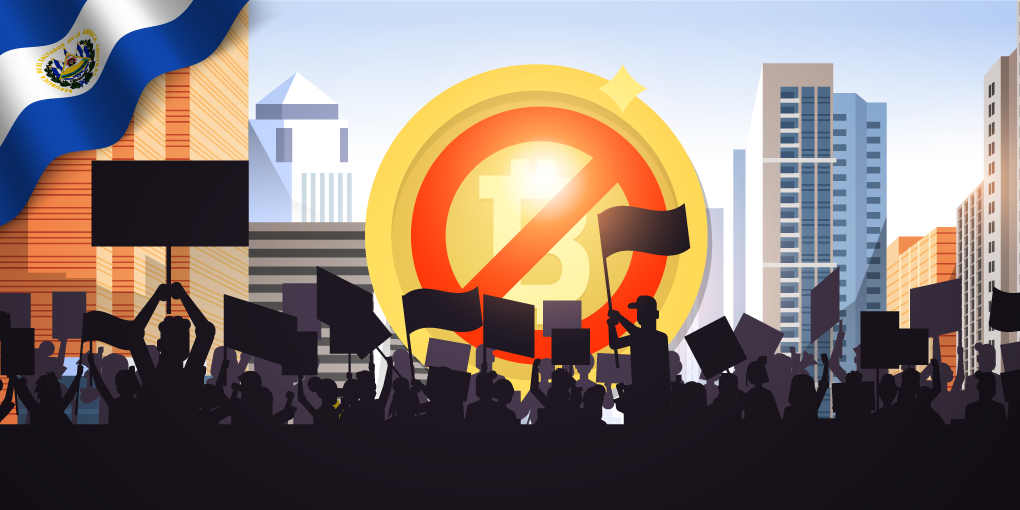 President's Response to Protest and Vandalism
On social media channels, videos of a Chivo-backed store in San Salvador set on fire floated around. An El Salvador government's Bitcoin ATM was also vandalized with people carrying anti-BTC banners. One of the banners read "democracy is not for sale!"
The local media reported that the people's fury was not only directed at the Bitcoin law but also at Bukele who has been accused of dictatorship and also weakening the country's judicial tribunal. Though Bukele has been praised in the past for boosting security in the small Central American nation, he has recently been chastised with claims of dictatorship.
The significant protest which took place on El Salvador's independence day last week garnered enough attention to demand a statement from the President. Bukele took to Twitter soon after to condemn protesters and citizens who supported the demonstrations and property destruction.
Bukele also berated the press while addressing the tweets of protestors who declared that the burning of the Bitcoin ATM was done by infiltrators.
Regardless of the dissent, Bukele announced on Twitter this morning that the government had bought additional BTCs worth almost $7 million, after only buying 200 BTCs two weeks ago. Bitcoin ATMs in El Salvador are also at a high, with El Salvador now boasting of the third highest number of Bitcoin ATMs in the world, only after the United States and Canada.
You can buy or trade any of your preferred tokens for Bitcoin (BTC) on ChangeNOW without any hidden fees..
Welcome to the NOW experience! The ChangeNOW team presents you the new community-inspired crypto wallet – NOW Wallet.