Edge Wallet's Crypto Journey with ChangeNOW API
Are you looking for a secure and user-friendly mobile cryptocurrency wallet? Then Edge is the way to go. This cutting-edge platform is designed to provide seamless storage and trading of crypto coins. And with the integration of ChangeNOW's Exchange API, Edge users can enjoy even more convenience and flexibility in managing their digital assets.
In this article, we'll explore the journey of Edge and how the integration with ChangeNOW's API has taken their service to the next level. Whether you're a crypto enthusiast or a business owner, this collaboration is set to revolutionize the way you interact with cryptocurrencies.
A Brief Introduction to Edge
Edge, formerly known as Airbitz, has been a trusted name in the crypto industry for years. With a strong focus on data security and user privacy, Edge offers a client-side encrypted and peer-to-peer synchronized platform for managing cryptocurrencies. The platform allows users to create, manage, and encrypt their private keys and application data directly on their devices, ensuring complete control over their digital assets.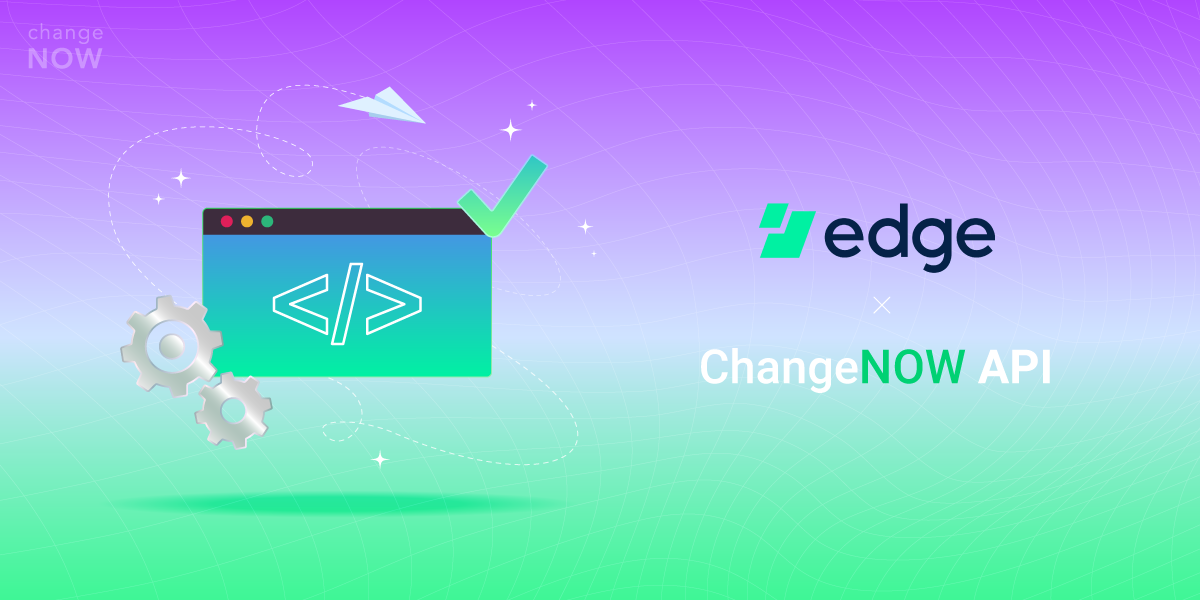 Key Features of Edge
Client-Side Encryption: Edge leverages client-side encryption to ensure that users' private keys and transaction data are securely stored on their devices. This means that neither Edge nor any third party has access to users' private keys or transaction details.

Cross-Platform Compatibility: Whether you're using a desktop computer, a mobile device, or a web browser, Edge is compatible with multiple platforms, including NodeJS, browsers, and React Native. This allows for a seamless user experience across different devices.

Blockchain Plugins: Edge's optional blockchain plugins enable users to transact on various blockchains, including Bitcoin, Litecoin, Bitcoin Cash, Ethereum, ERC20 Ethereum tokens, and much more. This flexibility allows users to manage a diverse range of cryptocurrencies within a single wallet.
The Power of ChangeNOW Exchange API Integration
ChangeNOW, a leading non-custodial cryptocurrency exchange, has joined forces with Edge to integrate their powerful Exchange API. This collaboration brings a host of benefits to Edge users, making it easier than ever to trade and swap cryptocurrencies directly within the wallet.
1.Seamless Crypto Swaps
Thanks to the integration of ChangeNOW's Exchange API, Edge users can now swap their cryptocurrencies seamlessly. Whether you want to exchange Bitcoin for Ethereum or Litecoin for Bitcoin Cash, the process is as simple as a few taps on your mobile device. No account creation or sharing of personal information is required, ensuring your privacy and security.
2. Wide Range of Supported Cryptocurrencies
ChangeNOW's Exchange API provides access to over 900 cryptocurrencies, giving Edge users a diverse range of options to choose from. Whether you're a seasoned trader or a beginner in the crypto world, you'll find all the popular cryptocurrencies available for purchase, sale, or exchange within Edge.
3. Best Rates and Instant Transactions
ChangeNOW is known for its competitive rates and lightning-fast transactions. By leveraging ChangeNOW's Exchange API, Edge ensures that users get the best rates for their crypto swaps and enjoy instant transactions. Say goodbye to lengthy waiting times and complicated exchange processes – Edge and ChangeNOW have got you covered.
Business Benefits of Integrating ChangeNOW API
While Edge users can certainly benefit from the integration of ChangeNOW's Exchange API, businesses in the crypto industry can also leverage this powerful partnership to enhance their services. Whether you run a crypto wallet, a crypto exchange, or any other crypto-related business, integrating ChangeNOW's API can take your operations to new heights.
Streamlined User Experience: Integrating ChangeNOW's Exchange API into your crypto wallet or exchange platform allows your users to seamlessly swap cryptocurrencies without leaving your application. This streamlined user experience enhances customer satisfaction and encourages them to stay within your ecosystem, boosting user retention and engagement.

Increased Revenue Opportunities: By integrating ChangeNOW's Exchange API, you open up new revenue streams for your business. Earn commissions on every successful swap or transaction made through your platform, adding an additional revenue source to your existing business model. With ChangeNOW's competitive rates and instant transactions, your users will be more likely to choose your platform for their cryptocurrency needs.

Enhanced Security and Trust: ChangeNOW is a trusted name in the crypto industry, known for its commitment to user privacy and data security. By integrating their Exchange API into your platform, you can leverage this trust and enhance the security of your users' transactions. This, in turn, builds credibility for your brand and instills confidence in your users, leading to increased adoption and usage of your platform.
How to Integrate ChangeNOW Exchange API
Integrating ChangeNOW's Exchange API is a straightforward process that can be completed in a few simple steps. Follow the guide below to unlock the full potential of this powerful partnership:
Register for a ChangeNOW Account: Visit the ChangeNOW website and create an account to gain access to the Exchange API.
Generate Your API Keys: Once registered, generate your API keys from the ChangeNOW dashboard. These keys will be used to authenticate your requests to the Exchange API.
Integrate the API: Utilize the comprehensive documentation and developer resources provided by ChangeNOW to integrate the Exchange API into your Edge Wallet application. Follow the step-by-step guides and code samples to ensure a smooth integration process.
Test and Deploy: Before launching the integrated solution, thoroughly test the functionality and performance of the Exchange API within your platform. Make any necessary adjustments and optimizations to ensure a seamless user experience.
Take Your Crypto Business to the Next Level with ChangeNOW Exchange API
Integration of ChangeNOW's Exchange API is a game-changer for both individual users and businesses in the crypto industry. With seamless crypto swaps, a wide range of supported cryptocurrencies, and competitive rates, Edge users have enjoyed a superior crypto experience due to this integration. For businesses like Edge, integration of ChangeNOW's API can offer streamlined user experiences, increased revenue opportunities, and enhanced security and trust.
Don't miss out on this opportunity to revolutionize your crypto business. Integrate ChangeNOW's Exchange API into your platform today and start reaping the benefits. Take your crypto wallet to a whole new level and start earning NOW!
Conclusion
Edge's collaboration with ChangeNOW through the integration of their Exchange API has brought a new level of convenience and flexibility to the world of cryptocurrency management. With Edge's secure and user-friendly platform combined with ChangeNOW's extensive range of supported cryptocurrencies and competitive rates, users can now enjoy a seamless crypto experience. Businesses in the crypto industry can also leverage this powerful collaboration to enhance their services, streamline user experiences, and increase revenue opportunities. Don't miss out on the chance to integrate ChangeNOW's Exchange API into your application and take your crypto business to new heights.