How To Earn Crypto as an Influencer
Crypto influencers play a crucial role in educating and guiding investors. As a crypto influencer, you have the power to decipher complex concepts and help your audience make informed decisions.
But how can you monetize your expertise and earn crypto in the process? This comprehensive article will explore various strategies and platforms that can help you exchange crypto and maximize your earning potential.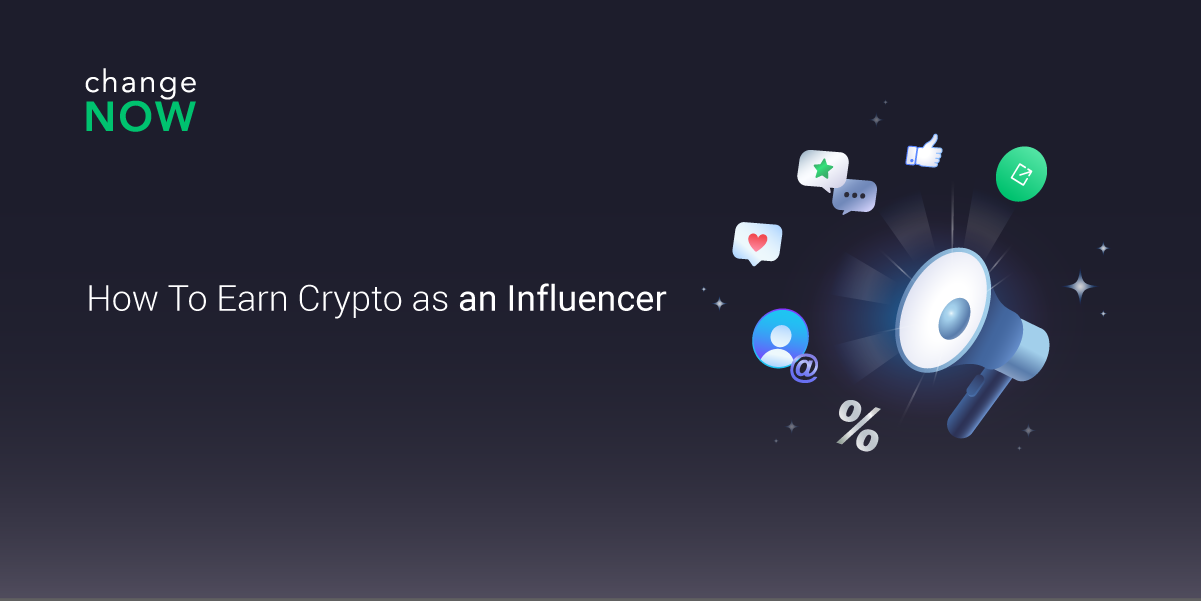 Understanding the Crypto Landscape
Before diving into the different ways to exchange crypto, it's essential to have a solid understanding of the cryptocurrency landscape. Cryptocurrencies are digital or virtual currencies that use cryptography for secure transactions. They operate on decentralized networks called blockchains and offer benefits like transparency, security, and financial sovereignty.
The Benefits of Becoming a Crypto Influencer
As a crypto influencer, you have the opportunity to leverage your knowledge and expertise to attract a dedicated audience. By sharing valuable insights, market trends, and project updates through various mediums like videos, blog posts, and social media, you can position yourself as a trusted thought leader in the crypto space. This credibility opens doors to various earning opportunities.
Building Your Marketing Strategy
To effectively exchange crypto and monetize your influence, it's crucial to develop a robust marketing strategy. Here are some key tips to consider:
1. Educate People About Crypto
One of the primary goals of your public relations campaign should be to educate people about cryptocurrencies. Many individuals are still unaware of how cryptocurrencies work, so providing educational content can help engage and earn their trust. By explaining the long-term reliability and profitability of crypto, you can enhance your brand's exposure and credibility among the established crypto community.
2. Engage Crypto Influencers
Engaging with crypto influencers can significantly boost your brand's exposure and connect you with a dedicated audience. While it may not directly result in a massive increase in your following, collaborating with influencers can help you engage, educate, and attract devoted crypto consumers and investors. Focus on building organic relationships and expanding your reach within the crypto community.
3. Utilize Influencer-Sponsored Ads
Crypto advertising faces certain challenges due to restrictions on popular platforms. However, sponsored advertisements featuring well-known influencers can provide a powerful way to gain momentum with crypto enthusiasts. Collaborating with influencers to create positive brand images and drive growth can be an effective strategy to exchange crypto and attract new users.
4. Offer Incentives to Influencers
Influencers often have a significant number of followers on their social media accounts. To compensate them fairly for their partnership, consider offering them a stake in your cryptocurrency project. Providing them with free digital coin assets that can appreciate in value over time is a mutually beneficial arrangement. This incentive can motivate influencers to promote your project and help you expand your reach.
5. Organize Influencer Events
Hosting events targeted at true investors can help create traction and generate interest in your project. To make these events more appealing, consider involving important influencers and opinion leaders. By bringing in influencers to participate in your events, you can attract a larger audience and gain credibility within the crypto community.
6. Collaborate on Contests
Running contests in collaboration with influencers is an excellent way to generate interest in your crypto products. Offer giveaways of your cryptocurrency to the influencer's audience, creating a competitive environment where participants make significant efforts to obtain your blockchain-based items. Promote the contest effectively to increase brand awareness and attract potential users.
Introducing ChangeNOW's Referral Program
ChangeNOW is a leading crypto exchange platform that offers a referral program designed specifically for influencers seeking to earn crypto. With ChangeNOW's user-friendly interface, seamless transactions, and extensive cryptocurrency options, it's the perfect platform for influencers and crypto bloggers to exchange crypto and earn profit while creating content.
Why Choose ChangeNOW's Referral Program?
ChangeNOW's referral program stands out for several reasons:
Ease of Use: ChangeNOW's platform is incredibly user-friendly, making it accessible to both beginners and experienced crypto enthusiasts. The intuitive interface simplifies the process of exchanging crypto, ensuring a seamless experience for your audience.

Wide Range of Cryptocurrencies: ChangeNOW supports more than 850 cryptocurrencies, allowing your audience to exchange various digital assets effortlessly. Whether they're interested in Bitcoin, Ethereum, or emerging altcoins, ChangeNOW has them covered.

Fast and Secure Transactions: ChangeNOW prioritizes security and efficiency, ensuring that all transactions are processed swiftly and securely. Your audience can exchange crypto with peace of mind, knowing that their assets are protected.

Competitive Affiliate Program: ChangeNOW offers a highly competitive affiliate program, allowing influencers to earn a substantial commission on each successful referral. By promoting ChangeNOW's platform, you can earn crypto while providing value to your audience.
How to Benefit From ChangeNOW's Referral Program
To start earning crypto through ChangeNOW's referral program, follow these simple steps:
Sign Up: Visit the ChangeNOW website and sign up for an account. It's a quick and straightforward process that requires basic information.

Access Your Affiliate Dashboard: Once you've signed up, you'll gain access to your affiliate dashboard. Here, you'll find your unique referral link, which you can share with your audience.

Promote ChangeNOW: Generate engaging content, such as videos, blog posts, or social media posts, highlighting the benefits of ChangeNOW. Include your referral link to direct your audience to the platform.

Track Your Referrals: Monitor your affiliate dashboard to track the number of referrals and the commission you've earned. ChangeNOW provides detailed analytics to help you optimize your marketing strategy.

Withdraw Your Earnings: Once you've accumulated a sufficient amount of commission, you can withdraw your earnings from ChangeNOW. The platform supports various withdrawal options, including popular cryptocurrencies and fiat currencies.
Conclusion
As a crypto influencer, you possess valuable knowledge and insights that can benefit your audience. By leveraging various strategies and platforms, you can exchange crypto and monetize your influence effectively. ChangeNOW's referral program offers an exceptional opportunity for influencers seeking to earn crypto while creating engaging content. With its user-friendly interface, wide range of cryptocurrencies, and competitive affiliate program, ChangeNOW is the perfect platform to kickstart your journey as a crypto influencer. Sign up now and start earning crypto with ChangeNOW's referral program!
Disclaimer: This article is for informational purposes only and does not constitute financial advice. Cryptocurrency investments carry risks, and individuals should conduct their own research before making any investment decisions.