How CryptoSorted Empowers Users with ChangeNOW Widget
Cryptocurrency investment can be a challenging task, especially for beginners who are new to the complex world of crypto. That's why CryptoSorted was created to help investors make informed decisions and simplify the research process. CryptoSorted is a leading source of actionable cryptocurrency investment content, providing guides, project reviews, and analyses to help investors become more successful in their investments.
One of the main challenges in the crypto world is exchanging one digital asset for another. This process can be complicated and time-consuming, but ChangeNOW has revolutionized the exchange process by introducing their Exchange Widget. In this article, we will discuss how CryptoSorted has integrated ChangeNOW's Widget to empower their users to swap crypto effortlessly and earn income from each transaction.
CryptoSorted: Your Source for Empowered Crypto Investing
CryptoSorted stands as a trusted and comprehensive platform that empowers crypto enthusiasts by providing actionable investment content and valuable resources. With a focus on informed decision-making, CryptoSorted offers a wide array of cryptocurrency project reviews, guides, and analyses. The goal is to save users time, money, and effort by presenting accurate and actionable data to make successful investment choices. CryptoSorted understands the importance of due diligence and strives to be a reliable source for independent research.
What is ChangeNOW Exchange Widget?
ChangeNOW's Exchange Widget is a tool that enables users to exchange crypto directly on a website, while earning from the trading volume. The widget is simple to integrate and customizable, making it an ideal solution for businesses that want to conduct cryptocurrency exchanges with a user-friendly interface, a vast selection of assets, and favorable exchange rates.
The widget supports over 850 cryptocurrencies, enabling users to swap any digital asset for another with just a few clicks. The widget is customizable, enabling businesses to match their website's design and color scheme. Businesses can also select a vertical or horizontal widget layout, and set up a default pair and amount that users will automatically see when they open the website.
Benefits of ChangeNOW Exchange Widget for CryptoSorted
In their continuous effort to enhance the user experience, CryptoSorted has integrated ChangeNOW's Exchange Widget, setting a new standard for effortless crypto trading. This integration brings significant advantages to CryptoSorted users, making cryptocurrency exchanges more convenient and user-friendly.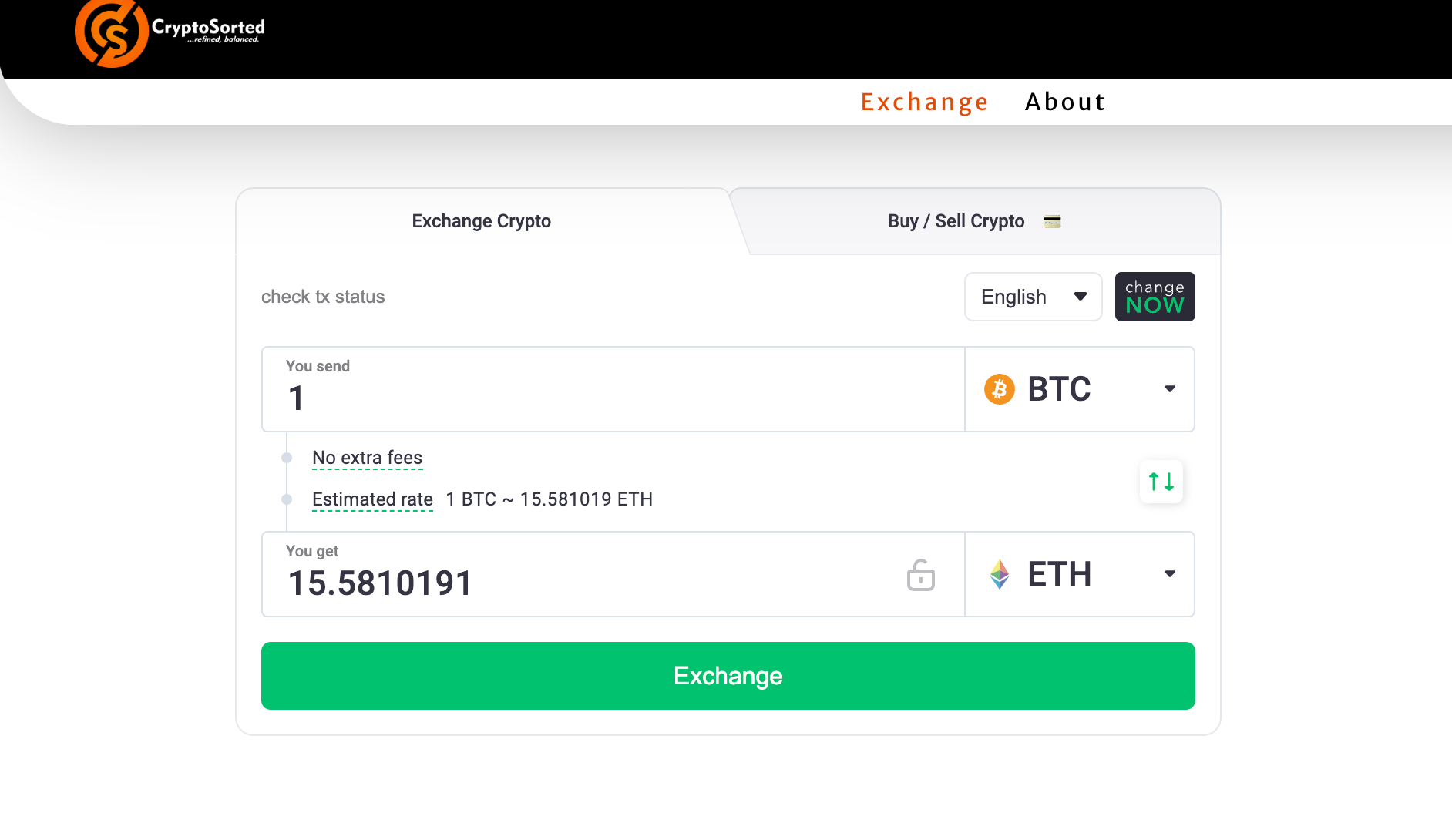 ChangeNOW's Widget, accessible directly on the CryptoSorted platform, offers a wealth of benefits to users. The Widget provides seamless access to a vast selection of coins and tokens. Whether you're looking to exchange Bitcoin for Ethereum or explore lesser-known altcoins, the ChangeNOW Widget ensures a smooth and hassle-free exchanging experience.
The integration of ChangeNOW's Exchange Widget into CryptoSorted not only benefits users but also creates new opportunities for the platform. By incorporating the Widget, CryptoSorted generates income from each transaction made by its users, allowing for an additional revenue stream. This mutually beneficial partnership with ChangeNOW enables CryptoSorted to enhance its offerings and maintain its commitment to providing valuable resources to the crypto community.
Join CryptoSorted and Experience Effortless Crypto Exchanges
If you're seeking a platform that empowers you with actionable investment content while offering seamless swaps of over 850 assets, CryptoSorted is the answer. By integrating ChangeNOW's Exchange Widget, CryptoSorted ensures that users have access to a wide variety of crypto, all within the platform's intuitive interface. CryptoSorted's dedication to empowering users aligns perfectly with ChangeNOW's mission to simplify crypto exchanges.
To integrate ChangeNOW's Widget into your crypto platform, visit the ChangeNOW website and read our step-by-step integration guide. Join CryptoSorted and other leading platforms in revolutionizing the way users swap cryptocurrencies, all while enjoying a user-friendly experience.
Conclusion
In conclusion, ChangeNOW's Exchange Widget is a game-changer in the cryptocurrency exchange landscape. It is a customizable and easy-to-integrate tool that enables businesses to conduct cryptocurrency exchanges with a user-friendly interface, a vast selection of assets, and favorable exchange rates. CryptoSorted has integrated the widget into their website and is now benefiting from its features.
If you're a business looking to simplify your cryptocurrency exchange process and earn income from each transaction, integrating ChangeNOW's Exchange Widget into your website is a great solution. With just a few simple steps, you can easily integrate the widget into your platform or website and provide your users with a seamless and secure crypto exchange experience. Try it out and boost your revenue with ChangeNOW's Exchange Widget!