Crypto Crash: Why is Cryptocurrency Going Down?
In November we see a major crypto crash. ChangeNOW is here to answer two painful questions – why is crypto dropping? and how low will the market drop?
Since January of this year, the cryptocurrency market was often seen in red. Now, in November, just after the Bitcoin Cash hash war crypto massacre and the torture of seeing the Bitcoin price today, we see one more major crypto crash. ChangeNOW is here to answer two of the most painful questions related to crypto – "why is crypto dropping?" and "how low will the market drop?".
Why is Bitcoin dropping?
For those of our users who have not been following the cryptocurrency price news for a long time, ChangeNOW gives a little bit of background. Cryptocurrency market has been in a bear phase for a very long time now (from the beginning of 2018, to be precise). Among the snoozy coins was Bitcoin, the most widely known crypto, which remained at $6000 level for more than six months (with more or less -$200/+$200 fluctuations). This week, however, we see Bitcoin price crash to $4,500. What caused the BTC price to drop at this pace and what is the future price prediction?
How it all started, post BCH hard fork
Some experts (such as Tom Lee, for instance) claim that Bitcoin is just found in a transition period and the institutional investors are already here to pick it up and make the BTC price rise again. This forecast is surely optimistic – Lee bases it on the opinion that Bitcoin in going deeper into the market with more and more merchants choosing this cryptocurrency as their payment method. Media does not fully support a positive outlook on the event – the mainstream press is mostly spreading negative ideas and telling that BTC price may drop even further.
Bitcoin was not the only cryptocurrency with a rapid price drop. Generally, many people claim that the Bitcoin Cash hard fork could impact the overall crypto market in a very (VERY) negative manner. The stakes and forks approach to the ongoing crypto powerplay led by Ver and Wright is not only seen in the community but even in Bloomberg. The analysts say that the BCH hash war is the main reason for the crypto market crash. Right now, as we see the sparks on green here and there on our screens, there is hope that the market will recover from incredible losses.
The users are concerned about the prices of such cryptocurrencies as Ripple and Ethereum
As for now, Ripple price prediction is better than others. Experts say that this crypto will be able to reach new heights by adding new clients and getting financial institution backup. With these factors, XRP might be able to reach the price of $8-10 by the end of 2018. In contrary to this optimistic statement, Ethereum price prediction for the rest of 2018 seems gloomy – according to forecasts, ETH might be dropping more in the next few days to come. As cryptocurrency analysis shows, those dealing with Ethereum should cautiously monitor the market situation. [caption id="attachment_229" align="alignnone" width="354"]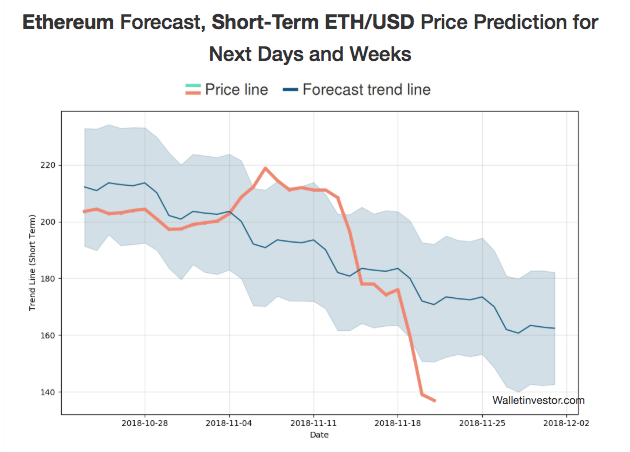 https://walletinvestor.com/forecast/ethereum-prediction [/caption] To sum this all up, ChangeNOW, a leading non-custodial cryptocurrency exchange, can form a statement: in situations like this, we warn our users to trade with great caution.