Crypto ATMs in 2022 Explained: Why Use Them in the Digital Age?
Once Bitcoin gained momentum in 2013, people started to seek ways to easily onboard cryptocurrency, and that's when Bitcoin ATMs came on stage.
Entrepreneurs realized that familiar devices could attract the masses of excited newcomers better than sophisticated online exchanges.
A decade later, the number of Bitcoin ATMs continues to grow exponentially – it already exceeds 38,600 worldwide. What is the reason for such popularity? Why would you even use a Bitcoin ATM in 2022 when so many online services are in place? Let's see what crypto ATMs offer and what pitfalls they have.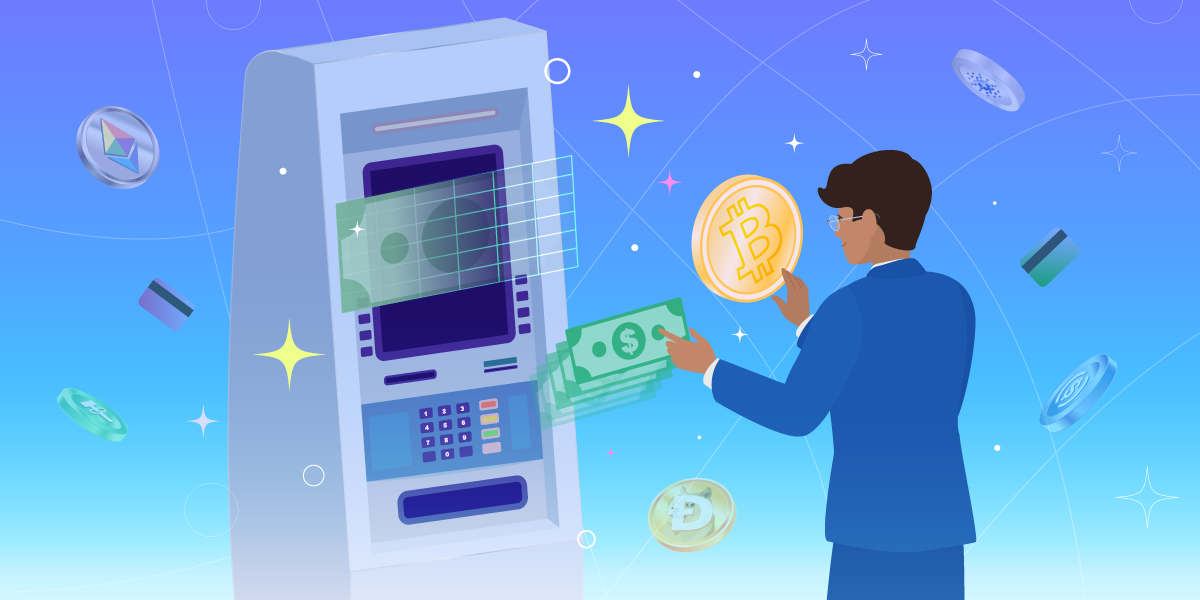 What Crypto ATMs Are There?
Crypto kiosks vary by supported operations and coins, manufacturers, operators, and fees.
Supported operations. All ATMs allow cryptocurrency purchases, while only 25% of machines let you sell crypto as well.
Supported coins. Most ATMs operate with Bitcoin, Litecoin, and Ethereum, while some also support altcoins like Dogecoin, Bitcoin Cash, ZCash, Tether, Dash, Monero, and Ripple.
Manufacturer and operator. These define differences in how ATMs look like, what their interface is, and what fees they charge.
Fees define the percentage from each operation you'll pay to the ATM provider. They vary from 4% to 16%, but most machines would charge you 11% or 15% for Buy operations. Sell fees are roughly 50% lower.
How Do I Buy Crypto At an ATM?
Bitcoin ATMs serve to let people buy cryptocurrency in a familiar interface. This makes crypto purchases intuitive – you can easily follow the instructions on the screen even if you are completely new to digital assets.
The exact flow depends on the ATM type, but generally, the steps are as follows:
Select the cryptocurrency you want to buy.
Set the amount range (e.g. $0–$100, $100-$500, etc.).
Enter your phone number and go through a quick signup (not for all ATMs, though).
Enter your recipient wallet address. There's no need to type it in manually: you can open the wallet app, click "Receive", and use the ATM camera to scan the QR code.
Enter the exact amount you'd like to purchase.
Insert cash or pay with your bank card. The coins will arrive in your wallet in several minutes.
Why is there the need for step 2, you might ask? Some ATMs require a KYC check if you make a purchase of several hundred dollars or more. The procedure is quite simple and quick; in the USA, it only requires the State ID. If a purchase is small, in most cases, it will work without KYC.
What if I don't have a crypto wallet?
The ATM will offer to issue you a new paper wallet – a receipt that has public and private keys on it. Once you're finished with the purchase, it is recommended to import your paper wallet into a cold or hot wallet that supports this feature – this will allow you to manage your crypto online.
To protect your coins, we also suggest you transfer them to another wallet address: ATM-generated paper wallet is not the safest storage option, its private keys may have been compromised at some point.
How Do I Sell Crypto In an ATM?
To sell the coins, users send crypto to an address displayed by the ATM:
Once you sign up with your phone number, the machine will print a receipt with a QR code. Scan it in your mobile wallet and send the coins to the address provided.
When the ATM operator receives the payment, they will send you an SMS saying that you can come back to the machine and redeem your money. Scan the same QR code at the ATM and receive your cash.
Why Would I Ever Use a Crypto ATM?
If you find offline services convenient. For many people, especially newbies, online exchanges and fiat bridges are too complicated and cumbersome. An opportunity to buy their first Bitcoin in minutes without signing up in online services must have brought many users into crypto.
If you want to buy crypto on the go or get instant cash. Some online fiat providers may take a few banking days to process your transaction, and you might not have all necessary accounts at hand logged in when you need them. Crypto ATMs allow you to buy or sell digital coins in minutes.
If you have some banknotes that you would like to invest. A Bitcoin kiosk may be the easiest way to turn your cash into crypto – no banks are needed.
If you lack access to banks or don't want to use them. Even in the most crypto-friendly countries, you still need cash for daily use. Crypto ATMs give financial freedom to those who can't access banks or avoid using them by choice.
If you want more privacy while buying crypto. As mentioned above, most ATMs allow you to purchase and sell small sums of digital coins without KYC.
Where Can I Find a Crypto ATM?
Coin ATM Radar is a great resource where you can find a crypto ATM anywhere in the world. On the main page, you can zoom in the map to find a machine near you or search by address. Make sure to select the coin and the operation you need in filters.
There are 38,625 crypto ATMs worldwide as of July 2022. 88% of them are located in the USA, 6.3% – in Canada, and only 3.7% – in Europe. The remaining 2% are spread across Asia, Australia, and South America.
Why Is The Number Of ATMs Increasing? Are They So Profitable?
Yes, they definitely are. One ATM costs from $700 to $15,000, and its owner earns from a few hundreds to thousands of dollars per month – so a machine pays off in roughly one year.
The earnings, of course, depend on numerous factors, with the most important one being location (you'd want your ATM installed in a place with good traffic). Second, it takes money and time to license the machine. Third, ATM owners share a different percentage from each transaction, generally from 1% to 12% depending on the manufacturer and operator.
The profitability of crypto ATMs surges in the times of turmoil and market volatility, and this encourages entrepreneurs to install more machines. In July 2022, 15 new crypto kiosks were being installed worldwide every day.
First Bitcoin ATMs in History
Crypto kiosks emerged at the time when online fiat-to-crypto bridges were in their infancy. P2P exchanges on the internet were also highly insecure, let alone physical cash-to-crypto swap methods.
The first crypto ATM in history was installed on October 29, 2013, in the Waves coffee shop in Vancouver, Canada. It was operated by a Robocoin company that later deployed 5 machines worth $18,000 each, which is much more expensive than it would be in 2022. During the first day, the ATM at Waves processed 81 transactions worth $10,000. In 2015, Robocoin ceased operations.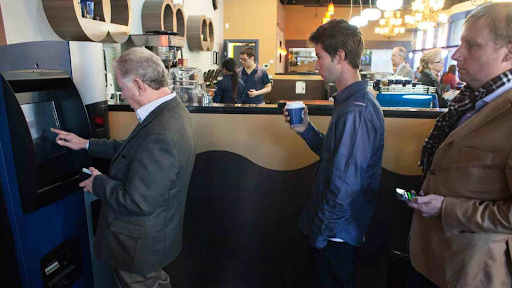 That very ATM. Image source
The first crypto kiosk in Europe was installed two months later in Bratislava, Slovakia. America's first one emerged in a cigar bar in Albuquerque, New Mexico, in February 2014.
In those days, crypto ATMs drew the attention of authorities who wanted to equate the machines to fiat ATMs and regulate them accordingly. Once the legal framework was established, licensed crypto kiosks started to emerge in 2014 in Canada and the USA.
Pitfalls of Crypto ATMs
Despite all the perks of Bitcoin ATMs, they do have some drawbacks as well.
High fees. The most frequent commissions 11% and 15% are higher than most online services offer.
Still not as anonymous as one might think. Many ATMs require a phone number, and in the case of a large transaction – an identification document and even a selfie. For those who seek complete privacy and untraceability, crypto kiosks may not be the best option.
Poor coverage. US citizens are lucky to have 34,000 ATMs installed in their country, but in the rest of the world, a Bitcoin machine may not be an easy thing to find.
Little choice of assets. Bitcoin and major altcoins are available in most ATMs, but if you need a cryptocurrency outside the Top 20, you're unlikely to find a suitable machine.
Questionable security when it comes to creating a paper wallet. If you'd want to generate one yourself, you would make sure your computer is disconnected from the internet so that no one can get access to your private keys. There's no guarantee that the ATM you use doesn't record or broadcast them in some way.
They Wouldn't Make It Without a Crypto ATM
In 2018, residents of the Detroit Metropolitan Area started to notice Bitcoin ATMs popping up in odd places – in the back of a gas station, at party stores, and in the neighborhoods "where most people aren't flush with cash."
That was a weird thing to witness, given the recent 70% collapse of BTC and gloomy bullish sentiment dominating the crypto market. But it turned out that crypto ATMs offered financial convenience to some citizens, and most of them were unbanked. "People who use the machine most likely don't have bank accounts," said the owner of a gas station where a Bitcoin kiosk was installed.
It appears that for this demographic, a crypto ATM is a blessing. CoinFlip, the third-largest Bitcoin machines operator in the USA, tells a story of a man who managed to lift himself out of homelessness thanks to an ATM. He was fired and took numerous loans to pay rent, but after he failed to repay most of them, the bank limited access to his account. The man was then evicted from his house. Bitcoin ATM was the only way he could manage his money before he got a job and restore access to banks.
For some people, a crypto ATM is a convenient way to buy or sell digital assets on the go. For others, it's an easy way to enter the crypto market, while for some, a Bitcoin machine is a vital need that helps get back on track in tough times.