Cosmos Coin Review 2022
Many crypto fans dream of an interconnected world of blockchain networks capable of exchanging information and value quickly and securely.
Cosmos Coin Review 2022
But can it be done in a scalable way? Is interoperability between all chains possible, and does it involve a seamless transfer of tokens from one blockchain to the other?
Cosmos is a project that has developed a communication protocol where all this is possible. You can get the best out of different chains and combine those features under one roof. In this review, we will see what Cosmos is, what the developers have created, and what are the capabilities of this ecosystem.
About Cosmos (ATOM)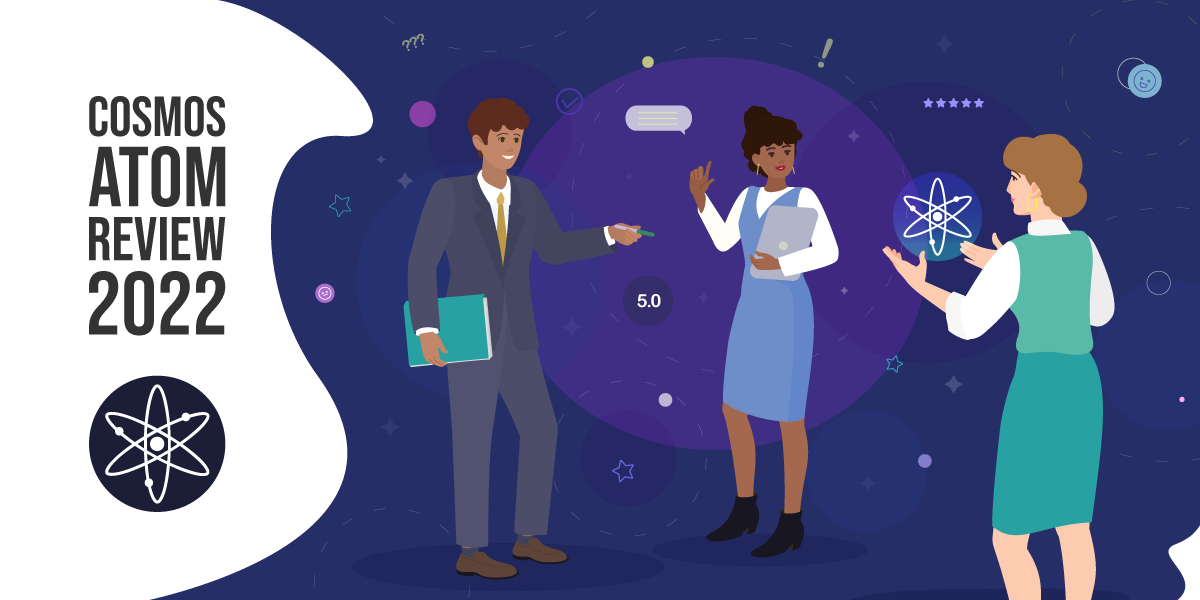 The project was born in 2014 and was developed by a US company called All in Bits Inc. A Swiss non-profit organization, Interchain Foundation, oversees and coordinates the development and works closely with a long list of other companies dedicated to the prosperity of Cosmos.
In 2017, Cosmos held a series of ICOs where they collected over $17 million. It took nearly two years for the team to activate the mainnet, which was launched in March 2019. The native token of the network is called ATOM, and it serves multiple roles in the Cosmos ecosystem.
This project refers to itself as the internet of all blockchains. It envisions a decentralized world with interconnected applications and services enabling a simple exchange of data and value among its community members. Cosmos is scalable, highly customizable, and secure.
Those are some of the reasons why hundreds of apps and services rely on the Cosmos blockchain daily and why over $60 billion worth of cryptocurrency assets are stored on its connected chains.
Monetary value is shared among those who create it. It isn't hoarded by a few centralized entities, which is often the case with traditional platforms. The interoperability features enable programmers to build independent chains that can connect to all other network participants but maintain their own rules and consensus. That makes Cosmos an attractive development platform for gaming, NFTs, DeFi, exchanges, and various autonomous organizations.
The network allows for custom rulesets and voting on community decisions. You have the freedom to share your ideas and monetize them without being censored by a central authority. Lastly, marketplaces can be built that enable permissionless trading, and the network allows users to create their own unique NFTs.
Cosmos (ATOM) Team
Cosmos was co-created by developers and computer scientists Jae Kwon and Ethan Buckman. Ethan is also the President of the Foundation Council of The Interchain Foundation (ICF), which supports decentralized technologies.
The other essential ICF team members include Vice President Brian Crain and Council Member Fernando Pedone. Michael Niederer is the Chief Financial Officer, and dozens of other staff members are responsible for the management, production, marketing, engineering, ecosystem growth, etc.
Tendermint inc. is a US-based software company that was crucial in the creation of Cosmos. Tendermint has now become Ignite, and its goal is to help developers launch and grow their own decentralized blockchain projects. Jae Kwon was the Chief Architect and Founder of Tendermint inc. The President and CEO was Peng Zhong. Besides them, Heng Cao, Claire Hough, and Nick Tomaino occupied the Board of Directors positions.
Cosmos (ATOM) Roadmap
The Cosmos team is working on a bunch of upgrades and changes to their network. New partnerships are being formed, which can be followed by their social media announcements and press releases. Let's see what's in the works for the near future.
Cosmos now features Interchain Accounts, which work on other blockchains that are part of the ecosystem through a single wallet. You will be able to secure all your crypto through the same account.
The Cosmos-based Gravity DEX has been migrated to its own chain, the Crescent Network, to prevent exchange activity from causing congestion on the Cosmos Hub.
Ethereum's biggest decentralized exchange, dYdX, has announced they are switching to a Cosmos-based blockchain, which should go live by the end of 2022. This upgrade should allow the DEX to increase its throughput to 1000s of transactions per second.
Cosmos developers are working with teams from Polkadot and Ethereum to integrate the two chains.
A security upgrade is being prepared that will enable Cosmos validators to secure other blockchains, both Cosmos-based and not. Enterprises and private companies could then utilize those network's security standards on their own chains. The launch date for this new feature is planned for January 2023.
Other planned updates include the Rho Upgrade scheduled for the second half of 2022. It is supposed to make changes to governance and transaction fees, among other things. The Lambda Upgrade is expected in Q1 of 2023, focusing on security and staking. The last two roadmap entries are Epsilon (Q2 of 2023) and Gamma (Q3 of 2023). The Cosmos team will also work on improving privacy and scalability, NFT support, and more advanced smart contract functionalities.
Cosmos (ATOM) Network
Cosmos is an eco-friendly Proof-of-Stake (PoS) type of coin that utilizes a consensus algorithm called Tendermint. Both Cosmos and Tendermint were created by the same person, the developer Jae Kwon.** **The network's core features include scalability of up to 10.000 transactions per second and top-notch security.
Cosmos has its own software development toolkit called Cosmos SDK. It allows developers to build unique blockchains and dApps. Several popular projects were built using the Cosmos SDK, including names such as Binance Coin, Cronos, Thorchain, Luna, etc. There are currently over 260 decentralized apps, blockchains, wallets, and other services that make up the Cosmos ecosystem.
Communication and interoperability between different chains are possible thanks to the Inter Blockchain Communication protocol known as IBC. No matter what consensus algorithms the different networks use, they will be able to transfer tokens using the IBC. This communications protocol can be used both by PoW and PoS coins, provided the blockchains feature a fast transaction finality.
The network is also called Cosmos Hub, and it reaches a consensus if 2/3 of all validators agree on the validity of a proposed block. Delegators can select which validators will maintain consensus, and those block producers will then add new blocks to the Cosmos blockchain. The Cosmos Hub is currently limited to 175 validators.
In terms of numbers, moving digital assets through the network costs $0.01 on average. Transaction confirmation is fast and takes about 7 seconds.
The Gravity DEX and Gravity Bridge
Cosmos has a decentralized exchange called the Gravity DEX. It's a liquidity provider and automated market maker that brought cross-chain DeFi to the ecosystem. The DEX allows users to swap different network tokens and trade in a decentralized fashion.
Gravity Dex is a price-efficient solution because of its use of batched transactions. This method lowers trading fees to an average of $0.08 per swap.
Cosmos developers are also working on the Gravity Bridge. It will be secured by billions of dollars worth of staked ATOM tokens and represent a two-way connection hub to Ethereum. Ethereum-based ERC20 tokens can migrate into Cosmos, and native Cosmos tokens can go the other way.
How to Mine Cosmos (ATOM)
Staking helps to make the Cosmos Hub better and safer for all network participants. ATOM tokens can be staked to earn rewards. This activity also allows stakeholders to participate in governance by voting on proposals about the project's future.
Network participants can either be delegators or validators. The staking rewards for delegating the ATOM coin are currently between 17% and 18%. Running your own validator node brings APR rewards of over 19%.
There is no minimum token requirement for delegators, while validator nodes need a stake of at least 67.500 ATOMs. Staked tokens have a lock-up period of 21 days, during which they remain inaccessible to the holders. Malicious behavior and/or consensus infringements can result in having parts of your stake slashed.
ATOM Coin Price Prediction For 2022
ATOM's price has been bouncing from $12 to $16 in September 2022. Let's see what two independent market experts believe will happen to the Cosmos coin in the future.
Coin Price Forecast
The technical analysts from Coin Price Forecast have published their views on the Cosmos ATOM crypto. They don't expect significant movements during 2022 and predict a year-end valuation of around $20 a coin.
In 2023, ATOM looks set to go above the $20 mark before the asset breaches the $25 threshold in 2025. If their predictions are correct, 2027 is the year where the token could trade for over $31 a unit.
A +200% value increase from today's prices is predicted in 2030, when ATOM should be trading at over $43 on exchanges. A slight reversal is expected in the years that follow before the coin reaches its all-time high in 2033 at $44.
The Economy Forecast Agency
The Economy Forecast Agency has released its long-term report on ATOM until 2026. According to them, Cosmos could end 2022 worth over $22. They don't believe 2023 will be a good year for this digital asset because expectations show a bearish trend, with trading taking place between $11 and $18.
Luckily, such a sentiment won't last long, and 2024 is predicted to entail a price jump from $11 to $28. More positivity is expected in 2025, with further value increases to nearly $35 a coin. Technical analysis shows that ATOM could begin a downtrend in the second half of 2025. The bottom is believed to be close to $21. Most of 2026 is bullish, with an ATH reported to be coming in June at over $41 per token.
Where To Buy and Store ATOM
Cosmos is a vast ecosystem made up of various apps and services. As such, there are plenty of wallets and exchanges where the ATOM token can be purchased and stored. Let's name the most popular ones.
Cosmos Wallets
The official website of the Cosmos Network links to 33 different brands that support the ATOM token.
This digital asset can be securely stored in the easy-to-use NOW Wallet. NOW Wallet is a non-custodial service with round-the-clock customer support and options to buy Cosmos with a debit or credit card.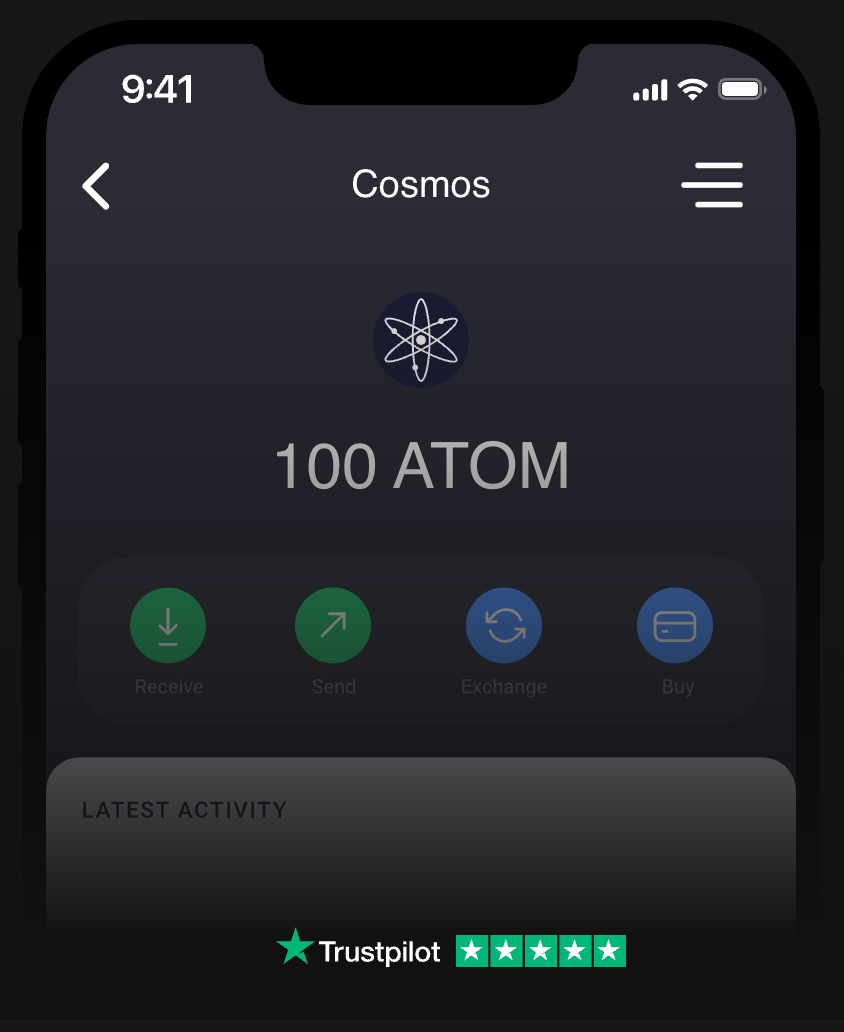 The Keplr wallet is an all-around solution that features asset management, staking and claiming rewards, governance rights, access to dApps, etc. It can be used as a browser extension for Chrome and Firefox or as a mobile app for iOS or Android devices. Keplr is a non-custodial wallet that supports Ledger hardware wallets.
The ATOM token is also natively supported by Ledger hardware wallets. These devices can be used for buying, storing, and staking this coin.
Some other wallets that support the Cosmos token include the likes of Exodus, Guarda Wallet, Shapeshift, Trust Wallet, Atomic Wallet, and ImToken.
Cosmos Crypto Exchanges
If you want to know how to buy Cosmos in an easy and quick way, you should consider the ChangeNOW instant swaps platform. It supports buying Cosmos with a long list of fiat or cryptocurrencies and using an optional fixed rate. The most prominent assets that are exchanged with ATOM include BTC, ETH, USDT, and many more.
Apart from ChangeNOW, ATOMs can also be bought on the following crypto exchanges: Binance, Coinbase, KuCoin, Bithumb, Gate.io, Huobi Global, Kraken, Coinone, etc.