Coinbase and MasterCard Rethink NFT Engagement
Payments network MasterCard has partnered with Coinbase enabling customers to use their cards to process transactions on the platform's imminent NFT marketplace.
This is the latest addition to a series of collaborations between several well-known payment facilitators and giants in the crypto scene. The news came out on Tuesday after Coinbase announced via a blog post that they were working alongside MasterCard in a bid to "revolutionize" the process of buying an NFT.
Easing the Process of Buying an NFT
According to Coinbase, the primary goal is to make it easier for people to become a part of the NFT space. The company plans to do this by redefining the purchase process and working with the payment company to place non-fungible tokens in the category of digital goods.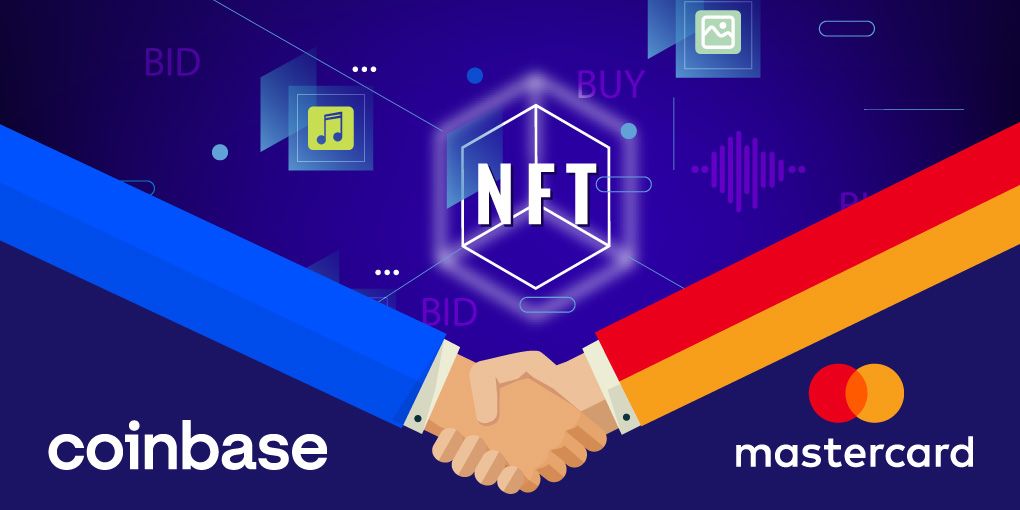 With this move, Coinbase will pave the way for an extensive customer base to acquire NFTs for the first time using a simple and reliable method as they did for Bitcoin, the platform says. They intend to eliminate the hassle that often accompanies the purchase experience.
Usually, buyers have to set up a crypto wallet, purchase the cryptocurrency supported by their chosen NFT marketplace, link the wallet to the platform, and then spend their tokens buying a non-fungible token. The collaboration with MasterCard will make it possible for Coinbase users to purchase non-fungible tokens using their debit or credit cards.
MasterCard, on the other hand, has shared that it hopes to present customers with a broad range of options when it comes to buying an NFT. The card network's executive vice president of digital assets and blockchain products Raj Dhamodharan explained that the goal of the partnership is to provide individuals who are unfamiliar with the crypto space access to NFTs without using a crypto wallet or having to buy Ethereum or other digital currencies.
Dhamodharan stated that enthusiasts are accustomed to the process but for the majority, it's not a simple task, "getting more people involved safely and securely is perhaps the best way to help the NFT market thrive."
Recent Developments for Both Companies
MasterCard has announced partnerships with various leading crypto platforms, such as in October 2021, when the company revealed that it was working with digital assets firm Bakkt to enable merchants and traders to offer crypto services. The payments network also recently partnered with NFT marketplace Mintable.
About 3 months ago, Coinbase disclosed plans for a peer-to-peer NFT marketplace known as Coinbase NFT that will smoothen the processes involved in the NFT space from discovering non-fungible tokens, to buying, showcasing, and minting them. Things are looking good for the upcoming platform as over a million people have registered to join the waiting list since news of the impending launch came out.
NFTs might be set to play a pivotal part in Coinbase's and Mastercard's common goal to strengthen economic freedom globally. This partnership is likely a prelude to more developments to come.
You can buy or trade any of your preferred tokens on ChangeNOW without any registration.
Welcome to the NOW experience! The ChangeNOW team presents you with the new community-inspired crypto wallet – NOW Wallet