ChangeNOW's Head of PR, Mike Ermolaev, Interviewed by DailyCoin
Last week our Head of PR, Mike Ermolaev, got interviewed by a respected crypto media outlet, DailyCoin.
He was eager to go into details of ChangeNOW, share his views regarding crypto exchange platforms per se, and make predictions for some of the most trending crypto phenomena.
First, Mike informed DailyCoin about ChangeNOW's main features and ecosystem. Our Head of PR explained what makes our platform stand out among other crypto exchange services and revealed which new products ChangeNOW is going to launch later this year.
"We keep pace with an ever-growing crypto industry, scaling our innovation efforts to develop new features and products. We strive to become a one-stop for any crypto need our users might have. All this makes ChangeNOW an ideal choice for crypto beginners and veterans alike" – added Ermolaev.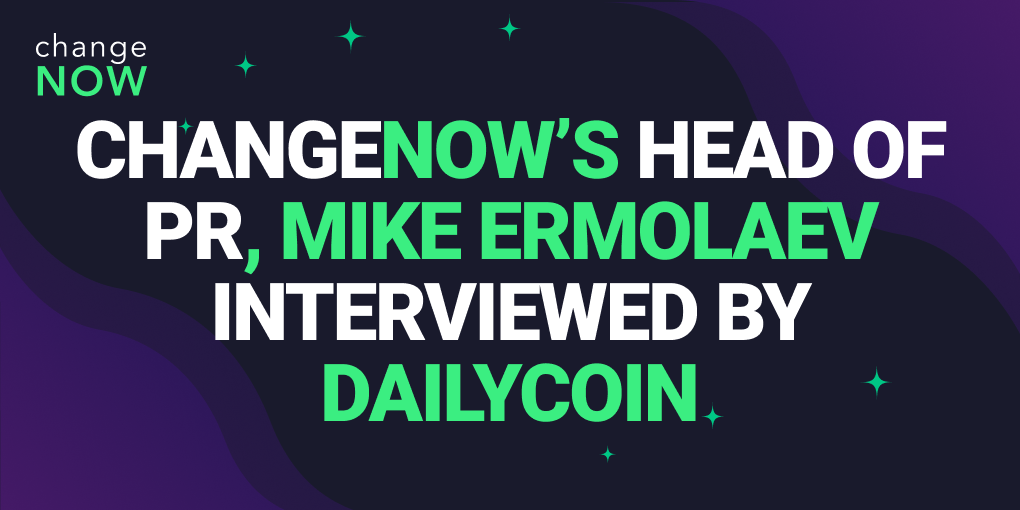 Next, Ermolaev analyzed the pros and cons of the DeFi adoption, and made predictions about its possible future development in the crypto space.
Apart from that, he shared his opinion concerning the wide-spread use of meme tokens in today's crypto market.
Ermolaev concluded by talking about the the general tendency of cryptocurrencies becoming more and more popular:
"We see a growing number of people stepping into the crypto world to buy and exchange cryptocurrencies as they lose trust in traditional financial institutions and want to diversify risks. We think this is a significant step towards financial literacy, and crypto only benefits from it."
To read the entire exclusive interview, please check the original publication at Dailycoin. As always, we are grateful to DailyCoin for this effective collaboration.
Cheers,
ChangeNOW Team