ChangeNOW October Media Digest
Our team follows numerous media channels to stay up to date with the latest crypto news and gather the most significant publications about the platform
Media outlets frequently post reviews of our products and services, news about our latest upgrades, guest articles by our authors, etc. Each month we gather all the publications that featureChangeNOW and create a media digest.
As expected, there were plenty of important updates, reviews, and exclusives for ChangeNOW in October. We have launched our own digital wallet, published a few exclusive op-eds, and got mentioned in multiple reviews and rankings. Here's the list of the most interesting media publications about ChangeNOW from last month.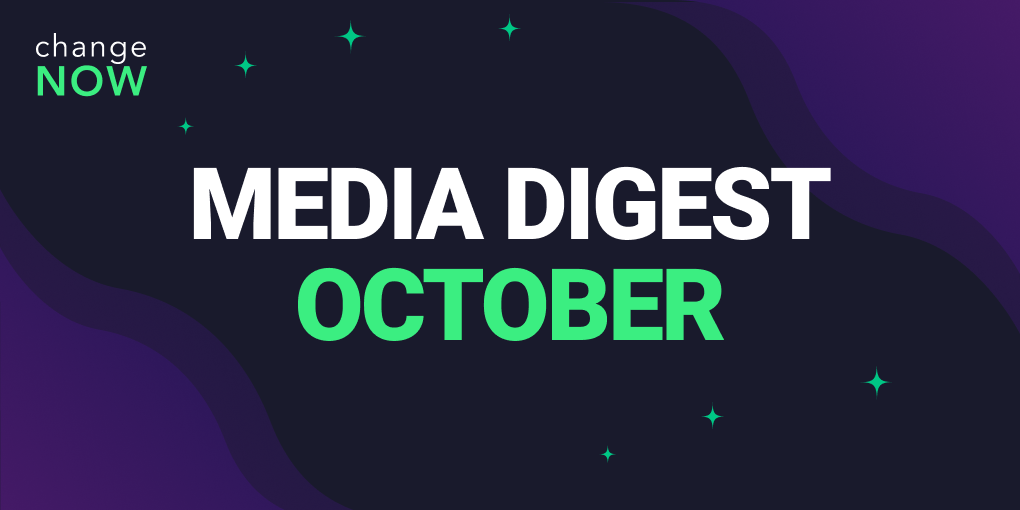 NOW Wallet Launch
ChangeNOW has finally announced the release of its own digital wallet named NOW Wallet. The beta version of our new non-custodial app is now available for download in App Store and Google Play.
Mike Ermolaev, our Head of PR, had this to say about the release of NOW Wallet: ​​"NOW Wallet is something that we've been working on for quite some time now, and we are ready to present the beta version of the product. Key to the process was making sure that the final product was going to be something that the average user would find convenient and useful. In order to achieve that, we brought our community in on the process and tailored the wallet to their wants and needs. We are proud of the final product and really believe that our existing users and new users are going to love it."
The news has already been published in multiple crypto media outlets. Here are the articles from different sources:
Cryptonews.com | ​​A New Digital Wallet Developed by ChangeNOW Has Been Released
Blockchain.news | ChangeNOW Announces the Release of Its NOW Wallet
Coinchapter.com | ChangeNOW Issues Its Own Digital Wallet
Cryptodaily.co.uk | ChangeNOW Introduces Its Own Digital Wallet
Cryptoarmy.io | NOW Wallet, ChangeNOW's Digital Wallet, Is Now Available for iOS and Android Users
Visionary-finance.com | ChangeNOW Has Released Its New Product, NOW Wallet
Publish0x.com | A New Digital Wallet Developed by ChangeNOW Has Been Released
Cryptimi.com | ChangeNOW Has Announced the Release of Its Own Digital Wallet
Invezz.com | ChangeNOW digital wallet now available on iOS and Android
Bitcourier.co.uk | ChangeNOW's NOW Wallet up and running on iOS and Android
Coinscapture.com | ChangeNOW releases NOW Wallet
October Exclusives
Last month an author from our team wrote three exclusive op-eds for some of the most respected crypto media journals. Here are the topics:
BTC, ETH Jump to New Highs after Bitcoin ETF Launch - What's Next?
The Head of PR at ChangeNOW, Mike Ermolaev, reflected on the future of cryptocurrencies after the Bitcoin ETF had been released. The guest article was published on Blockchain.news.
One of Mike's conclusions was: "Many experts are divided on the crypto space, and there has been a lot of hype around it. Crypto curiosity and doing your own research are both vital to keep up the pace."
To read the whole article, go to Blockchain.news.
Crypto week wrap: Industry celebrates Bitcoin ETF approval
Mike Ermolaev has also published two of his op-eds for FXStreet in October. In the first one, he discusses the most important crypto events that happened during the week, the main one being the approval of Bitcoin ETF by the Securities and Exchange Commission. Our Head of PR has reviewed some of the market fluctuations that followed the news.
"The launch is the culmination of a nearly decade-long campaign by the ETF industry. The SEC rejected previous applications, citing concerns over insufficient liquidity and that BTC's extreme volatility might cause sharp losses to retail investors." – says Mike.
Read the whole op-ed at fxstreet.com.
Mike Ermolaev: Here's where Crypto is heading for the rest of 2021 and beyond
The second Mike's article for FXStreet contains his predictions for the crypto industry for the end of 2021 and further. Mike explains why this year has been so important for the crypto field, and what events were the most meaningful.
Our Head of PR had this to add: "In my view, this year has shown that crypto is now even more sensitive to crypto-related news. It feels like it started after the WSB gate a year ago, which was definitely a precedent. Since then we've seen the market following Elon Musk's tweets, El Salvador's making cryptocurrency legal tender, or even the most recent Doge vs Shiba skirmish."
The article is available at fxstreet.com.
We encourage you to follow Mike Ermolaev's profile on FXStreet. Every week it will feature Mike's weekly market reviews and other exciting crypto-related articles.
ChangeNOW and Ecosystem Reviews
We are happy to receive unbiased media reviews and appreciate all the praise and criticism that come our way. It feels like a great reward for our work when media sources write such amazing comments about us and our products:
"ChangeNOW is an easy-to-use platform for swapping cryptocurrencies and a complete ecosystem for crypto products and services. Its comprehensive and robust infrastructure makes it an absolute leader in the crypto exchange department and the first choice for millions of users worldwide." – Coincodex.com.
"All in all, with its advanced features, simple interface, widespread availability, and constant improvement, the NOW Tracker app can definitely be considered one of the best portfolio tracking tools in the market." – Cryptonews.com.
Here are all the media reviews that were written about ChangeNOW in October:
Benzinga.com | ChangeNOW Review
Coincodex.com | ChangeNOW Crypto Processing and Exchange Service. What Is It and Why You Should Try It Out
Cryptonews.com | NOW Tracker Review: What Makes It the Best Crypto Portfolio Tracker App?
Coincheckup.com | ChangeNOW: More Than Just Crypto Exchange Platform
Invezz.com | Review van ChangeNOW (in Dutch)
Tops and Rankings
ChangeNOW has often been ranked as one of the most trustworthy and versatile crypto swap services in different media top exchanges' reviews. Here are the articles where ChangeNOW was mentioned last month:
Benzinga.com | Best Cryptocurrency Exchanges
Benzinga.com | How to Buy Tether (USDT)
Benzinga.com | How to Buy Binance Coin (BNB)
As always, we value all the independent media channels' support and assessment. We are glad that our efforts are appreciated, and all of our updates spread fast thanks to many crypto media outlets. The feedback encourages us to improve every day and adjust to the needs of our customers.
Cheers,
ChangeNOW Team