ChangeNOW March Media Digest
In March, we received numerous reviews on our products in several independent crypto media outlets.
Our team members took part in interviews and wrote exclusive op-eds on some of the most relevant crypto topics. So, let's briefly look through the most important ChangeNOW-related publications of last month.
ChangeNOW Services' Reviews
We're always happy to read feedback about our products from independent media outlets. It's great to see that our efforts are appreciated and the news about ChangeNOW releases spread fast. These unbiased reviews play a big role in helping us become even better. Last month, our ecosystem received this positive feedback:
"ChangeNOW is an unattended service made for easy and fast cryptocurrency exchanges. ChangeNOW strives for maximum security, simplicity and convenience. ChangeNOW does not store your money or personal information and does not require any form of account creation." – Blazetrends.com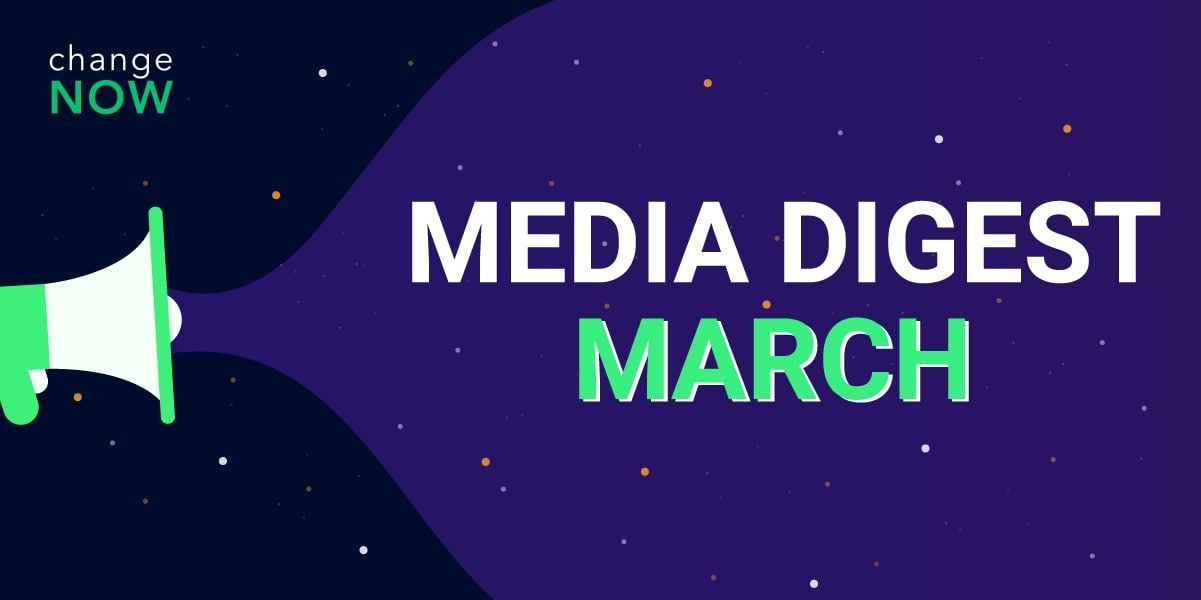 In March, ChangeNOW became one of the first crypto platforms to add the new and highly popular ApeCoin to its services. The article on Blockchain.news highlighted the release:
"ChangeNOW became one of the first crypto platforms to integrate the newly born and trending ApeCoin into its products, including NOW Wallet. The prominent digital wallet has recently seen other important updates such as the addition of SOL, AVAX, and ETC, as well as the launch of BNB staking."
A guide on how to buy ApeCoin through ChangeNOW is available at Cryptonews.com.
Our Netherlands community might want to check out another ChangeNOW review that was published on Newsbit.nl in Dutch.
Besides, it is worth mentioning that in March ChangeNOW's widget was added to Instantcryptocurrencyexchange.com.
Q&A with Mike Ermolaev
Mike Ermolaev teamed up with CryptoNewsZ to discuss the future of NFTs and DeFi coins during his latest Q&A. Our Head of PR explained why NFTs are currently such a big deal, what risks there are, what beginners should be aware of, and more:
"Non-fungible tokens are bringing together the physical and digital worlds and are certainly the next big thing. When Zuckerberg announces the arrival of NFTs on Instagram, while Madonna changes her Twitter profile picture to show the Bored Ape NFT, you realize the significance of a new technology as it is being adopted at such a high level."
To check out the whole Q&A, go to Cryptonewsz.com.
Last month, our Head of PR Mike Ermolaev was also interviewed by Insights Success and talked about ChangeNOW's values, solutions, and development trajectory:
"Our goal is to make our platform an ecosystem where users can find any crypto solutions they need. We should also mention that we do not only try to create as many products as we can but also constantly enhance and adjust our existing services according to our customers' feedback and community needs. That is exactly what we will keep doing in 2022."
The whole interview is available at Insughtssuccess.com.
Our Head of PR's Exclusives
How Is Bitcoin's Price Affected by the News?
What is the crypto market most influenced by? There is no right answer. But the volatility of digital assets shows that they are very sensitive to pretty much anything that happens around the world. The number one crypto Bitcoin is the first one to react to any news and set trends for other currencies. Mike Ermolaev discusses the issue in his guest article for Bitcoinmagazine.com:
"As the crypto market matures, new trends are emerging that we haven't observed before. Initially a fringe asset, bitcoin is now increasingly acting like a traditional asset, sensitive to the same market forces that affect those markets. In addition to news on crypto regulations and institutional adoption, bitcoin's price is affected by changes in general economic conditions and world events that impact traditional markets."*
Bitcoin: Born To Be Different, But Turning Into Just Another Asset?
The dependence of Bitcoin from the traditional market is extensively described in this article on Benzinga.com. Ermolaev analyses how the connection of digital assets to fiat currencies have changed over the years, and what to expect in the future:
"Cryptocurrency has recently drawn a lot of beginners who are getting the hang of it. What they need to know is that fluctuations in crypto markets are as normal as in traditional markets, except that they are much more volatile. With crypto's gradual transition towards traditional assets, volatility may become less extreme in the future. For now, it remains what it is."
The Crypto Market In 2022: Trends And Predictions
A review of experts' predictions for crypto market trends in 2022 by our Head of PR is already available at Benzinga.com. The article presents opinions on the future of different digital assets:
"Despite the fact that many seem enthusiastic about the crypto market for 2022, it is important to exercise caution. None of the analysts took into account what could happen in the case of a war, which while understandable, puts in check many projections established earlier this year."
Can Bitcoin withstand upcoming Fed rate hikes?
Last month, to avoid an economic crisis in the country, the US Federal Reserve increased interest rates for the first time since 2018. Will it have an effect on Bitcoin and other cryptos? Mike Ermolaev addresses these questions in his op-ed on Invezz.com:
"Considering how closely Bitcoin correlates with risky assets, it is likely that its price is also affected by macroeconomic trends and decisions made by the US Federal Reserve. We can look at the correlated asset's behavior to get an idea of what to expect."
Crypto Opinion with Mike Ermolaev
Finally, in March, our Head of PR interviewed Raghav Shawney from BlockchainPRBuzz for the article series "Crypto Opinion with Mike Ermolaev". The experts covered DeFi, crypto regulations in India, and years in the industry. To read the whole interview, go to Benzinga.com.
Thank you for following our progress and news! We always try to suit our customer needs. Stay tuned for more updates coming next month!
Cheers,
ChangeNOW team