ChangeNOW December Media Digest
We have been gathering the most interesting media publications about ChangeNOW in our monthly media digest since last year.
Let's now take a look at what the final chapter of 2021 held for ChangeNOW. Here's what's been written about us in December.
ChangeNOW Blog Is in Top 5
First of all, we want to thank Coinquora.com for listing ChangeNOW blog as one of the 5 best crypto blogs to read in 2022. We are extremely glad that our efforts are appreciated. Our team strives to select the most relevant content for our users every day and improve constantly.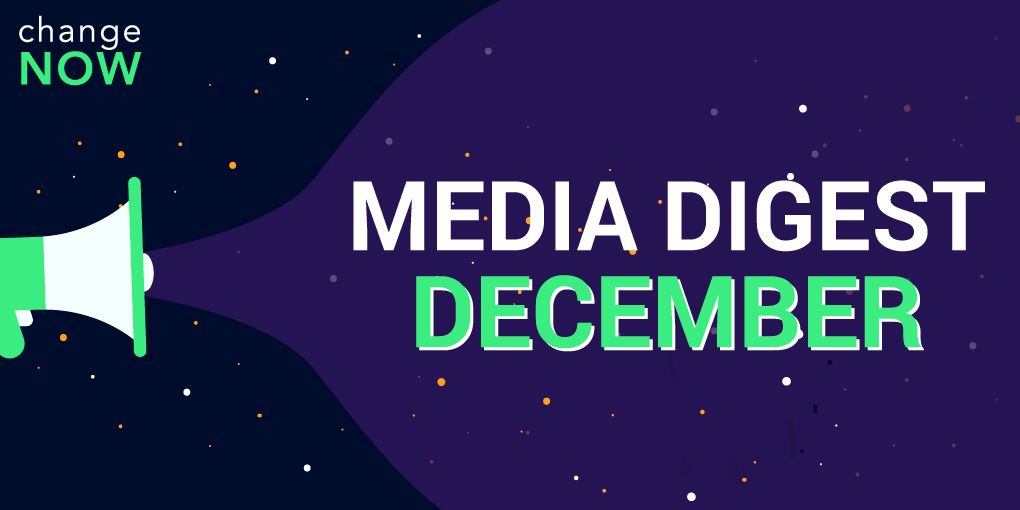 Pre-Order of ChangeNOW Visa Card Is Now Open
Last month ChangeNOW opened the pre-order of its own plastic Visa debit card. All our verified users from the UK and EU can now pre-book the card in the ChangeNOW marketplace via their personal account. The first batch of ChangeNOW Visa cards is planned to be issued in the second quarter of this year.
"By launching our own Visa сard we want to open new possibilities for our registered users. It will become much easier to shop with crypto by using ChangeNOW сard. There will be no more need to exchange crypto for fiat in order to buy things." – commented our Head of PR, Mike Ermolaev.
The news saw the light in multiple crypto media outlets:
Dailycoin.com | ChangeNOW Visa Card Is Available for Pre-Order
Cryptodaily.co.uk | ChangeNOW Opens Pre-Order For Its Debit Visa Card
Blockchain.news | ChangeNOW Debit Visa Card Is Available For Pre-Order
Coindoo.com | ChangeNOW Debit Visa Card Is Available for Pre-Order
Cryptoarmy.io | ChangeNOW Offers Pre-Booking for Its New ChangeNOW Visa Card
Bitcourier.co.uk | Pre-Order of ChangeNOW Visa Card Is Now Available for UK and EU Users
Visionary-finance.com | ChangeNOW Debit Visa Card Is Available For Pre-Order
Coinchapter.com | ChangeNOW Visa Card Is Available for Pre-Order
Coinjournal.net | ChangeNOW unrolls preorder of its crypto visa debit cards
Invezz.com | ChangeNOW Visa available for pre-order now
Cryptonews.com has also published a detailed guide about how to pre-order a ChangeNOW card through our website. The article will make the process of pre-booking the card very easy for you.
Exclusives From ChangeNOW's Head of PR Mike Ermolaev
Is Bitcoin Versus Gold Correlation Still Relevant in 2021?
In his latest op-ed for Dailyhodl.com Mike explains what Bitcoin and gold have in common and how this knowledge can be used to predict the future crypto market. He says:
"It used to be that gold and Bitcoin had a negative correlation or no relationship, but current trends indicate that the two assets are starting to move in common to some extent with regards to their perceived value as inflation hedges."
To check the whole article, go to Dailyhodl.com.
Cointelegraph Exclusives For Brazilian and Spanish-speaking Communities
In November, Cointelegraph, one of the most widely known crypto media channels, started publishing the Spanish and Portuguese translations of Mike's articles. Since then, our Head of PR has been sharing his insights with Cointelegraph every week.
In two of his most recent op-eds for Cointelegraph, Mike talks about gaming and metaverse-linked cryptocurrencies that might have the highest chance of shooting up in value this year. Read these articles in Portuguese and Spanish.
By the way, these exclusives have been so popular on Cointelegraph that even other prominent media sources, such as Businessinsider, have featured some of Mike's views.
Bitcoin Whales — Why They Matter And Who They Are?
ChangeNOW's Head of PR has also addressed Bitcoin whales in his newest article for Benzinga.com. Mike explains what this phenomenon is and gives examples of some of the biggest BTC whales nowadays. He emphasizes their importance in the crypto market:
"Cryptocurrency whales, who own millions of dollars in Bitcoin, have the power to move markets solely on their own. They can cause a surge in volatility due to their concentration of wealth, sparking speculation among little fish, and making prices more reliant on it than on underlying fundamentals."
The whole op-ed is available here.
Mike continued discussing BTC whales in his other article for Bitcoinmagazine.com, where he analyzed their possible connection to the latest crypto market changes.
Top Crypto Cashback Options Introduced in Fall 2021
Finally, Mike Ermolaev has reviewed what cashback features were rolled out by other crypto platforms in fall 2021 apart from ChangeNOW's groundbreaking cashback release.
"As we can see, digital money is being brought to mainstream commerce with phenomenal speed. It is already possible to make profit in Bitcoin and other cryptocurrencies, even by seemingly doing nothing. So, why not go for it?"
To read the whole article, go to Blockchain.news.
We encourage you to follow Mike's Twitter page and his profile on FXStreet.com, Publish0x.com, and Blockchain.news, where he constantly publishes his exclusive market overviews, corporate insights and thoughts regarding all-things-crypto.
Exclusives From Our CBDO Pauline Shangett
If you ever wondered what CBDCs are, Pauline has unraveled all you need to know about them in her article for Benzinga. She clarifies what exactly CBDCs are and compares them with cryptocurrencies. Then Pauline describes examples of CBDCs in different countries.
"As of today, central bank digital currencies are still mostly at the hypothetical proof-of-concept stage, although many countries are already developing their own CBDC projects."
Read the whole op-ed here.
Crypto Skeptics Vs Fanatics: How To Compromise?
Pauline Shangett has teamed up with Benzinga to discuss the opposite opinions on cryptocurrencies: those of skeptics and those of crypto hardcore enthusiasts. She explains the two approaches in detail.
"We at ChangeNOW strongly believe that we are witnessing the advent of a new digital world that is already bringing many positive elements into people's lives, regardless of whether they are crypto enthusiasts or skeptics. And there's more to come."
Read the whole article on Benzinga.com.
Governments' Quest for Crypto Oversight: Regulation Updates in 2021 and What to Expect in 2022
Last year cryptocurrencies advanced towards becoming legally adopted in many countries around the world. Even though crypto regulation is still very vague, there has been some news. That's what the next article of our CBDO is devoted to. She has wrapped up the most important updates concerning crypto regulation in 2021. Pauline discussed the news from different countries and made her predictions about the crypto laws in 2022.
"Currently, there is no centralized authority that regulates the digital asset class worldwide, and governments or regulators stick to their own policies. As crypto products come in a variety of forms, it's hard for regulators to establish a unified framework. The taxation and income laws also vary across countries, which makes regulation more challenging."
The article was published on Bravenewcoin.com.
Mass Adoption of Cryptocurrencies Among Large Institutions: Top 10 Cases
Last but not least, Pauline has reviewed 10 recent cases of crypto adoption among large institutions. The list of examples includes PayPal, JPMorgan, Tesla, Pornhub and more.
"As we can see, many of the world's largest banks, as well as payment and entertainment services are trying to adapt to the use of digital currencies as best as they can. Even the most skeptical ones can't deny the growing popularity of digital assets and dare to embrace the crypto space."
The full op-ed is available on Hackernoon.com.
We are grateful to all the crypto media channels that have been cooperating with us. It is nice to know that ChangeNOW's news and our opinions are shared and read worldwide. All the feedback we receive makes us want to become better every day and adjust to the needs of our users and readers.
Cheers,
ChangeNOW team