ChangeNOW and Telos Unite for Cross-Chain Swaps
The world of cryptocurrencies continues to evolve at a rapid pace, and with it, the need for seamless and secure cross-chain swaps has become increasingly important. In a significant development for the crypto community, ChangeNOW and The Telos Foundation have joined forces to provide users with a fast, reliable, and non-custodial solution for buying, selling, and swapping over 850 cryptocurrencies.
This partnership not only benefits individual users but also offers tremendous opportunities for projects looking to integrate swaps and maximize their exposure. In this article, we will explore the key features and advantages of ChangeNOW, delve into the capabilities of Telos, and examine how this collaboration will shape the future of cross-chain swaps.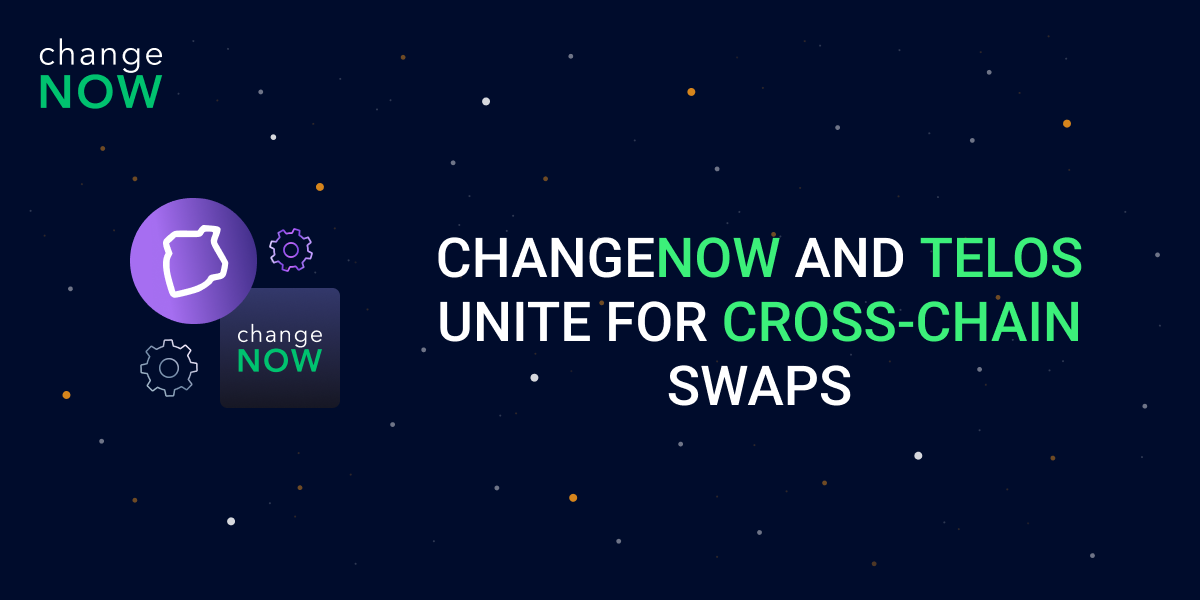 The Power of ChangeNOW
ChangeNOW is a leading non-custodial service that simplifies cryptocurrency exchanges. With a focus on maximum safety, simplicity, and convenience, ChangeNOW ensures a seamless and worry-free experience for users. One of the standout features of ChangeNOW is its extensive selection of over 850 cryptocurrencies available for exchange. This vast array of options allows users to explore and diversify their crypto holdings with ease.
Additionally, ChangeNOW offers fiat on/off ramps, enabling users to buy cryptocurrencies using Visa or MasterCard through a trusted third-party provider. This fiat integration is a game-changer for newcomers to the crypto world, as it eliminates the need for complex onboarding processes and streamlines the purchasing experience.
A Gateway to Telos
As a decentralized, independent, and not-for-profit organization, the Telos Foundation spearheads the advancement and governance of the Telos blockchain. Since the network launched in 2018, Telos has demonstrated unparalleled reliability with over five years of uninterrupted service. In 2021, Telos released the tEVM – the fastest Ethereum Virtual Machine – operating in parallel with the native Telos Network. After a unanimous decision brought about by a recent community-led vote, Telos is now shifting development into a Layer Zero network, placing an emphasis on scalability, security, and decentralization. In an ever-evolving world, Telos is focused on advancing decentralization through reliable, eco-conscious and trustless technology while providing solutions that can lead to greater adoption of blockchain technology globally. The collaboration between Telos Foundation and ChangeNOW is a significant step in that direction.
The Telos Advantage for Projects and Users
Telos' partnership with ChangeNOW brings a host of benefits for both projects and users. Projects can leverage ChangeNOW's exchange API to integrate swaps seamlessly, expanding their reach and providing greater utility for their tokens. Moreover, ChangeNOW offers traffic monetization tools such as exchange widgets and top-up modules, enabling projects to monetize their traffic and attract a broader user base. This level of flexibility and customization makes ChangeNOW an ideal choice for projects looking to enhance their token's liquidity and expand their ecosystem.
Seamless User Experience
For users, the collaboration between Telos and ChangeNOW translates into a seamless and user-friendly experience. By leveraging ChangeNOW's platform, users can buy, sell, and swap a wide range of cryptocurrencies in a fast and non-custodial manner. The ability to purchase assets with a credit card through a trusted third-party provider adds an additional layer of convenience and accessibility. With Telos' emphasis on scalability, security, decentralization, and pristine history of uninterrupted service since it's launch, users can rest assured that their transactions are secure and reliable.
A Perfect Option for TLOS
Telos' native token, TLOS, stands to benefit greatly from this partnership. With ChangeNOW's extensive selection of cryptocurrencies, users can easily buy TLOS and add it to their portfolio. This availability on ChangeNOW opens up new avenues for TLOS adoption and liquidity, enhancing its utility within the Telos ecosystem. Whether users are looking to participate in Telos' gaming applications or explore its exchange capabilities, having easy access to TLOS through ChangeNOW is a significant advantage.
ChangeNOW Exchange API: Empowering Projects
ChangeNOW's exchange API is a powerful tool that empowers projects to integrate swaps seamlessly and enhance their token's liquidity. By utilizing the exchange API, projects can tap into ChangeNOW's extensive network and offer their users a hassle-free swapping experience. The API allows for easy integration, minimizing the development effort required while providing access to a vast number of cryptocurrencies. This integration not only expands the token's utility but also opens up new avenues for collaboration and partnerships within the crypto space.
Telos: Advancing Decentralization and Scalability
Telos' commitment to advancing decentralization, scalability, and security makes it an ideal partner for ChangeNOW. With over five years of uninterrupted service, Telos has established itself as a robust and reliable blockchain platform. The recent release of the tEVM further solidifies Telos' position as a scalable Ethereum Virtual Machine. Unlike other scalable EVMs, Telos EVM is not just a fork of the original Go Ethereum code. It is an entirely new EVM built from the ground up to harness the full potential of Telos technology.
Overcoming Front-Running Challenges
One of the critical challenges Telos EVM addresses is front-running, a prevalent problem in the crypto industry. Front-running occurs when traders manipulate the transaction order to gain an unfair advantage. Telos EVM eliminates this issue by leveraging its high transaction speed and fixed gas fee model. With Telos' two new blocks created every second and a fixed-rate gas fee, front-running becomes nearly impossible. This commitment to fairness and transparency sets Telos apart and ensures a level playing field for all participants.
A Greener Approach to Blockchain
Another noteworthy aspect of Telos is its environmentally friendly approach. With growing concerns about the ecological impact of blockchain technology, Telos takes a proactive stance in minimizing energy consumption. By leveraging its efficient consensus mechanism and innovative infrastructure, Telos reduces energy consumption and contributes to a greener blockchain ecosystem. This commitment to sustainability aligns with the broader shift towards eco-conscious practices in the crypto industry.
Telos EVM: A Game-Changer for DeFi
The Telos EVM's launch marks a significant milestone in the evolution of the DeFi landscape. With its scalability, affordability, and micro transaction capabilities, Telos EVM has the potential to revolutionize the way we engage with decentralized finance. Unlike other EVM alternatives, Telos EVM offers feature parity with Ethereum, ensuring compatibility and ease of adoption for developers and users alike. This compatibility is vital for mass adoption, enabling users to experience the benefits of DeFi without the scalability and cost limitations associated with other platforms.
Conclusion
In conclusion, the partnership between ChangeNOW and Telos Foundation brings exciting opportunities for both crypto projects and users within the crypto community. ChangeNOW's user-friendly platform, extensive selection of cryptocurrencies, and integration capabilities through the exchange API make it an ideal choice for projects looking to enhance their token's liquidity.
The Telos Foundation, with its focus on scalability, security, and decentralization, provides a robust and reliable blockchain platform that leverages the power of the Telos EVM to revolutionize the DeFi landscape. The Telos EVM's launch represents a significant milestone in the evolution of decentralized finance, offering users a scalable, affordable, and environmentally friendly solution for engaging with the world of cryptocurrencies. As the crypto industry continues to evolve, collaborations like the one between ChangeNOW and Telos pave the way for a more accessible, inclusive, and sustainable future.