Chainlink (LINK) Price Prediction 2023
Chainlink (LINK) has emerged as a notable contender within the cryptocurrency market by offering decentralized oracle solutions that bridge the divide between smart contracts and real-world data sources. As the appetite for blockchain technology continues to expand, Chainlink's capabilities have firmly established it as a significant presence within the decentralized finance (DeFi) ecosystem, gaming sector, and conventional systems. In this article, we will delve into the prospective trajectory of Chainlink and provide an evaluation of its projected price trends in the forthcoming years.
Understanding Chainlink: An Oracle Network Operating in DeFi
Before delving into price forecasts, let's grasp the foundational principles of Chainlink. Chainlink operates as an Oracle-centric network constructed on the Ethereum blockchain. Its primary objective revolves around empowering smart contracts to access external data—such as stock prices or weather reports—to facilitate more informed decision-making processes. By securely linking blockchain with external APIs, Internet of Things (IoT) devices, and established systems, Chainlink empowers developers to craft sophisticated applications seamlessly amalgamating real-world occurrences and information.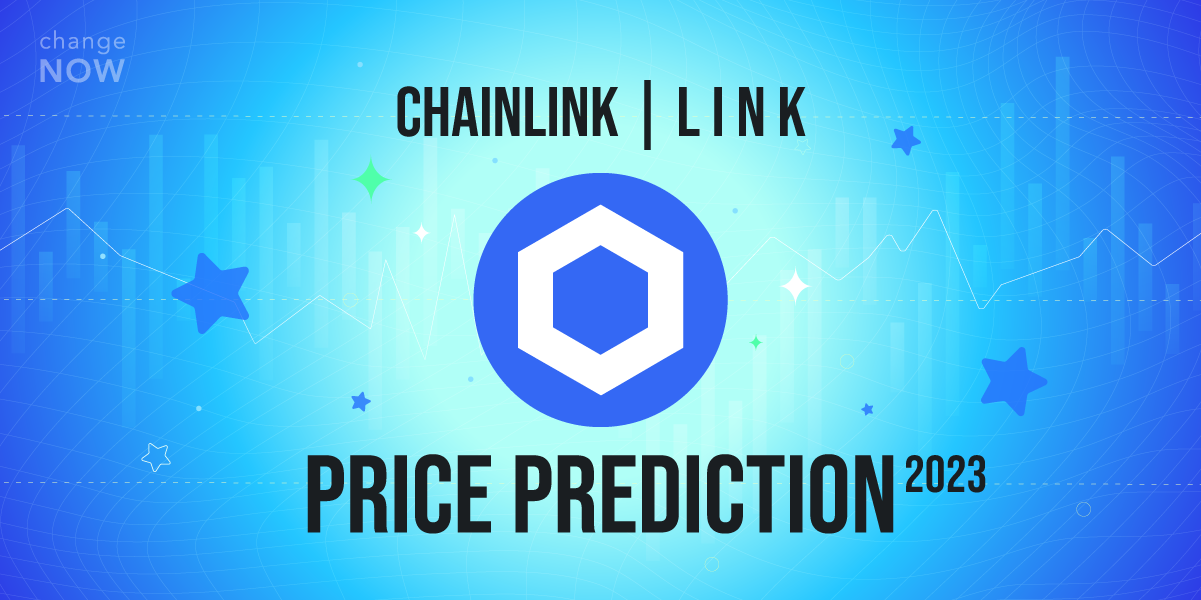 Chainlink accomplishes this through a network of nodes referred to as oracles. These oracles retrieve and validate data from off-chain sources and channel it into blockchain-based smart contracts. Acting as intermediaries, they ensure the precision and integrity of transmitted data. Incentivization assumes a pivotal role within the Chainlink network, with node operators being rewarded in LINK tokens for supplying reliable and precise off-chain data.
Chainlink Price Prediction 2023
Presently, Chainlink's price stands at $7.53 within the current market landscape. Several factors point toward an optimistic outlook for Chainlink throughout 2023. The recent unveiling of the Cross-Chain Interoperability Protocol (CCIP) has garnered notable attention and fostered partnerships with prominent banks across the globe. This collaborative endeavor underscores the increasing integration of Chainlink within mainstream finance, a trend anticipated to elevate the demand for the LINK cryptocurrency.
Drawing from this analysis, LINK crypto price prediction has the potential to reach a zenith of $12.653 by the culmination of 2023. Nonetheless, it's prudent to contemplate the prospect of a market correction, as a reversal from the resistance trendline might prompt a reevaluation downward to $5, which could result in a correction of approximately 37%.
Chainlink Price Prediction 2024
Looking ahead to 2024, Chainlink is expected to experience further adoption and potential price appreciation. The altcoin season in the Bitcoin halving year could prove profitable for LINK holders. If Maker roll-out developmental and community-building initiatives gain traction, Chainlink crypto price may surge to its potential high of $47.290. On the other hand, negative criticism and an ebbing industry could drag the price down to $15.033. The average price for 2024 is anticipated to be around $31.125.
Chainlink Price Prediction 2025
The future of Chainlink in 2025 looks promising, with partnerships, reserve funds, and a high demand for its services. Many experts predict that the market value of LINK coin will surpass $100 by 2025, making it a potentially lucrative investment. In the event of a market crash, the price could drop to $41.44. However, if smart contracts continue to process seamlessly, the average price for 2025 is estimated to be $72.285.
Chainlink Price Prediction Table for 2026-2030
| | | | |
| --- | --- | --- | --- |
| Year | Minimum Price | Average Price | Maximum Price |
| 2026 | $107.3 | $118.25 | $129.2 |
| 2027 | $139.99 | $150.18 | $160.37 |
| 2028 | $174.59 | $183.74 | $192.89 |
| 2029 | $182.10 | $203.84 | $225.58 |
| 2030 | $213.10 | $233.305 | $253.51 |
Conclusion: The Future of Chainlink
Chainlink has established itself as a leading decentralized oracle network, providing essential services to the blockchain industry. With its expanding adoption in mainstream finance, gaming, and traditional systems, Chainlink is well-positioned for future growth. While the price predictions indicate potential price appreciation, it's crucial to conduct thorough research and consider the inherent risks associated with cryptocurrency investments.
If you're looking to exchange or buy Chainlink (LINK) at the best rates on the market, consider using ChangeNOW, a trusted and reliable platform. ChangeNOW offers seamless and secure transactions, ensuring a hassle-free experience for crypto enthusiasts. Join the Chainlink revolution and make the most of its potential in the evolving blockchain ecosystem.
Disclaimer: Please note that the information provided in this article is for informational purposes only. It does not constitute financial advice or investment recommendations. Always DYOR and consult with a professional financial advisor before making any investment decisions.