BTC Dips Amid Interest Rate Hikes, Takes APE, GMT Down with It
After STEPN and APE hogged headlines for many reasons this past two weeks, the coins finally lost most of their gains in recent days, while TRON continues its climb.
As April came to an end, some major news hit the crypto space. Goldman Sachs announced its first Bitcoin-backed lending facility. Fidelity, US largest retirement-plan provider, announced Bitcoin as an investment option in 401(k) accounts. Central African Republic legalized crypto and adopted Bitcoin as its legal tender. These announcements should have caused a price rally for Bitcoin and other assets last week, but one announcement was crypto's bane: the Federal Reserve interest rate hike.
With the announcement, Bitcoin plunged below $39,000, taking with it coins like APE, GMT, and KAVA. However, TRX, YOUC, and HEX were among the coins that printed considerable gains this past week.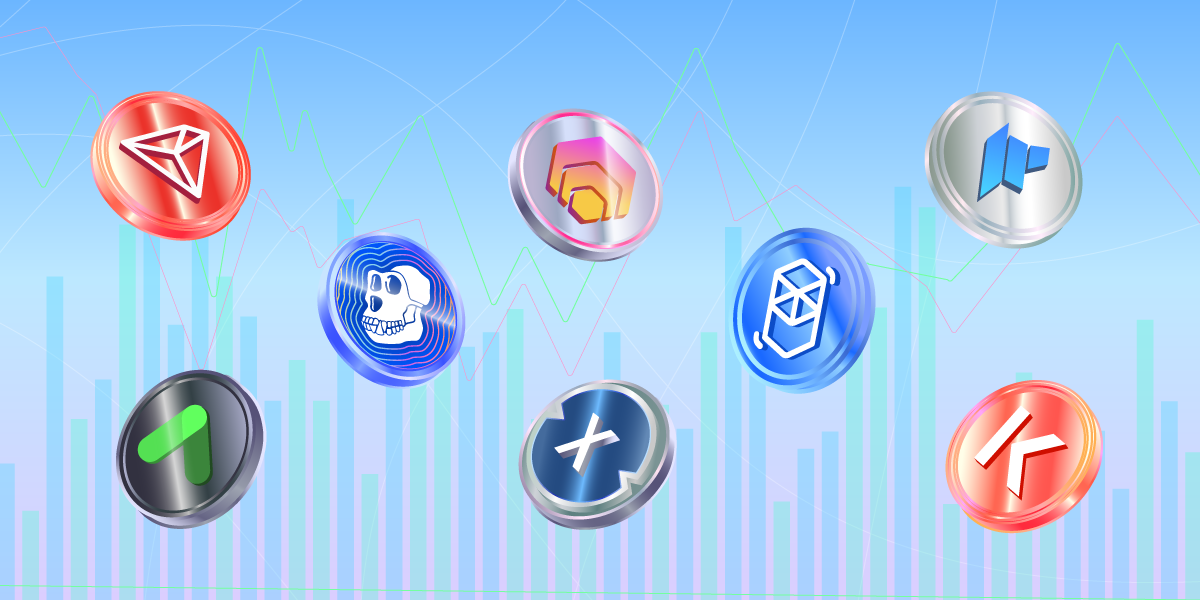 Top Gainers: a Dramatic Turn of Events for HEX, XDC, DAO
Tron (TRX)
After suffering a long bearish run, even sinking more than $94 billion in quarterly low between January to March 2022, TRX started on an upward trajectory. With an opening price of $0.066 on April 25, TRX grew by almost 8% to hit $0.071 by May 1.
TRX price began to move up north after the network announced major developments. On April 21, it announced its plan to launch its decentralized stablecoin, USDD. A week later, it revealed the allocation for its $1, 111, 111, 111 ecosystem fund.
yOUcash (YOUC)
yOUcash is a decentralized, tokenized advertising platform that connects advertisers to users. This past week, the coin advertised itself as one to watch out for despite ranking low on CoinMarketCap. Between April 25 and May 1, YOUC increased by 101.5%. It opened the week at $0.0040 and canceled two zeros to hit $0.41 as it entered the new month of May. Now well into the week, yOUcash has garnered almost 375% gains in the past 7 days, firmly establishing it as this week's darkhorse.
HEX (HEX)
What started as a red week for HEX turned out to be a good week for the project which describes itself as a "Certificate of Deposit on the blockchain." The coin grew by over 46% to peak at $0.19 in the middle of the week, before closing at $0.16. HEX currently trades at $0.1794, still up more than 11% over the past week's.
XDC Network (XDC)
Like HEX, XDC opened the week trading downwards. It almost sustained this movement till the end of the week, but a major development changed its price direction. On April 29, Panama announced that it would adopt Bitcoin and other coins like XDC as legal tender. 24 hours later, XinFin, the owners of XDC, announced the launch of its NFT project, XDCNFT.
With these announcements, XDC experienced a steep ascent to $0.068 on April 30 from its opening price of $0.057, before closing the week at $0.061.
DAO Maker (DAO)
It looked like a gloomy week for DAO as it went below its opening price of $2.81 to $2.60 on April 25. However, the coin began a steady climb within 48 hours. By the last day of April, it peaked to $3.11 and rounded up the week at $2.96. A possible reason for this upward price movement was the coin's listing on MEXC.
Top Losers: Winning Streak Comes to End for GMT, APE
ApeCoin (APE)
It was a parabolic week for APE after enjoying a good price run in previous weeks. It opened the week at $17.1 and began to climb steadily, accumulating a 56% gain to peak at $26.8. However, at the end of the week, it gave up 39.8% of its accumulated gains, plunging to $16.11.
The price drop followed Yuga Labs' announcement of the mint details of its Otherside Metaverse lands called "Otherdeed." The company announced that the NFT's mint price would be 305 APE ($5,250). In addition, the minting of Otherdeed NFTs was limited to two NFTs per wallet for the first wave. These two announcements caused massive selloffs as users saw no need to hold APE.
KAVA (KAVA)
KAVA has enjoyed some strong fundamentals that have driven up its price in previous weeks. However, last week, the coin joined the list of biggest losers in the market. From an opening price of $5.13, KAVA had a 20.6% drop to $4.07 before struggling to close the week at $4.26.
STEPN (GMT)
GMT is another coin that has been in the spotlight for all the right reasons. And it continued to do so this past week following some major news. The coin saw a price surge after Coinbase announced plans to list it on its exchange. Also, STEPN's NFT sneakers launch consolidated this price move, taking the coin to $4.10 from its opening price of $3.33. However, by the end of the week, the coin lost steam and gave up 17.5% of its gains to close at $3.39.
Cronos (CRO)
The native token of Crypto.com began to tank after the platform slashed rewards offered on its Visa cards and also cut staking incentives for CRO. The token plummeted by over 28% touching $0.29 from its opening price of $0.40.
Fantom (FTM)
FTM has been struggling to keep its head afloat for a while now. And this past week was no different. The coin plunged as low as $0.66 from its opening of $1.08. This price drop was triggered by Deus Finance's hack. Deus Finance is a DeFi protocol on Fantom. The protocol lost over $13 million in the hack. This was the second time in two months the protocol is suffering an attack. These repeated attacks deflated investors' confidence in Fantom.