Bitcoin's Bull Run: Price Breaks $30,000 Barrier Once More
The cryptocurrency market has been witnessing a remarkable resurgence, with Bitcoin (BTC) leading the charge. In a significant breakthrough, BTC has once again surpassed the $30,000 mark, igniting a renewed sense of optimism among investors. This latest milestone comes after a period of volatility and uncertainty, highlighting the resilience and potential of the world's leading digital currency.
The Recent Surge: BTC Smashes Through $30,000 Barrier
Amidst economic uncertainty and regulatory scrutiny, BTC has defied the odds, demonstrating a remarkable surge in recent days. On Wednesday, the price of Bitcoin soared, breaking the $30,000 barrier for the first time in months. The cryptocurrency reached its zenith at an impressive $30,749.45, marking a significant milestone in its journey.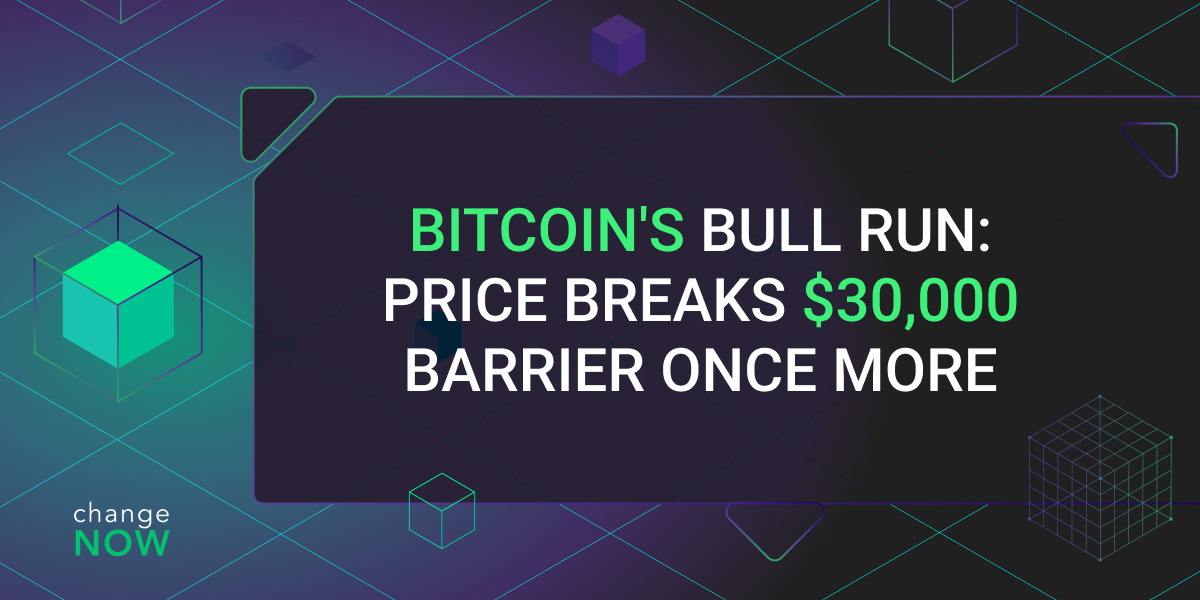 Just a week ago, BTC experienced a significant downturn, dropping below the $25,000 threshold. This decline was accompanied by regulatory lawsuits targeting major industry players like Binance and Coinbase, as well as the Federal Reserve's cautious approach to interest rate hikes. Despite these challenges, Bitcoin has managed to defy the odds and stage a remarkable comeback.
Factors Driving the Bullish Momentum
The current bullish surge in BTC can be attributed to several key factors that have contributed to the renewed interest and confidence in the cryptocurrency.
1. Institutional Adoption: A Game-Changer for Bitcoin
One of the primary catalysts behind the ongoing rally in BTC is the increasing institutional interest in the cryptocurrency. Market giants like BlackRock and Fidelity Investments have emerged as prominent proponents, filing for spot Bitcoin ETFs and paving the way for broader adoption.
BlackRock, the renowned global money manager, made headlines recently by seeking registration for a spot-market Bitcoin ETF. While the US Securities and Exchange Commission (SEC) is yet to approve any applications for such ETFs, this move by BlackRock signifies a significant step towards mainstream acceptance of Bitcoin as a legitimate asset class.
2. Positive Developments in the Crypto Ecosystem
In addition to institutional adoption, positive developments within the crypto ecosystem have contributed to the recent surge in BTC price. The launch of EDX Markets, a new digital-asset exchange, has generated a burst of positivity in the market. Industry players such as Citadel Securities, Fidelity Digital Assets, and Charles Schwab Corp have rallied behind this innovative exchange, providing support and expertise to ensure its success.
These developments, coupled with growing acceptance by mainstream businesses and a favorable regulatory landscape, have created a conducive environment for Bitcoin's upward momentum.
3. Whale Transactions and Market Sentiment
Market data reveals that whale transactions in the Bitcoin network have hit a three-month high, signaling increased activity and confidence among large BTC holders. Santiment, a leading market intelligence platform, reported that whales moved 259 transactions worth at least $1 million each within two hours of the BTC price crossing $30,600. This surge in whale activity further strengthens the bullish sentiment surrounding Bitcoin and its potential for further growth.
Assessing the Bull Run: Is it a Turning Point or a Temporary Bounce?
While the recent surge in BTC price offers a glimmer of hope, it is essential to approach the situation with caution and assess the broader market dynamics. Investors find themselves grappling with a crucial question: Does the current rally signify a definitive turnaround for Bitcoin's fortunes, or is it merely a fleeting phenomenon known as a "dead cat bounce"?
A dead cat bounce refers to a temporary price rebound within a broader negative trend, ultimately leading to a resumption of downward movement. Given the complexities of the present market environment, including geopolitical dynamics, economic indicators, crypto regulations, and the Federal Reserve's stance on interest rates, accurately predicting short-term price movements in the digital asset realm is challenging even for seasoned industry insiders.
The Road Ahead: Navigating Uncertain Waters
As Bitcoin continues to chart new territory and the crypto market evolves, it is crucial to consider the intertwined factors that will ultimately shape the trajectory of BTC and other cryptocurrencies. While the recent price surge is undoubtedly a positive development, it is essential to maintain a long-term perspective and carefully monitor market dynamics.
As an investor, it is crucial to stay informed about the latest developments in the cryptocurrency market, conduct thorough research, and seek expert advice when making investment decisions. While BTC's recent rally is encouraging, it is vital to exercise caution and invest wisely based on your risk tolerance and financial goals.
With Bitcoin's resurgence, now may be an opportune time to explore the potential of this digital asset. If you want to buy BTC or exchange your existing cryptocurrencies, ChangeNOW offers a secure and efficient platform to facilitate your transactions. Take advantage of the current bullish momentum and ride the wave of rising prices by visiting ChangeNOW and starting your cryptocurrency journey today.
Disclaimer: The information provided in this article is for informational purposes only and should not be considered investment advice. Investing in cryptocurrencies carries inherent risks, and readers are advised to do their own research and consult with a professional financial advisor before making any investment decisions.