Bitcoin Spikes Appear Similar to Stocks Fluctuations
Bitcoin's movements are now unprecedentedly similar to that of US stocks. The digital currency has a comparable positive correlation with Nasdaq 100 and S&P 500.
Bitcoin Correlation with US Stocks
Bitcoin's swings are now interestingly similar to those of US equities. Correlation has never been this close. Correlation coefficients between the digital currency and the tech-heavy Nasdaq 100 have hit about 0.66 – the highest level in Bloomberg data since 2010 – while a comparable correlation with the S&P 500 has also reached a record high. This scenario has resulted in a decline in the largest cryptocurrency and US stocks, but a rebound on Wall Street might help the battered digital token.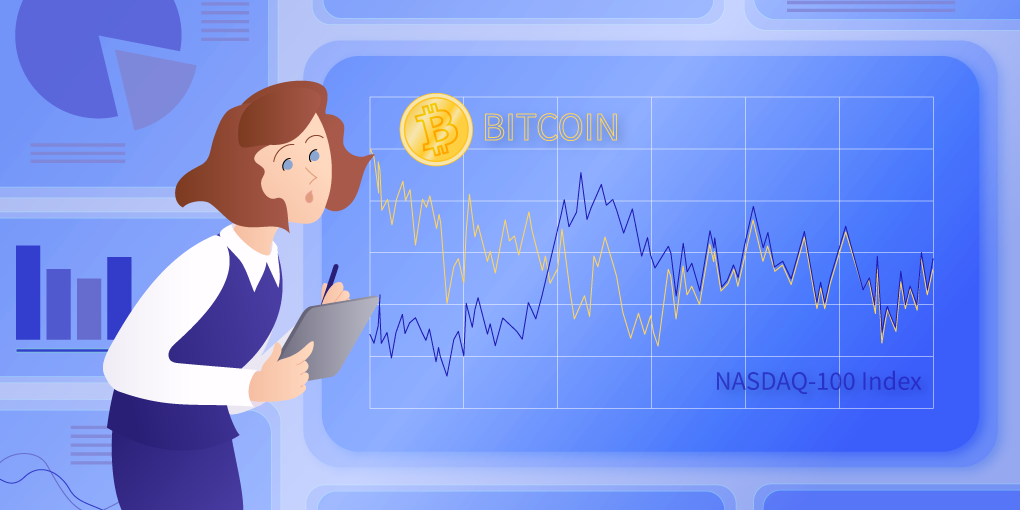 The debate has persisted for a long period of time; some Bitcoin enthusiasts have referred to the coin as "digital gold," a hedge against inflation and a store of wealth. However, some argue that Bitcoin has recently traded in lockstep with stock market sentiment, which would reduce its claim to being a reliable hedge. Particularly over the last few months, there have been more concerns as investors respond to the Federal Reserve's intentions to tighten financial conditions for the first time in over two years.
As proof of this trend, the 100-day correlation between Bitcoin BTCUSD, -1.25 percent, and the S&P 500 SPX, +0.28 percent, hit about 0.49 on Tuesday, the highest level since July 2020, according to Dow Jones Market data.
Additionally, the 60-day correlation between Bitcoin and the S&P 500 reached 0.54, the greatest level since at least 2010, during the cryptocurrency's early years. Correlation which measures the degree to which distinct assets trade in relation to one another has a magnitude of between -1.00 and 1.00. A positive correlation indicates that assets have moved in the same direction, whereas a negative correlation indicates the reverse.
Impact of Correlation on Bitcoin Future Price
As Bitcoin fell from its November peak, cryptocurrency mining stocks suffered even greater losses. According to crypto data analytics firm Arcane Research, their market-cap weighted index (which includes 15 of the largest publicly listed Bitcoin mining businesses) is down about 50% since Nov. 10, when Bitcoin hit an all-time high. Mining stocks often outperform Bitcoin during bull cycles and underperform Bitcoin during down markets.
The growing adoption of cryptocurrencies by investors may have increased their sensitivity to stock market selloffs. On Friday, Bitcoin's value fell by about 20%, wiping out more than $40 billion in market capitalization. With recent evidence in correlation, an upturn in the Wall Street market might just be one of the good signs the crypto market needs.
You can buy or trade any of your preferred tokens for Bitcoin (BTC) on ChangeNOW without any registration.
Welcome to the NOW experience! The ChangeNOW team presents you with the new community-inspired crypto wallet – NOW Wallet. For a safe and efficient asset tracking, try our crypto portfolio tracking app – NOW Tracker.