Bitcoin Price Prediction: $70,000 on the Horizon?
Bulls are confident in $70,000 for the original cryptocurrency, but staying above $65,000 could be key for the rest of the year price outlook.
After we saw Bitcoin's first-ever monthly close above $60,000 in October, the flagship crypto asset started out the week at around $66,200. At the time of writing, BTC is up 7.5% for the day and 7.8% for the week.
In this article, we are going to use some metrics trusted by industry insiders to offer our predictions of where BTC is headed for the rest of the year and beyond. Following a market-wide dip earlier this year that saw Bitcoin shrink down to the $30,000 range, BTC and the rest of the market have steadily rebounded with all-time highs once again within sight. Looking at BTC alone, the price has nearly doubled over the past two months, inspiring bullish investors hoping for an end-of-the-year climb up the price charts.
Before we get into specific price calculations, we are going to take a look at the coin's fundamental information, including a brief overview of its history, how it works and how the price of Bitcoin is determined.
How Is the Price of Bitcoin Determined
Bitcoin was created back in 2009 by the pseudonymous Satoshi Nakomoto. Inspired by the global recession triggered by the housing market collapse of 2008, Nakomoto aimed to create a digital currency that was transparent in its operations and decentralized in its control. Bitcoin runs on a blockchain or distributed ledger which allows it to exist without the need for a central bank or controlling administrator to authorize transactions. The blockchain works via peer-to-peer transactions that are verified by network nodes and recorded on a public ledger.
Bitcoin transactions are processed by miners who use computer power to solve complex problems that both verify transactions and provide miners with rewards in the form of BTC. At preset points determined by block number, mining rewards halve, reducing the profitability of Bitcoin mining.
The price of Bitcoin is tied to it being a finite resource. There is a supply limit for Bitcoin set at 21,000,000 that will not be exceeded. As of right now, close to 19,000,000 coins have been released. As Bitcoins become more and more scarce, it is anticipated that their value will rise.
What Drives the Price of Bitcoin?
There are a number of factors that have driven the price of Bitcoin over the years. Central to its value is the way it has been positioned as an alternative to fiat, or government-authorized currencies. Bitcoin enthusiasts point to a number of advantages that it has over traditional currency, including:
Universal access: with Bitcoin, the only thing you need in order to make transactions is an internet connection and a usable address. This is huge for many parts of the world that remain undeveloped from a banking services point of view.
Scarcity: perhaps now more than ever, enthusiasts are pointing to Bitcoin's inherent scarcity as a decisive reason for why they believe its value will continue to dramatically appreciate over time. Governments around the world are borrowing money at an alarming clip and printing more money to cover their bases. With Bitcoin, that is impossible and many have therefore sought it out as a hedge against a troubling trend.
Transparency: despite often being portrayed as a secretive and untraceable way of paying for goods, the opposite is actually true. Bitcoin transactions are recorded on a public ledger where sending and receiving addresses and transaction amounts are visible for everyone to see. By virtue of it being public and not relying on an administrative authority, individual users are given all the power without any interference from intermediaries. Bitcoin transactions require no trust because fraud is virtually impossible.
Complete control: thanks to private keys, users have complete control over their funds. In traditional finance, users have to trust their funds to outside parties for storage and in order to make transactions, but with Bitcoin, all control lies with the user
The Bitcoin News Cycle
This year has had an unusually volatile news cycle, even for the world of cryptocurrency, and its influence can be seen on the price of Bitcoin and other cryptocurrencies. We started 2021 around the $30,000 mark: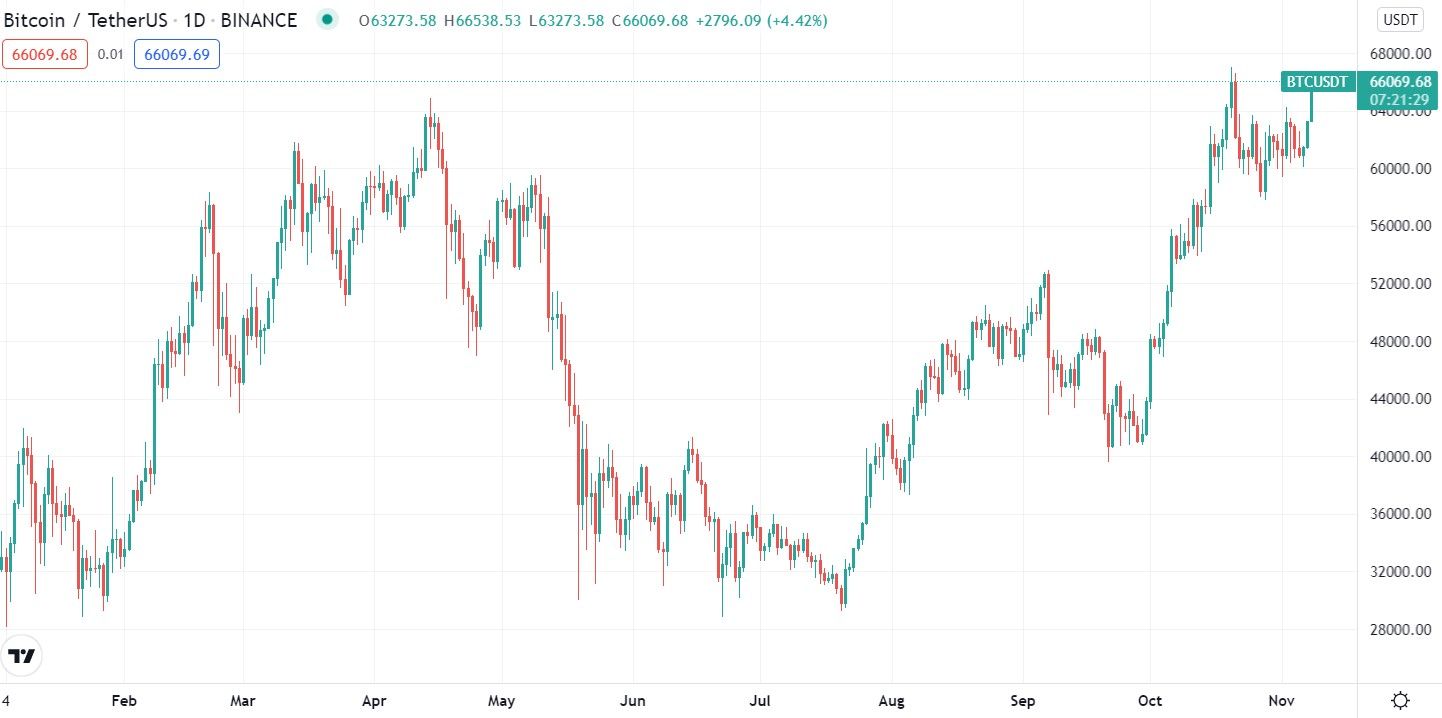 Source: TradingView
At the time, the prevalent mood among enthusiasts and investors was exuberance. That was an all-time high and constituted a huge rebound from where BTC was at the beginning of the previous year.
2020 started off with a huge plunge as fears tied to the coronavirus pandemic caused a crash in both the traditional stock market and the cryptocurrency market. The price of BTC slid all the way to the mid $3,000 range. But by the end of the year, it had more than righted the ship, recording a 10x gain in valuation.
This year, as the chart shows, results have been mixed. The positive run continued up until the end of Spring when Bitcoin dropped nearly half of its value. The downturn was caused in large part due to concern over regulatory restrictions in China and the potential damage Bitcoin mining was doing to the environment.
Since then, however, the price has once again rebounded, almost doubling its lowest position from earlier this year. The rebound is perhaps even more notable as it has come against a backdrop that has not been entirely optimistic. The regulatory crackdown in China intensified, culminating in a nationwide ban enforced earlier this year. Miners have had to look elsewhere if they wanted to continue their operations along with traders and holdlers. In the US, regulators also seem to be circling in on cryptocurrency. Despite this, the industry has recovered and is poised to reach new all-time highs, leading some to conclude that the market has strengthened considerably and is no longer so closely coupled to the news cycle.
BTC Prediction 2021
The way BTC performs over the next few months will be critical for what we can expect in 2022. Currently, experts have singled out $65,000 as a key support point. If the original cryptocurrency can stay above $65,000 and move closer towards $70,000 as November progresses, all signs will point to a healthy start to 2022 and an ascension to untouched green territories in the charts.
There have been some big names in Bitcoin prediction that have been very bullish on how the asset will end the year. PlanB, who has gained a sizable following in the crypto community by virtue of his accurate price predictions, has forecasted BTC surpassing $100k by the end of the year: \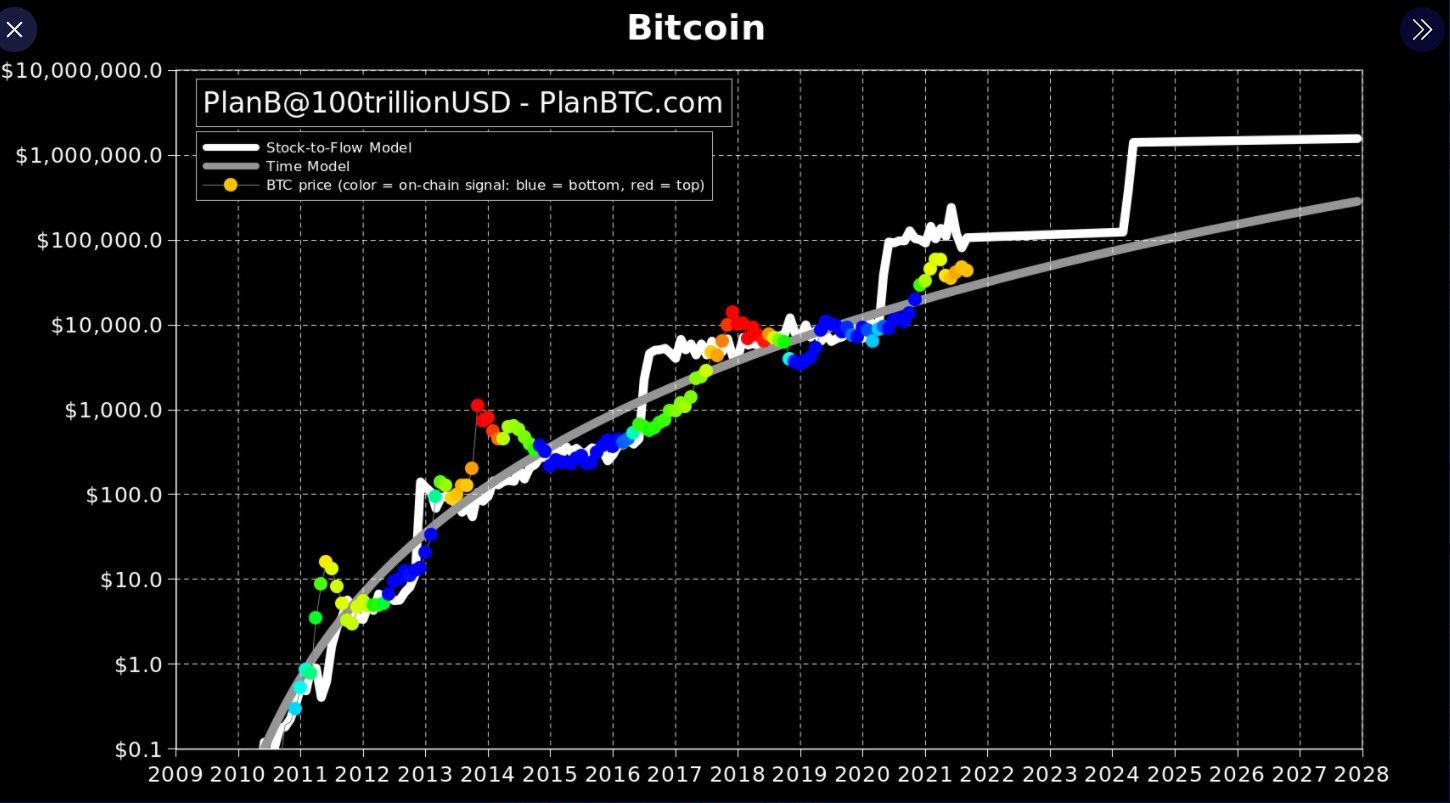 While PlanB and the other decidedly bullish price predictors have a track record of reliability, we are a little bit more measured in our expectations for the coming months. Below you will find our BTC price prediction chart for the next six months:
| | | | |
| --- | --- | --- | --- |
| Month | Minimum Price | Average Price | Maximum Price |
| November 2021 | $56,000 | $60,000 | $70,000 |
| December 2021 | $59,000 | $69,000 | $75,000 |
| January 2022 | $62,000 | $69,000 | $76,000 |
| February 2022 | $66,000 | $72,000 | $82,000 |
| March 2022 | $70,000 | $78,000 | $85,000 |
Bitcoin Price Prediction 2025
Given all the volatility in the market, it is exceedingly difficult to accurately predict what the price of Bitcoin will be in 2025. What we can say, however, is that we expect the upward momentum to continue. While some have gone on record saying that they believe that Bitcoin will be worth $500,000 or more in 2025, we think it is reasonable to expect it to be around the $250,000-300,000 range.
Where to get Bitcoin
Bitcoin is traded at every major cryptocurrency exchange, including right here on ChangeNOW. Thanks to our convenient exchange experience and the plethora of helpful tools we offer users, you can get started on your crypto journey with the snap of your fingers.