BEP-2 NOW Token Available for Staking in NOW Wallet
In its latest release, NOW wallet offers staking for the ecosystem's native BEP-2 NOW Token.
It's become easier to capitalize on your NOW Tokens right from the wallet, boosting your revenue by up to 25%.
What Is NOW Token Staking?
The NOW Token staking process involves freezing your NOW Tokens to help the proper functioning and security of the network. In return, you are rewarded with interest. The total reward depends on both the amount of tokens staked and the duration of staking. You can stake anywhere from 10 NOW up to 100,000 NOW and get paid on a weekly basis. The longer you hold the stake, the bigger your reward will be. You can calculate your expected revenue with ChangeNOW's reward calculator.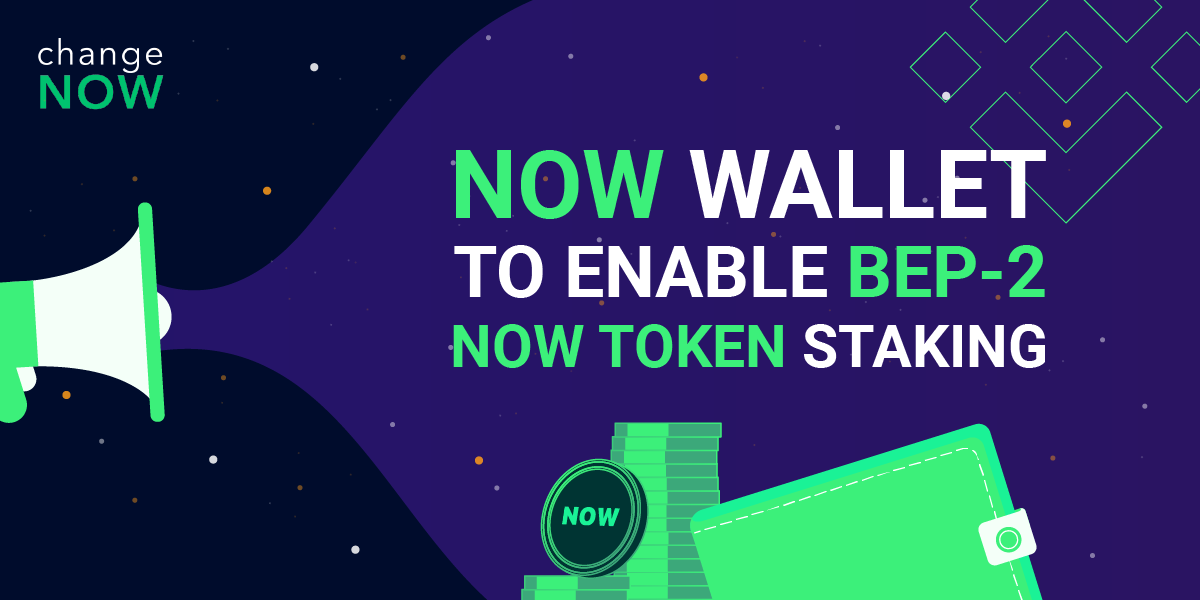 Is NOW Token Worth Holding?
Listed below are the benefits of staking BEP-2 NOW tokens.
A progressive reward system
Your reward will increase the longer you hold the stake. Increasing the stake amount will not result in losing a multiplier.
Every 1,500,000 NOW distributed as a staking reward reduces the token reward by half, lowering inflation and fueling demand.
The maximum stake you can make NOW is 100,000. ChangeNOW ensures equitable wealth distribution by imposing this limit.
How to Get BEP-2 NOW and Start Staking
The easiest way to get BEP-2 NOW is to buy ERC-20 standard NOW Tokens on the ChangeNOW exchange platform or in NOW Wallet with fiat or nearly 400 crypto, and then swap them 1:1 to BEP-2 standard on the website.
Next, select the number of BEP-2 NOW you want to stake in your NOW Wallet and tap the 'Stake' button – you're done!
ChangeNOW's BEP-2 staking formula calculates interest accrual by integrating both the initial deposit and interest accumulated over the past period. The staking amount can always be increased without affecting the multiplier.
In general, interest payments are made every Wednesday at noon UTC and normally arrive 48 hours after they have been accrued. You may unfreeze your tokens after the one week lock-up period if you change your mind.
Check out ChangeNOW's Terms of Use to learn more about staking rules. You don't have to be an experienced crypto professional to get your benefits – just start staking NOW!