Beepo to Integrate ChangeNOW's API, Enabling Effortless Crypto Transactions
The crypto world is evolving rapidly, and businesses are always on the lookout for cutting-edge solutions to stay ahead. In this exciting landscape, Beepo, a blockchain-based social media platform, is gearing up to transform how users interact with cryptocurrencies. By integrating ChangeNOW's API, Beepo aims to offer its users a seamless and convenient crypto transaction experience, perfectly complementing the platform's distinct features. This integration promises to revolutionize the way people engage with digital assets on Beepo, enhancing accessibility and user satisfaction.
Beepo: The Unique Crypto-Based Social Media Platform
Beepo is not just another social media platform. It is a blockchain-based ecosystem that prioritizes privacy, security, and user autonomy. With its upcoming integration of ChangeNOW's API, Beepo empowers users to engage in secure and effortless crypto transactions while enjoying the benefits of a social networking platform.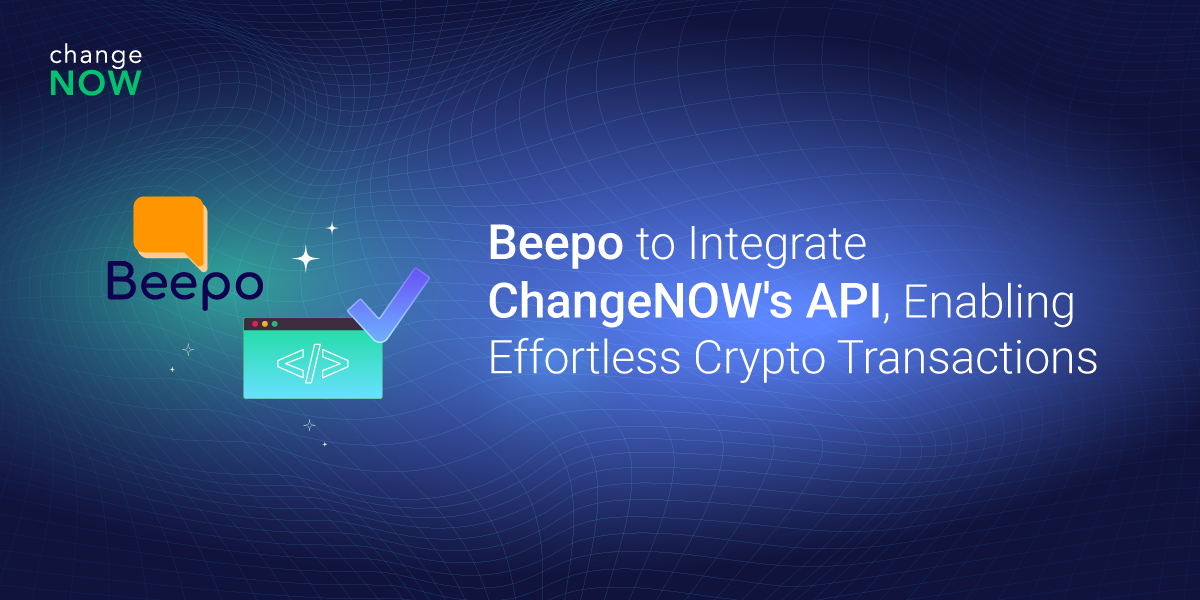 Beepo's core features include:
1. Privacy-Focused Communication
Beepo provides users with a secure and private space to communicate with friends and family. With end-to-end encryption, users can have meaningful conversations without worrying about their messages being intercepted by third parties.
2. Decentralized Wallet
Beepo integrates a non-custodial, hierarchical deterministic wallet that ensures users can securely store, send, and receive cryptocurrencies. With this innovative wallet, users retain full control over their digital assets, fostering a decentralized and autonomous financial ecosystem.
3. Dapp Browser
Beepo's integrated Dapp browser simplifies access to decentralized applications. Users can conveniently browse and interact with their favorite Dapps, expanding their possibilities within the blockchain ecosystem.
4. Business Features
Beepo offers specialized features for small-scale businesses, including the ability to create a sales catalog and engage in direct sales with clients and other businesses within the platform. This opens up new opportunities for entrepreneurs to showcase their products and services to a targeted audience.
5. Moments and Content Sharing
Beepo allows users to share their most exciting moments with friends and family through video and still images. These shared moments can be viewed by contacts for 24 hours, creating a dynamic and interactive social media experience.
Understanding ChangeNOW's API: Empowering Beepo with Seamless Crypto Swaps
ChangeNOW's API, or Application Programming Interface, is a powerful communication protocol that links businesses to ChangeNOW's robust cryptocurrency exchange platform. With this upcoming integration, Beepo users will have the ability to seamlessly swap over 850 cryptocurrencies within the platform itself. This means that users can easily convert their digital assets without the need to navigate external exchanges, saving time and effort.
As Beepo focuses on creating a decentralized and secure social space, the integration of ChangeNOW's API aligns perfectly with its mission. By offering a wide range of cryptocurrencies for seamless swaps, Beepo empowers its users to have complete control over their digital assets. This integration not only enhances the user experience but also promotes the adoption and utilization of cryptocurrencies within the Beepo community.
Why ChangeNOW's API is Perfect for Beepo: Benefits for Users
The integration of ChangeNOW's API brings a multitude of benefits to Beepo and its users. Here are some key reasons why ChangeNOW is the perfect choice for Beepo's crypto transactions:
1. Seamlessly Swap Over 850 Cryptocurrencies
With ChangeNOW's API, Beepo users gain access to a vast selection of over 850 cryptocurrencies, ensuring that they can easily convert their assets to suit their needs. Whether it's Bitcoin, Ethereum, or any other popular cryptocurrency, users can seamlessly swap between different digital assets within the Beepo platform itself.
2. Effortless and User-Friendly Experience
ChangeNOW's API is designed to provide an intuitive and user-friendly experience. The integration with Beepo ensures that users can navigate through the swapping process effortlessly, regardless of their level of experience with cryptocurrencies. This simplicity is key to promoting the adoption of cryptocurrencies within the Beepo community and attracting new users to the platform.
3. Security and Privacy at the Core
Beepo places a strong emphasis on security and privacy, and ChangeNOW's API aligns perfectly with these principles. The API is built on a secure blockchain network, ensuring that users' transactions are encrypted and protected from third-party interference. With end-to-end encryption, Beepo users can have peace of mind knowing that their sensitive information is safeguarded throughout the swapping process.
4. Wide Range of Supported Blockchains
ChangeNOW's API supports a wide range of blockchains, including Solana, Binance, Celo, Bitcoin, Polygon, Ethereum, and Litecoin. This multichain support enables Beepo users to explore different blockchain ecosystems, providing them with greater flexibility and options for their crypto transactions.
5. Profit Opportunities for Beepo
Integrating ChangeNOW's API also brings profit opportunities for Beepo as a business. With each transaction made by users within the platform, Beepo can earn a percentage of the transaction fees. This revenue stream can contribute to the growth and sustainability of the Beepo platform, allowing it to continue providing innovative features and services to its users.
Integrate ChangeNOW's API: Experience Effortless Crypto Transactions
With the integration of ChangeNOW's API, Beepo takes another step forward in revolutionizing the crypto space. Users can seamlessly swap over 850 cryptocurrencies within the platform, enjoying the benefits of security, privacy, and user autonomy that Beepo provides. Whether you're a crypto enthusiast, a small-scale business owner, or simply looking for a secure social media platform, Beepo offers a unique and exciting experience.
Ready to experience effortless crypto transactions within your crypto platform? Simply integrate ChangeNOW's API today and join the decentralized revolution.