Base Coming Soon to ChangeNOW: Web3 for All!
ChangeNOW is thrilled to announce that Base, a developer-friendly Ethereum L2, will soon be integrated into our platform! This groundbreaking collaboration will enable the first-ever blockchain bridge from ETH to Base and from Base to ETH, offering a host of benefits for projects and users alike.
With this integration, ChangeNOW becomes the go-to platform for crypto enthusiasts seeking to exchange and buy crypto on the Base network. In this article, we will delve into the features and advantages of Base, explore why ChangeNOW stands out as the preferred choice, and shed light on what this revolutionary integration signifies for the future of decentralized finance.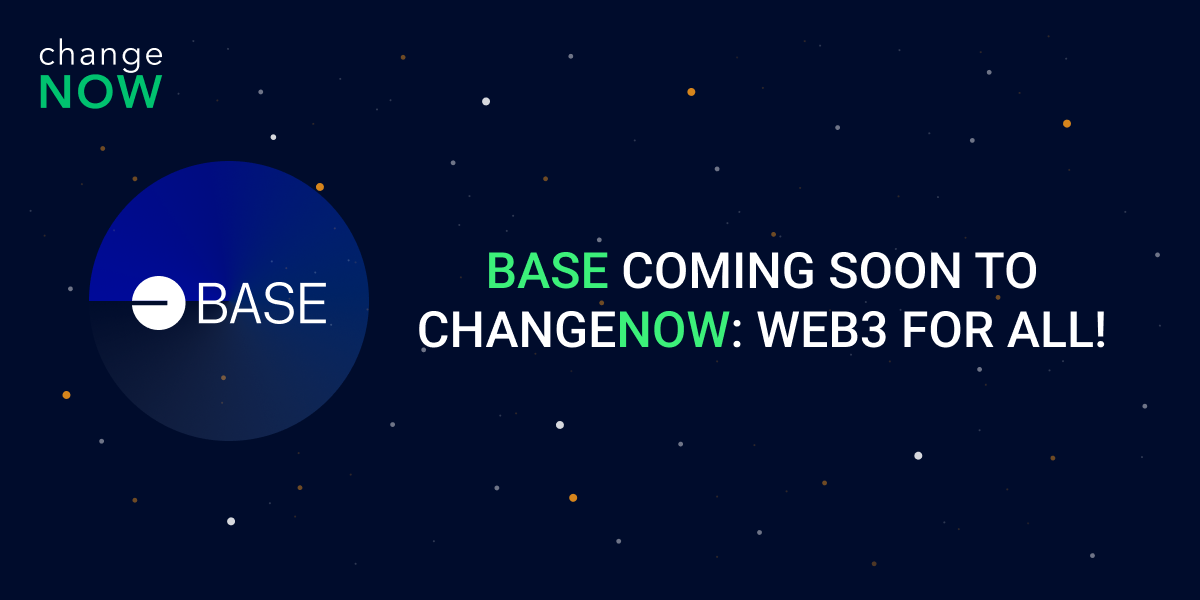 Introducing Base: Empowering the Next Billion Users
Base is a secure and cost-effective Ethereum L2 designed to bring the next billion users onto the blockchain. With its focus on accessibility, Base aims to make Ethereum available to everyone, irrespective of their technical expertise. Built as an Ethereum L2, Base provides the security, stability, and scalability required to power decentralized applications (dApps). Its compatibility with the Ethereum Virtual Machine (EVM) allows for the seamless deployment of existing EVM codebases, making it a developer's dream.
The Advantages of Base
Interoperability: Base enables the onramping of users and assets from Ethereum L1, Coinbase, and other interoperable chains. This seamless integration expands the possibilities for developers and users, fostering a vibrant ecosystem of decentralized applications.

Low-Cost Transactions: Base offers an EVM environment at a fraction of the cost, making it an attractive option for projects looking to reduce transaction fees. Developers can leverage Base's rollup architecture to achieve cost savings of up to 10 times compared to traditional Ethereum transactions.

Early Access to Ethereum Features: Base provides early access to Ethereum features like Account Abstraction (ERC4337) and simple developer APIs for gasless transactions. This allows developers to stay ahead of the curve and take advantage of cutting-edge advancements in the Ethereum ecosystem.
Base: Powered by Optimism's OP Stack
Base is built on Optimism's open-source OP Stack, solidifying its position as one of the most secure and scalable Ethereum L2 solutions available. As the second Core Dev team working on the OP Stack, Base is committed to ensuring that it remains a public good accessible to everyone. Additionally, Base contributes a portion of sequencer revenue to funding public goods, further strengthening the ecosystem as a whole.
The Perfect Network for Developers
Base provides developers with a robust and developer-friendly environment to build innovative dApps. With its seamless integration with Coinbase's products and distribution, Base offers easy access to Coinbase's developer tools, making the development process smooth and efficient. Leveraging Coinbase's ecosystem, developers can reach a vast user base and tap into the $130 billion in assets on the platform.
ChangeNOW: Your Gateway to the Crypto World
ChangeNOW is a leading cryptocurrency exchange platform known for its user-friendly interface and top-notch security. With a mission to provide seamless and secure crypto transactions, ChangeNOW has become a trusted platform for buying, selling, and exchanging cryptocurrencies. Here's why ChangeNOW is the perfect partner for Base and the ideal platform for crypto enthusiasts:
User-Friendly Interface: ChangeNOW's intuitive and user-friendly interface makes it easy for beginners and experienced traders alike to navigate the world of cryptocurrencies. Whether you're buying your first Bitcoin or exchanging Ethereum for tokens built on Base, ChangeNOW ensures a hassle-free experience from start to finish.

Fast and Secure Transactions: ChangeNOW prioritizes the security of your funds and personal information. With its advanced security measures, including encryption protocols, you can trade with confidence, knowing that your assets are safe. Moreover, ChangeNOW's lightning-fast transaction speed ensures that you won't miss out on any opportunities.

Wide Range of Supported Cryptocurrencies: ChangeNOW supports a vast selection of cryptocurrencies, providing you with the freedom to explore and invest in projects that align with your interests. From Bitcoin and Ethereum to projects built on Base and beyond, ChangeNOW offers a diverse portfolio of digital assets for you to choose from.
Stay Tuned for Exciting News
As Base integrates with ChangeNOW, users can look forward to more exciting news about Base and the projects built on the Base blockchain. Stay tuned for updates and announcements as we continue to expand our offerings and provide you with new opportunities in the world of DeFi!
Conclusion: A Bright Future for Decentralized Finance
The integration of Base with ChangeNOW marks an important milestone in the journey towards a more inclusive and accessible crypto economy. Base's developer-friendly environment and cost-effective transactions, combined with ChangeNOW's user-friendly interface and secure platform, create an ideal ecosystem for crypto enthusiasts and developers alike. Together, we are building a future where everyone can participate in the world of decentralized finance, unlocking new possibilities and economic freedom for all.
Are you ready to explore the possibilities of Base and join the revolution? Stay tuned for more exciting updates and get ready to harness the power of Web3 with ChangeNOW and Base!