Axie Infinity (AXS) Review 2021
When we hear the term blockchain, it might make us think of its most popular use case – Bitcoin. But the applications of blockchain reach much further than just that of a payment method.
The technology has found a use case in the international shipping industry and supply chains, voting, medicine, real estate, the security of personal identity and health records, and more.
Another exciting application is in gaming. Of course, blockchain-based games have already been around for a few years. Still, none of them have gained such popularity to remain relevant for many years. But with the Axie Infinity crypto game, that might finally be the case.
It has attracted hundreds of thousands of users worldwide and just keeps getting bigger. But what is Axie Infinity, and can you really make money from playing it and holding its token? Yes, you can, so let's take a deeper look into what this NFT game is all about.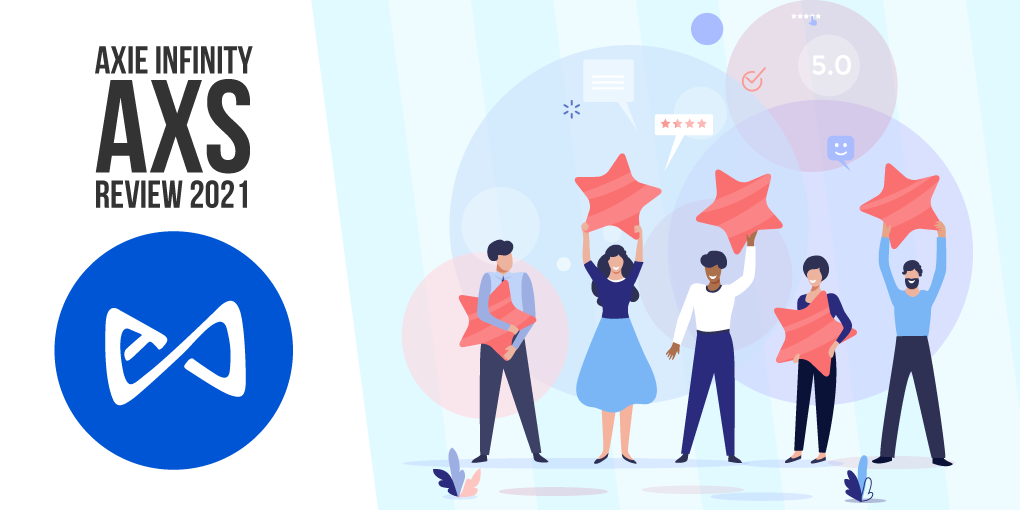 Axie Infinity (AXS) In 2021
About Axie Infinity
So, what is Axie Infinity?
Axie Infinity is an online strategy game based on the Ethereum blockchain. Your aim as a player is to battle monster-like characters called axies against each other, breed them, and sell them for profit. After every successful battle, the winner is rewarded with an Axie Infinity token called Smooth Love Potion (SLP). Together with the AXS crypto (Axie Infinity Shards), these two assets represent the in-game rewards. SLPs can be sold and exchanged for other cryptocurrencies or re-invested in new axies through breeding.
These in-game characters look like Pokémon, and there are millions of them in the game. Each axie has a unique set of skills, which can be used to outperform its opponents during battle. When a fight breaks out, the axies clash in teams of three until one side remains victorious.
The game has a breeding option designed to create new characters. When two axies are bred, they pass down part of their genes and features to their offspring. The SLP Axie Infinity coin is needed every time they reproduce. The more offspring are created, the more tokens need to be spent.
In February 2021, a virtual piece of land was sold as an NFT for $1.5 million. This plot is part of Lunacia, an open world on the Axie Infinity crypto game. Lunacia consists of over 90.000 pieces of land of various qualities, whose properties are being sold for thousands of dollars on the Axie Infinity marketplace. They will be the playground to breed and train your army of axies, battle, and perform quests and missions in exchange for the Axie Infinity token.
Axie Infinity (AXS) Team
The game was developed by the following people in 2018:
Trung Nguyen, the company CEO
Aleksander Larsen, the COO
Jeffrey Zirlin, in charge of growth and community development
Nguyen is a successful software engineer and developer who co-founded a Vietnamese e-commerce startup when he was 19 years old. The company raised $10 million in its funding round. Aleksander is a top-ranked gamer who loves World of Warcraft and DOTA 2. He created content and led several well-known gaming communities in Norway. Mr. Zirlin is a historian with a university degree from Yale. He is interested in monetary policies and was one of the USA's best World of Warcraft players.
The remaining team members are Tu Doan, the game designer and art director, and Andy Ho, the company CTO.
The co-founders of the game met in 2017 while CryptoKitties was making significant headlines. Although it was very popular at the time, the trio noticed that the game didn't have any long-term player incentives. Axie Infinity would have just that.
The three co-founders decided to create their own software company, Sky Mavis. It's based in Vietnam, and it's this establishment that developed Axie Infinity and a software wallet designed to store the Axie NFTs.
Axie Infinity (AXS) Roadmap
The AXS crypto roadmap in the official whitepaper tracks the progress the team behind Axie Infinity is making. The last feature that was added to the ecosystem is the AXS staking option. Players who stake tokens will receive staking rewards corresponding to the amounts they invested. In addition, higher bonuses will be given to those who play the game and vote for community and governance proposals.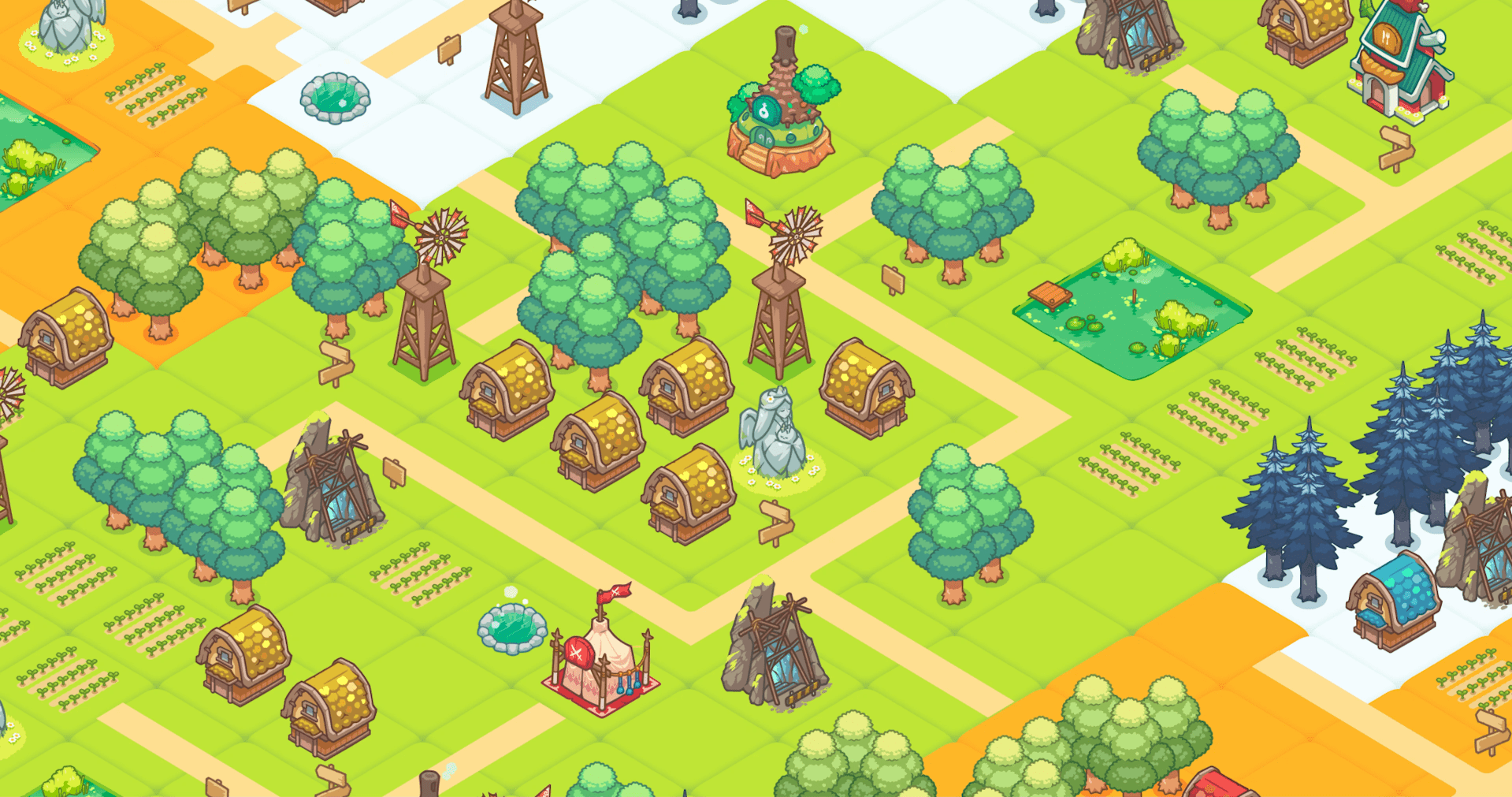 Next up on the roadmap is the rollout of the Land Gameplay alpha mode, which is expected in Q4 of 2021. The public release of this feature is scheduled for the beginning of 2022. The most anticipated game mode is the virtual world of Lunacia. The current roadmap anticipates that the Lunacia SDK Alpha will begin in the second part of 2022. A group of selected players will have access to the map to create axies and save them as NFT tokens. The full release date is still unknown.
Axie Infinity is not just a battle game. Its development team aims to create an entire universe of applications:
A social network
The Axie Infinity marketplace
A breeding game
Various battle modes
The possibility to expand your kingdom, harvest resources, and create new games on your land.
Axie Infinity (AXS) Network
The Axie Infinity crypto game initially came out as an Ethereum-based app with two different token standards. The axies functioned as ERC-721 tokens and NFTs, whereas the SLP and AXS coins were ERC-20 tokens.
But in April of 2021, the action game migrated to an Ethereum sidechain known as Ronin. This second-layer solution was created by the software company Sky Mavis only to host Axie Infinity. Ronin is a centralized blockchain controlled by the game's developers and operators.
The game functions on a pay-to-earn system. Instead of requiring players to purchase in-game items as many other games do, users are rewarded with a certain amount of the Axie Infinity coin. The totals depend on their performances. The token rewards can be increased by selling your army of axie warriors.
Some players have managed to earn several 100s and even $1.000 per month by playing this game. In poorer countries, this is a significant sum and more than their monthly salaries. So it's not a surprise that the majority of the players originate from the Philippines, Venezuela, and Thailand.
The economics of the game make the network sustainable and successful long-term. You can't start playing without purchasing three axies from the Axie Infinity marketplace. The best characters naturally cost more money, and a team of three can cost several thousand dollars.
If that sounds like too much, you can take advantage of the scholarship program. You can borrow characters from existing players and pay them a percentage of your earnings. In this way, everyone profits. New players don't need a starting capital to play the game, and existing players can generate additional profits by lending out their forces.
Inflation of the SLP token is fought by burning all SLPs spent in the axie breeding process. The token-burn reduces the coins in circulation and maintains a high demand. The AXS governance token is not burned. Instead, AXSs paid for breeding are sent to the company treasury alongside +4% of all marketplace sales. These assets are later re-invested in game rewards and further development of the platform.
How to Mine Axie Infinity (AXS)?
The Axie Infinity token relies on a Proof of Stake algorithm. As such, it's not mined. Instead, it's minted by the token creators. Players earn rewards by staking AXSs. As of October 2021, around 15 million tokens have been staked, according to the official dashboard.
The annual percentage rates are extremely lucrative and are currently standing at 162% APR. The money comes from a special staking pool created to award loyal players. Also, there are plans to give stakers a chance to vote and decide on future upgrades and features, which will be implemented in Axie Infinity.
Axie Infinity 2021 Price Prediction
The Axie Infinity Shards token debuted on exchanges in November 2020. At its lowest point, it was worth 12 cents/coin. 2021 has been an incredible year in terms of price growth for the AXS crypto asset. On 1 January 2021, the value of the currency was around $0.50. But as the year progressed and user adoption increased, AXS kept rising. As a result, the Axie Infinity crypto price reached its all-time high of $164.90 on 6 November 2021.
Forecasters from Wallet Investor are very bullish on AXS. They expect the rising trend to continue and that the coin will be worth over $380 one year from now. Their 5-year estimate predicts a valuation of over $1.300.
The analysts from CoinsKid also see good times ahead for this coin. Their 1-year forecast is currently at an estimate of around $270. In December 2025, they expect the Axie Infinity crypto price to be between $600-700 per token.
The 2nd Axie Infinity coin available in the game is Smooth Love Potion (SLP). Since it got listed on cryptocurrency exchanges in July 2020, its value has increased by +850% until now.
According to CoinCodex, the value of this asset is likely to go up soon. It was trading at around $0.09 at the beginning of October 2021. Still, CoinCodex predicts that it looks likely to reach anywhere between $0.15-$0.16 in 30 days from now. Lastly, their prognosis for October 2022 was $0.20 per coin.
Wallet Investor has similar expectations for this Axie Infinity crypto token. A bullish run-up to 22 cents/coin is their forecast one year from now. The 5-year analysis determined a value of over $0.76.
How Can I Buy and Trade Axie Infinity (AXS)?
When it comes to storage and purchasing options, users have several ways to acquire and deposit this digital currency. Let's take a look at what choices are available for the Axie Infinity coin.
Axie Infinity Wallets
SLP and AXS are both Ethereum-based ERC-20 tokens that can be stored in wallets such as NOW Wallet, MetaMask, MyEtherWallet, or Trust Wallet. All three applications are available for desktop and mobile devices.
To play Axie Infinity, you will be required to install the Ronin wallet. The app is available on the Chrome store as a browser extension. Axie Infinity is hosted on the Ronin sidechain, where all transactions are recorded. Therefore, the only way to interact with this second-layer solution is with the help of the Ronin wallet.
Once you are set up and configured your wallet, it's time to download the app and start playing. To do that, please visit the Axie Infinity download page and install the Mavis Hub for your device and OS.
Axie Infinity Crypto Exchanges
The fastest and safest method to purchase Axie Infinity Shards is through ChangeNOW's non-custodial crypto swaps. The token can be exchanged with Bitcoin, Ethereum, USDT, fiat, and dozens of other assets.
When it comes to centralized cryptocurrency exchanges, AXS's largest trading volume is generated on Binance with the trading pair AXS-USDT. Huobi is 2nd on the list, and Coinbase is also highly ranked.
The asset can also be found on platforms such as:
FTX
Bithumb
Kucoin
Gate.io
Kraken
Gemini
Trading pairs with BTC, USD, USDT, BNB, and EURO record the greatest daily exchange volumes.
Smooth Love Potion (SLP), which represents the second token available in Axie Infinity, is available on pretty much the same exchanges. Besides the names mentioned above, SLP can also be purchased on OKEx, Uniswap, Digifinex, Sushiswap, LBank, Crypto.com, and several others.
Axie Infinity (AXS) Bottom Line
Axie Infinity is a colorful point-and-click action game with a unique play-to-earn incentive for players. Playing the game earns you SLP and AXS tokens. These assets are required for breeding new axies or for purchases made on the Axie Infinity marketplace. The game is playable on both desktop and mobile devices and represents the world's most successful NFT and blockchain-based game.
The native Axie Infinity token has seen tremendous returns in 2021, and it keeps breaking its all-time high. That's not a surprise considering the token economics and the business backgrounds of the creators who are passionate and long-time gamers.
There is still plenty of time until the Lunacia land mode is publicly released, sometimes in 2022/2023. So, if you want to build a strong army and be ready for it, head over to the Axie Infinity download page, get your copy of the game, and prepare for battle.