Apple's Stock Skyrockets After Metaverse Links
Apple's stock price has skyrocketed over the past day after CEO Tim Cook briefly mentioned that he could foresee potential advances into the metaverse.
Apple's stocks, which have had a relatively tepid opening to 2022, recently rose by more than 8%, to $167.23, following virtual-positive comments from its CEO, Tim Cook. During the company's Q1 2022 earnings call on Thursday, Mr. Cook glossed on the possibility of Apple entering into the metaverse industry in the coming future.
Cook also talked about Apple's opportunities in the metaverse. Describing the growing prospect of the development of AR in the coming years, the CEO concluded investing in a future of virtual universes is a no-brainer.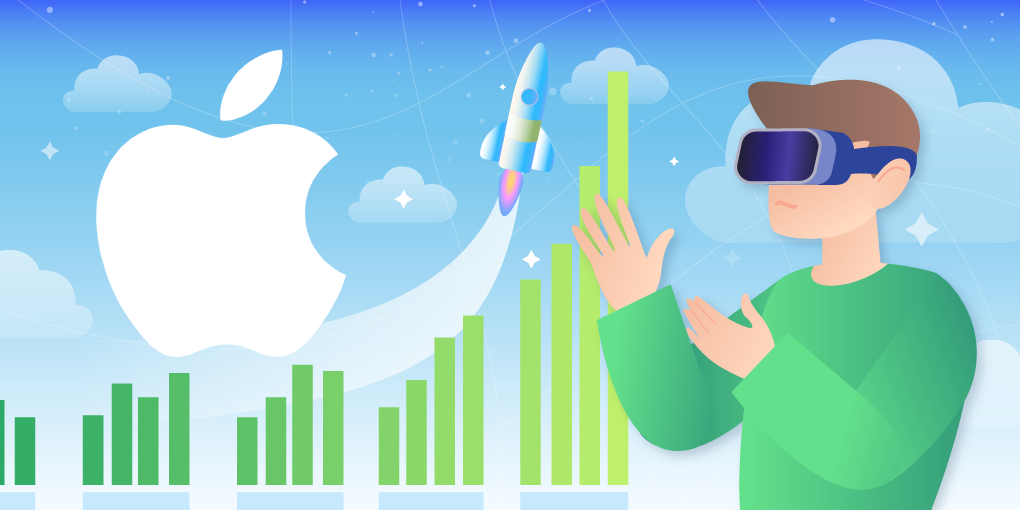 According to Cook, Apple already offers up to 14,000 AR apps on its App Store. These applications are designed by the AR development platform ARKit. The design structure offered by ARKit helps users access the metaverse.
"We are always exploring new and emerging technologies", confessed Cook, "and I have talked at length about how very interesting it is for us right now."
AR and VR: The Big Bet
Meta, previously Facebook, announced its ambitions for a virtual universe and a new internet late last year. However, while Meta is confident that employing Virtual Reality technology would be the catalyst for a metaversal future, Apple is rather inclined towards the less effusive Augmented Reality technology. Meta, on the other hand, is accelerating the Oculus headset to engage users in the Metaverse. Although Apple did plan to release the Apple headset in 2022, it is reported that due to software and hardware issues, it may be delayed.
Regardless of its firm bet on AR technology, Cook insisted that Apple was equally eager to launch its headset, which would focus on communication, gaming, and content consumption.
Meta of course is not the only big competitor to Apple. Fast-growing blockchain companies like Decentraland, Sandbox, Bloktopia, and Ertha Metaverse are also actively hatching plans to lead the next phase of the future.
Meanwhile, Apple announced financial results for its first quarter of 2022, which was in its own part a record-breaking $123.9 billion. Cook suggested that the company's establishment and integration of new products have helped Apple set the new record, making even more case for increased investments into the future of metaverses.
You can buy or trade any of your preferred tokens for on ChangeNOW without any registration. Welcome to the NOW experience! The ChangeNOW team presents you with the new community-inspired crypto wallet – NOW Wallet. For safe and efficient asset tracking, try our crypto portfolio tracking app – NOW Tracker.