App Store Continues Crackdown on Crypto Wallets
Apple recently removed the popular crypto wallet Trust from the App Store. The wallet's team assured customers it is only a temporary situation.
Trust Evicted from App Store
The Trust Wallet team announced on March 22, 2022, that the iOS version of its app was officially unavailable and quickly assured all its users on every social platform that the situation is being addressed.
"The Trust Wallet iOS app became unavailable on the Apple App Store on March 21 at 1pm PST," reads the announcement. "Our team was instantly alerted and we're working to resolve the issue as soon as possible. We have confidence that this issue will be resolved in a timely manner."
Trust's team reiterated to its users that their assets would not be lost. Since a user's crypto holding is stored on-chain with the app serving only as a gateway to one's assets, there is little cause for panic. At writing, the Android version of Trust Wallet is still available on the Google Play Store.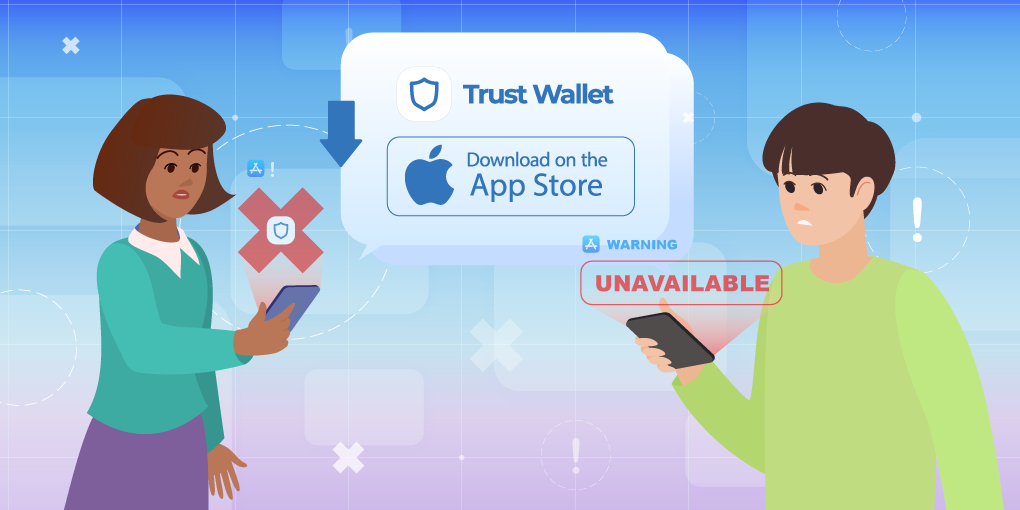 Long History of App Store Scares
Last June, the Trust team made notable concessions to their wallet to accommodate Apple's evolving guidelines. As a result of Apple's strict policy regarding third-party payment integrations, Trust removed the dApp browser feature for iOS users. This means iOS customers could only use the dApp browser feature on the web. However, despite compromises to Apple's policies, the Trust Wallet app was finally evicted.
In recent years, there have been significant cases of high-profile apps removed from the App Store. In a similar fashion, Apple ejected famous game app Fortnite from its store after the game implemented its own in-app payment system.
Like recent cases of evictions from the store such as Atomic Wallet and Trust, most of the apps involved violated Apple's third-party payment policy.
"Apple decided to remove the app because the wallet uses 3rd party for exchange," an Atomic Wallet spokesperson said last December. "We are working on that. We will make an announcement once the app goes back live on App Store." As of March 2022, Atomic Wallet is yet to make a return to the iOS store.
What to Do if Affected?
While the deleted apps might not be available to iOS users for a while, user funds are still accessible and safe. This is because tokens are kept on the blockchain and not on the app itself. Thus, a user still maintains full control over their assets as long as they have a recovery phrase and private keys.
What do you do if you can no longer access the Trust Wallet app on your iOS device? One easy solution is to transfer your keys to a non-custodial iOS crypto wallet. A non-custodial wallet is perfect in this case as it doesn't store your private keys and gives you full control over your funds.
The NOW Wallet, for example, is a great choice to access one's crypto portfolio. NOW Wallet is non-custodial and is unlikely to be affected by Apple's wallet crackdown. This is because NOW operates its own in-app exchange service and is under no threat of violating Apple's 3rd-party guidelines.
To access an existing crypto portfolio of a different wallet via the NOW Wallet, you can follow these few steps:
Download NOW Wallet here.
Open the app, click on the prompt "I've got a recovery phrase".
Enter your unique 12-word recovery phrase.
Wait a few seconds till your crypto portfolio loads and appears.