Altcoin Season Is Upon Us: What Does This Mean For You?
The new altcoin season is yet here – a period when most of the altcoins (all cryptocurrencies besides bitcoin) show significant growth. What does this mean for you?
"Explosion", "breakout", "skyrocketing", "burst" – these words have been present in almost all news titles related to altcoins in the past few weeks. Since 2020 started, the vast majority of Top-100 altcoins have significantly grown in price. According to numerous predictions and reports, the new altcoin season is yet here – a period when most of the altcoins (all cryptocurrencies besides bitcoin) show significant growth. What is happening and how you can profit from this – find it out in the next few minutes! 
Highlights: 
In December 2019, the altmarket has reached its 2-year bottom and is growing rapidly now
Most of the altcoin predictions are bullish for the foreseeable future 
However, altcoin market remains highly volatile and risky  
A moderate strategy is to use rising altcoins to increase your BTC stack in the future, or to buy reliable altcoins and just wait, avoiding regular swings of the market. 
Nice party, long hangover
2017 was the golden era of cryptocurrency. Bitcoin was breaking historical records, a boom of ICO fueled the interest to cryptomarket, and packs of altcoins were reaching their all-time highs. But all good parties come to their end – and the louder the fun, the worse is the hangover. For the past 2 years, altcoins have been falling down. Many are down by over 90% from their peaks. 
A new party coming up?
According to several analyses, December 18, 2019 was when the altcoin market reached its bottom – and started to grow. By mid-January, most of the altcoins gained more than 40%, which led to breaking the resistance level – a line on a price chart which has been the ceiling for the currency rate over a long period of time. The whole altcoin market cap gained 60%.
Since mid-January and up until now, Bitcoin dominance (a percent of the whole cryptocurrency market that BTC takes) has been decreasing. The burst of buying volume of altcoins means the bottom has been left behind – and the market is reentering a bull phase. As the volume usually precedes price growth, we expect altcoins to skyrocket, recovering much of their 2-year losses. You usually do a nice shopping before a great party, don't you?
And it seems that the shopping went well – only for the last week, main altcoins Ethereum and Ripple gained 24% and 16% respectively, which is far ahead of Bitcoin. Many other Top-100 cryptocurrencies showed a striking rise too.
What are the predictions – small barbeque or a celebration of the century?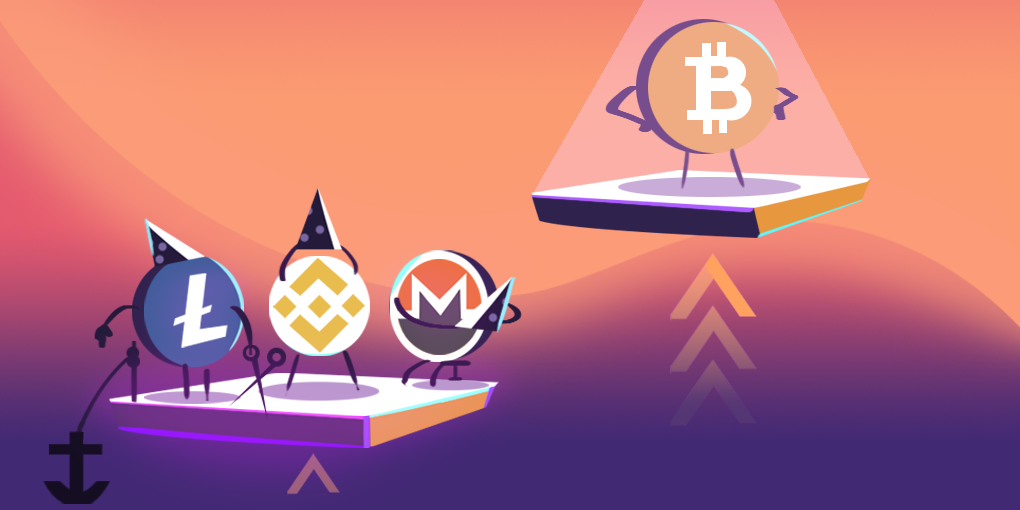 Predictions regarding the rise of the altmarket vary widely, though staying mostly bullish. One of the cryptocurrency experts compared price charts of early Bitcoin and altcoins today – and showed an extreme similarity between the two, claiming that today might be a moment to reach a "life-changing wealth".
As the altmarket has spent 2 years in a drawn-out "bear run", this led to high oversold levels and low liquidity – thus, pumping prices up now for whales seems easy as never. Many of the top crypto Twitters are feeling extremely bullish. Just look at Crypto Bitlord (100k+ subscribers) going nuts! 
I'm so bullish I think I'm having a panic attack #Crypto pic.twitter.com/nN9fcGFztl

— Sir Bitlord (PumpGang?) (@Crypto_Bitlord) February 6, 2020
Some predictions are way more restrained. Analysts encourage us to remember the top altcoins of 2013 – and where are they now? Many from today's top might vanish as well, but those that stay might grow in price significantly. 
How to profit from the party?
As the altcoin market remains highly volatile, one of the sane strategies is to buy and keep your altcoins without trying to profit from crazy rates' swings right away. Waiting for the rise of altcoins in the mid-term future seems a wise and less risky strategy to many traders. 
But the new altcoin season provides you an opportunity to increase your Bitcoin stack as well. When altcoins raise to high prices versus BTC, you may exchange them back to Bitcoin – and profit. Occupy the best table while the hall is yet empty – so that everyone's jealous of you in two hours squeezing in the hallway!
As you may get rich with the new altcoin season, the totally opposite is still possible due to poor predictability of the market. To avoid losing your money, follow these easy tips: 
Hold a minor part of your portfolio in altcoins. While it gives you an opportunity to increase your BTC stack due to altcoin season, it also hedges you against Bitcoin – in case the latter goes down in price, you will not lose everything you have. 
Historically, top-5 altcoins have been the safest. Consider investing in crypto assets with fundamental market value.
Do not try to profit from abrupt market fluctuations. When feeling a king of the party, it always seems much easier to perform a double backflip from the stage. But in fact, the probability to end up the party in a grim place in this case is only higher. 
However, we are pretty sure you only do stunts while being 100% confident. Hope that this article has helped you feel so. Safe trade to you, and have a fun party time! 
Disclaimer: this article reflects its author's opinion only and is not a financial advice. We take no responsibility for the results of any trader's decision or action.