Adidas Breaks Into Crypto Through Partnerships With Coinbase And The Sandbox
German sportswear manufacturer Adidas has made its first foray into the crypto industry by partnering with Coinbase and teasing blockchain-based virtual playground The Sandbox.
Adidas confirmed the news of a collaboration with the exchange with a Tweet from its official account.
"We've partnered with @coinbase. Probably nothing" it read and gave no further details on what exactly to expect from this partnership.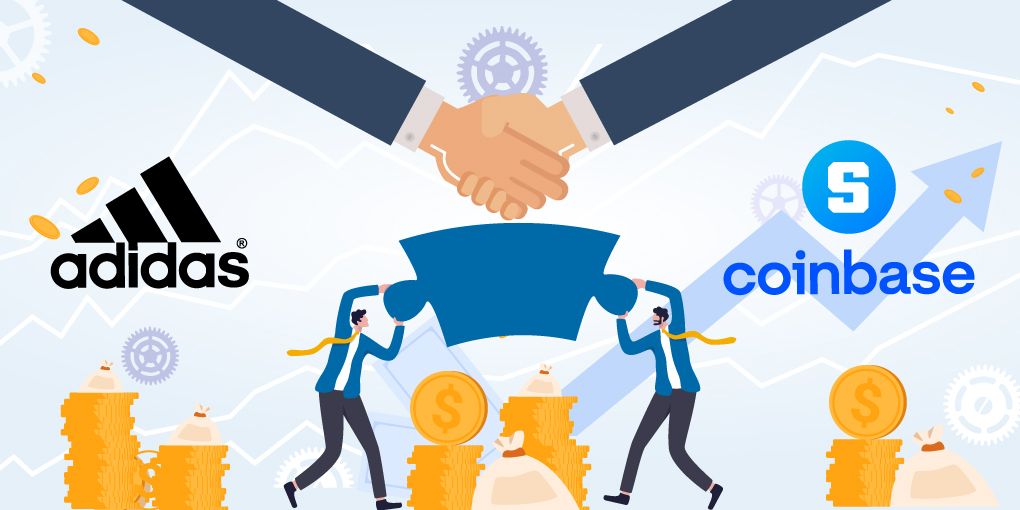 Adidas's Plans For Coinbase
"Welcome to the party partner," came Coinbase's response on Wednesday. With the close-lipped outlook, both companies are going with, crypto enthusiasts have been forced to make conclusions of their own.
As Coinbase continues its NFT centered campaign, certain individuals believe the exchange's deal with Adidas will focus primarily on non-fungible tokens. Depending on how the concept is introduced there might be individuals willing to pay a premium for Adidas collectibles.
Others think Adidas and Coinbase are working together to make crypto payments an option in the Adidas shopping network. A Coinbase representative declared it a "positive development" that more companies were engaging in the crypto space.
They also said the exchange was anticipating witnessing the numerous opportunities that would present themselves to brands in the industry. Beyond this, the platform did not disclose any further information.
News about Adidas's venture into the metaverse went public a little while after its collab with Coinbase. The sports company's land purchase on The Sandbox map was unveiled by a tweet from Sandbox themselves. The post contained a link to Adidas's newly acquired 144 parcel space on the digital world, worth 400 ETH, roughly equal to $1.7 M at the moment.
In the Tweet, Sandbox threw out the suggestion of a partnership saying "original thinkers and doers" from both companies could work on a combined future. Based on a later post from Adidas asking what they should make of their virtual real estate, no firm decisions have been made besides the impending development of an "adiVerse."
Adidas x Sandbox Lead SAND Token Prices To Soar
Speculations are currently making the rounds on how this could be Adidas's first step toward introducing "metaverse apparel", a phenomenon sweeping through the ranks of fashion brands as virtual worlds continue to grow in popularity.
Just last week Adidas' leading competitor Nike struck a deal with Roblox for digital branding referred to as 'NIKELAND' leading to suggestions that the German sports brand always moves a little behind Nike. This is not the first time Nike will be venturing into the metaverse; in 2019 the sports giant was able to patent "CryptoKicks."
With all of this going on, Sandbox's native token SAND has experienced a substantial surge in price in recent times. Following Facebook's Meta rebrand in October, SAND increased by over 600%.
Its bullish trend has gained even more momentum, rallying by 32% in the past day and hitting a new all-time-high on November 24. It's a great season for the metaverse as this comes almost immediately after news of the sale of a portion of digital real estate on Decentraland worth $2.4 million.
You can buy, trade any of your preferred tokens for The Sandbox's SAND on ChangeNOW without any registration.
Welcome to the NOW experience! The ChangeNOW team presents you with the new community-inspired crypto wallet – NOW Wallet.