ChangeNOW Embraces Tezos: XTZ Support & API For Web3 Projects
Tezos has emerged as a powerful blockchain network that empowers developers to create decentralized applications (DApps) and deploy smart contracts. With its focus on innovation and modernization, Tezos offers a unique self-amending network that avoids hard forks and ensures real-time modifications.
As a leading cryptocurrency exchange platform, ChangeNOW recognizes the potential of Tezos and provides seamless support for XTZ token swaps. In this article, we will explore the benefits of Tezos, the availability of XTZ on ChangeNOW, and how Web3 developers can leverage ChangeNOW's Exchange API to enhance their projects.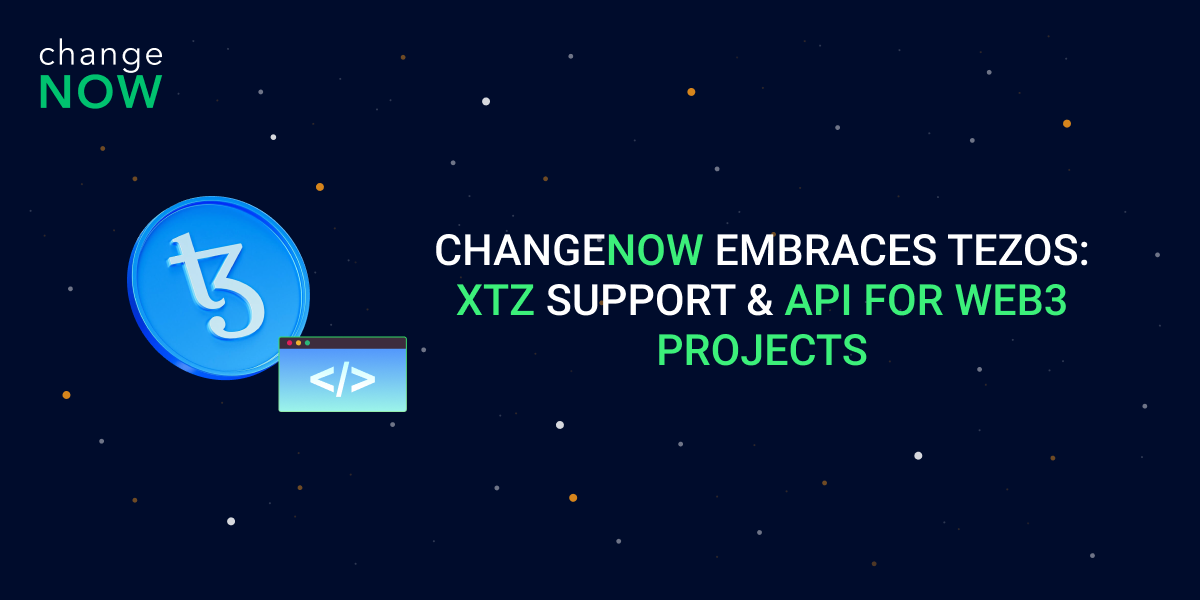 Understanding Tezos and XTZ Token
Tezos, launched in 2014 by Arthur and Kathleen Breitman, is a blockchain network that operates on a self-amending protocol. Unlike traditional blockchains that require hard forks for upgrades, Tezos enables real-time modifications through a voting mechanism. This unique feature prevents community fragmentation and ensures a collaborative approach to network development.
XTZ is the native cryptocurrency of the Tezos network. It serves multiple purposes within the ecosystem, including staking, voting, and participating in the network's governance. As a proof-of-stake blockchain, Tezos eliminates the need for resource-intensive mining, making it more energy-efficient and environmentally friendly compared to proof-of-work blockchains like Bitcoin and Ethereum.
Swap XTZ on ChangeNOW
ChangeNOW, a leading cryptocurrency exchange platform, offers users the convenience of swapping XTZ tokens with a wide range of other cryptocurrencies. Whether you're looking to diversify your portfolio or acquire specific digital assets, ChangeNOW provides a seamless and secure exchange experience. By integrating Tezos into their platform, ChangeNOW enables users to easily swap XTZ tokens for other popular cryptocurrencies.
For developers, ChangeNOW's Exchange API opens up a world of possibilities. By incorporating the API into their Web3 projects, developers can provide users with the ability to swap XTZ tokens directly within their applications. This integration enhances the user experience and eliminates the need for users to navigate multiple platforms to perform token swaps.
Use Cases for Web3 Developers
1. Crypto Exchanges - Expanding the Number of Assets, Including XTZ
ChangeNOW's Exchange API empowers Web3 developers to create exchange platforms that support a wide range of digital assets, including XTZ. By integrating the API, developers can provide users with the ability to swap XTZ for other cryptocurrencies seamlessly. This expands the utility of XTZ and enhances the overall liquidity of the Tezos ecosystem.
Furthermore, ChangeNOW's API supports fiat-to-XTZ swaps, allowing users to exchange traditional currencies for XTZ directly. This feature opens up new avenues for users to enter the Tezos ecosystem and participate in its growing economy.
2. Wallets - Simplifying Exchanges to and from XTZ
Integrating ChangeNOW's API into Web3 wallets enables users to perform exchanges to and from XTZ directly within their wallets. This integration streamlines the exchange process and eliminates the need for users to rely on external platforms to swap their tokens. With ChangeNOW's API, developers can provide users with a seamless and secure experience, enhancing the usability of Tezos within the Web3 ecosystem.
3. Web3 Marketplace - Enhancing Asset Exchange
Web3 marketplaces are gaining popularity, allowing users to trade digital assets directly within decentralized platforms. By integrating ChangeNOW's Exchange API, developers can enable users to exchange XTZ tokens for other assets within the marketplace itself. This enhances the convenience and accessibility of asset trading, fostering a vibrant and dynamic ecosystem within Web3 marketplaces.
4. Decentralized Social Media Platforms - Monetizing Traffic with XTZ
Decentralized social media platforms are revolutionizing the way users interact and share content online. By integrating ChangeNOW's API, developers can introduce a widget that allows users to monetize their traffic using XTZ. This widget enables users to receive XTZ tokens for their contributions, incentivizing engagement and creating a more interactive and rewarding social media experience.
Integrating ChangeNOW's API with XTZ: A Step-by-Step Guide
Integrating ChangeNOW's API with XTZ into your Web3 platform is a straightforward and seamless endeavor. The process begins by signing up for an account on the ChangeNOW website. After completing the registration, you can generate an API key, which serves as the communication link between your platform and ChangeNOW's API.
The next step involves integrating the API into your platform. Collaborating with your development team is crucial to ensure a smooth and intuitive integration experience for your users. Fortunately, ChangeNOW offers comprehensive documentation and assistance to guide you through the integration process, making it hassle-free and efficient.
Once the integration is successfully completed, your platform will unlock a wide array of services, including the ability to enable fiat-to-XTZ exchanges and access to over 900 cryptocurrencies. This comprehensive offering empowers your customers to explore diverse cryptocurrency options and engage in seamless transactions, all within the familiar environment of your platform.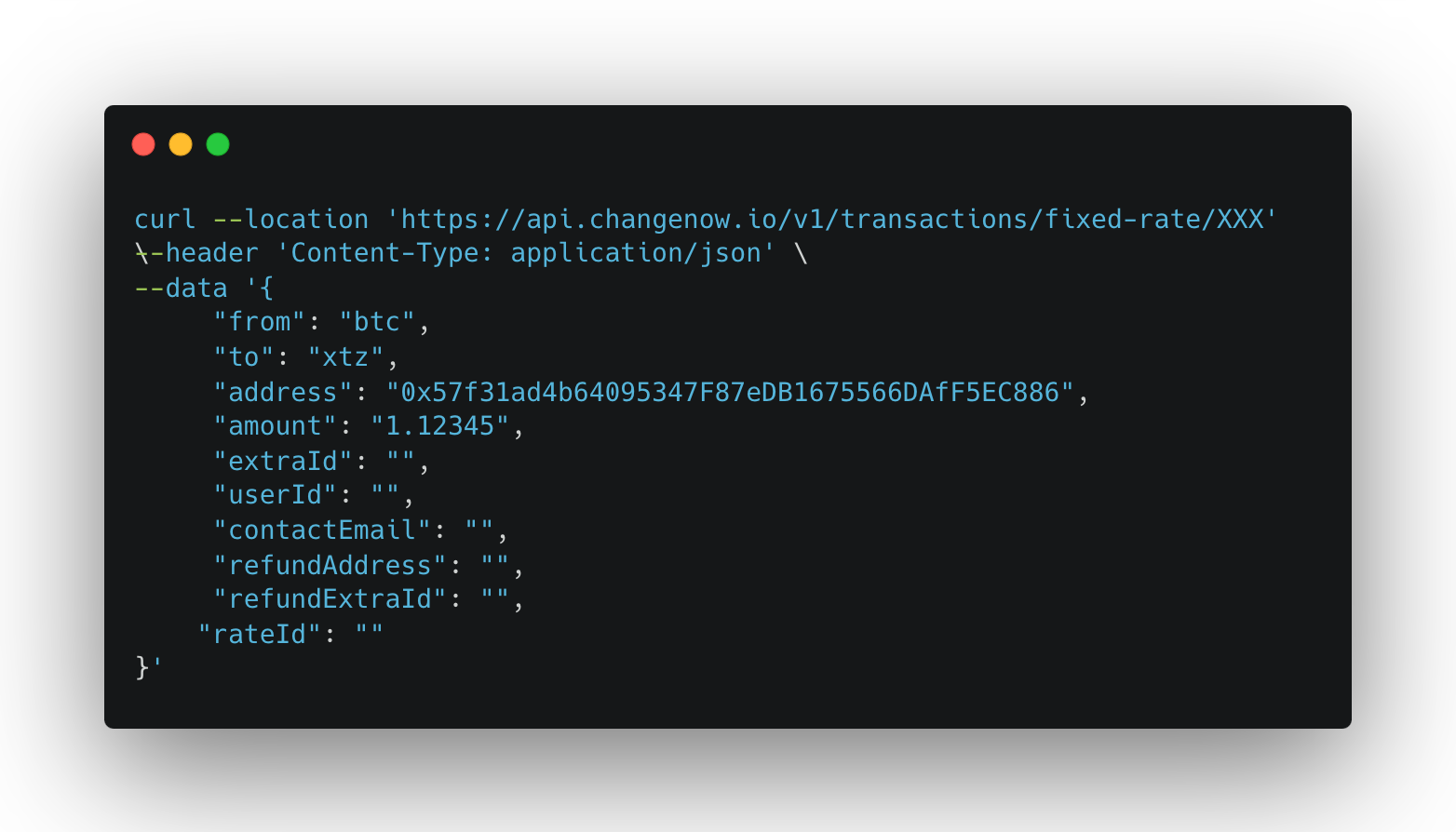 Conclusion: Embrace ChangeNOW's API for XTZ Integration
Tezos is revolutionizing the blockchain space with its self-amending protocol and focus on innovation. With XTZ available for swaps on ChangeNOW, users can easily diversify their crypto portfolios and participate in the Tezos ecosystem. Web3 developers can leverage ChangeNOW's Exchange API to enhance their projects, offering users seamless token swaps and a more streamlined experience.
Whether you're building an exchanger platform, a Web3 wallet, a decentralized marketplace, or a social media platform, integrating ChangeNOW's API empowers your project with the ability to support XTZ and enhance the overall functionality of your application.
Embrace the power of Tezos and integrate ChangeNOW's Exchange API today to unlock the full potential of XTZ within your Web3 project. Join the revolution and be at the forefront of decentralized innovation!