Syscoin EVM (SYS) Now Available on ChangeNOW
Are you ready to explore the world of Syscoin EVM (SYS) and take advantage of its revolutionary features? Look no further because ChangeNOW, the leading cryptocurrency exchange platform, is thrilled to announce that SYS is now available for buying and swapping on our platform.
Syscoin EVM combines the best of Bitcoin's security and Ethereum's scalability, providing a cutting-edge blockchain platform for innovative applications. In this informative article, we will explore the captivating realm of Syscoin and SYS swaps, uncovering the array of benefits they bring. From swift transactions and cost-efficiency to heightened security and stability, Syscoin EVM offers a remarkable ecosystem that caters to the evolving needs of users.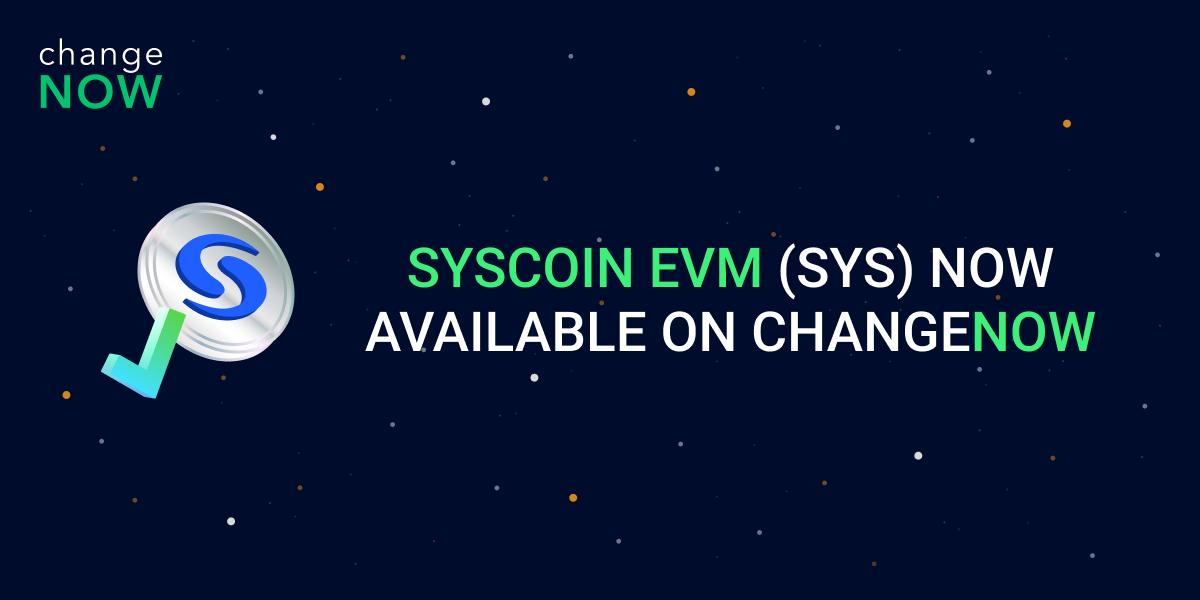 Syscoin EVM: A Secure and Scalable Solution
Syscoin EVM is a dual-chain UTXO / EVM architecture that combines the best features of both paradigms to create a secure and scalable blockchain platform. One of its key advantages is its compatibility with the Ethereum Virtual Machine (EVM), allowing developers to easily bridge their projects for enhanced security and take advantage of the Rollux Layer 2 suite and ecosystem.
The NEVM chain of Syscoin EVM inherits Bitcoin merge-mined security, providing robust protection against attacks. This ensures that transactions and smart contracts executed on the platform are secure and trustworthy. With full byte-for-byte EVM compatibility, Syscoin EVM offers a familiar and reliable environment for developers to build and deploy their decentralized applications (DApps).
The Benefits of Buying and Swapping SYS on ChangeNOW
Lightning-Fast Transactions
One of the key advantages of buying and swapping SYS on ChangeNOW is the speed of transactions. Through our integration with Syscoin EVM, we ensure that transactions are processed swiftly and efficiently. Whether you are buying SYS or swapping it for another cryptocurrency, you can expect near-instant transaction confirmation, reducing waiting times and enhancing the overall experience for users.
Cost-Effectiveness
ChangeNOW values the importance of cost-effectiveness for our users. That's why we strive to offer competitive rates and low transaction fees when buying or swapping SYS. By choosing ChangeNOW as your preferred platform, you can maximize your investment and minimize unnecessary expenses.
Enhanced Security
Security is a top priority in the world of cryptocurrency, and we take it seriously at ChangeNOW. By utilizing Syscoin EVM's robust security features, we ensure that your transactions are protected from fraud and unauthorized access. With ChangeNOW, you can have peace of mind knowing that your SYS swaps are conducted in a secure and trustworthy environment.
Stability and Reliability
SYS offers stability and reliability by pegging its value to stablecoins. This unique feature minimizes the potential risks related to price volatility, ensuring secure and consistent transactions. Whether you're acquiring SYS tokens for investment ventures or utilizing them in day-to-day transactions, you can rely on the stability and dependability it offers.
Getting Started with SYS on ChangeNOW
Buying SYS tokens on ChangeNOW is a straightforward process. Here's a step-by-step guide:
Choose your preferred cryptocurrency or fiat currency to exchange for SYS.
Enter your Syscoin EVM wallet address where you want to receive the purchased SYS tokens.
Send your deposit to the provided one-time address.
Sit back and relax while ChangeNOW processes your transaction. In most cases, you will receive your exchanged coins within approximately 5 minutes.
Embrace the Future with SYS and ChangeNOW
Syscoin EVM (SYS) is now available for buying and swapping on ChangeNOW, providing users and projects with a secure and scalable blockchain solution. ChangeNOW, with its seamless interface, fast transactions, extensive cryptocurrency selection, and excellent customer support, is the best platform for buying and exchanging SYS tokens. Whether you are a cryptocurrency enthusiast or a project looking to leverage the benefits of SYS, ChangeNOW offers a reliable and efficient platform to meet your needs.
Start your SYS journey with ChangeNOW today and experience the power of Syscoin EVM combined with the convenience of a leading cryptocurrency exchange platform!
Remember to always DYOR and consult with a financial advisor before making any investment decisions. Cryptocurrency investments are subject to market risks, and past performance is not indicative of future results.