Evolution SHIB to Forefront Crypto Ecosystem
Shiba Inu isn't your regular meme token. In fact, it can no longer be considered as such for various reasons.
Several meme coins have appeared on the cryptocurrency market in recent years, starting with Dogecoin in 2013. Doge's developers don't hide the fact that their asset was meant to be a joke and parody of all the altcoins that started popping up like mushrooms after the rain.
Shiba Inu took inspiration from Dogecoin's success, and thus a new movement began. Shib was just an experiment meant to test the strength and unity of a spontaneously created decentralized community. However, it stood the test of time and became a project worth watching.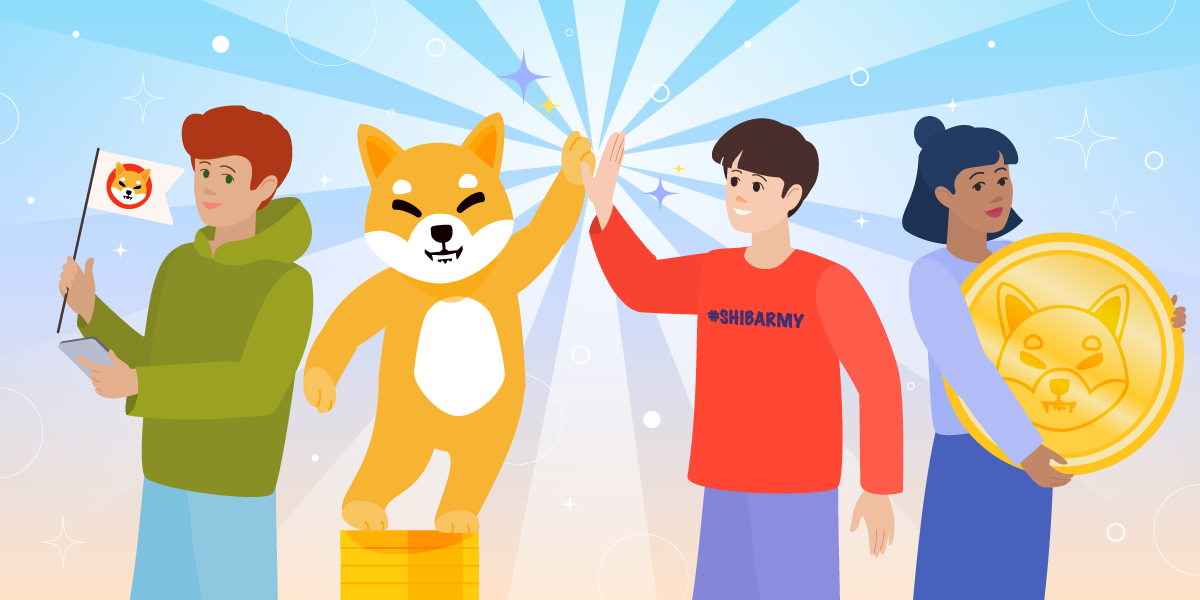 About Shiba Inu
Shiba Inu was created in August 2020, and similarly to Bitcoin, its creator remains anonymous. This project has often been called the 'Dogecoin killer', but that was never the official stance of Shiba's development team. Actually, it's believed that the idea behind this asset was born in 2019 at a crypto conference in Japan, where SHIB's anonymous creator met one of his friends who inspired him.
This person's name has also never been revealed, but he was essential to the project's roots. He developed the token's smart contract and provided 10 ETH as liquidity on UniSwap.
SHIB remained relatively quiet until Elon Musk tweeted that he planned to purchase a Shiba Inu puppy. This announcement caused a chain reaction, and the token's value increased by 300% in just a few hours.
The Shiba Inu Team
If you expect detailed information on the project's team, that will not happen. Neither the official website nor the whitepaper (called the woof paper) contains any info on the creators.
But we do know that the project was started by an individual or maybe a group of people called Ryoshi. Whoever the developer is, they didn't award themselves or their team with pre-mined tokens or a secret stash that could later be sold to make a profit. Because the creator didn't invest any money into the project, any coins they own were bought from cryptocurrency exchanges, as all other traders do. These tokens were bought on UniSwap and sold relatively quickly afterwards.
Additional proof that Ryoshi is different from many other altcoin developers can be found in one of their blog posts. In it, they express a dislike of centralized exchanges. They consider them harmful for community-inspired projects and encourage the use of DEXs and P2P trading. Shiba Inu's developer doesn't hold a leading role in the project because most of the things we see today were created by the SHIBArmy community.
Ryoshi gave away 50% of the initial 1 quadrillion token supply to Ethereum co-founder Vitalik Buterin. Most of these coins, worth over $6 billion, were later burnt. However, one part was donated to charitable organizations such as the India Covid Relief fund and others.
The Shiba Inu Network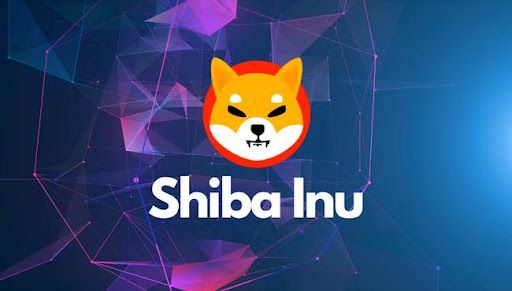 Charities and Donations
Shib's main qualities originate from the strength of its community, known as the ShibArmy. Despite being a private group of developers, the team is working around the clock to form new partnerships and improve the network.
SHIB's community is very productive, and they are made up of various artists who are expanding the ecosystem. Moreover, they work on independent initiatives to integrate the project into different industries like fashion, gaming, food, payment systems, etc.
To be part of the ShibArmy means to show the human side in times of need. For example, during the COVID-19 outbreak in India, the community did precisely that when the biggest crypto donations in history were made to save lives in this South Asian country.
The Shib token doesn't just use a dog as its logo. They do their part to help preserve the breed. The community has joined forces with AmazonSmile to distribute a percentage of what you buy via Amazon to the Shiba Inu Rescue Association. This non-profit organization helps in financing dog shelters. Anyone can join the initiative by simply carrying out your purchases over the AmazonSmile platform. It doesn't cost you anything extra, and you can buy the same goods and services as on the regular Amazon website.
The Shiba Inu Incubator
The Shiba Inu Incubator is a part of the SHIB ecosystem that brings together talented artists and many other individuals from different spheres of life. It used to be called the Artist Incubator. Today, it provides the community with the required tools to express their passions to the fullest.
But the ShibArmy is more than painters, photographers, and similar artists, so the incubator evolved to incorporate other professions. Mathematicians, repairmen, technology enthusiasts, and doctors have also found their place on the Shiba Inu platform.
ShibaSwap
ShibaSwap is a decentralized exchange with multiple functionalities and is an integral part of the ecosystem. This is a platform where you can trade all three of the network's tokens (SHIB, BONE and LEASH), stake your assets, add liquidity to various pools, and earn interest.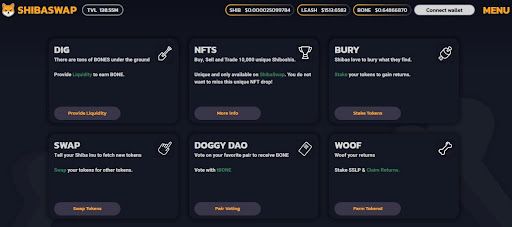 The ShibaSwap platform has 6 functions that are available to the community:
The Dig feature allows individuals to provide liquidity to the exchange and partake in yield farming.
The NFTS functionality is a marketplace where people can buy, sell, and trade thousands of Shiboshis only available on ShibaSwap.
Bury is the exchange's staking feature requiring you to lock up your coins to earn passive income.
The Swap function allows you to exchange one of the tokens from your wallet for a different one.
Doggy Dao enables eligible community members to vote on DAO proposals and suggestions.
Woof is a second staking feature with lucrative reward structures. It's only available to the ShibArmy because unaffiliated exchanges are blacklisted and can't partake in the staking system.
Vision and Future Plans
Shib is nowhere close to being a finished product. In fact, there are plenty of features in the works, such as Shiberse metaverse, a Shiba Inu game, or the highly awaited Shibarium.
We contacted some of Shiba Inu's most prominent influencers and thought leaders to talk to them about the coin's present and future. This is what they had to say:
Influencer Gossip SHIB believes Shiba Inu will one day become an easily accessible world currency used for investing, saving, and borrowing. In addition, the community will soon be able to purchase valuable land in the form of NFTs from the Shiberse metaverse.
Another one of Shiba's influencers, $SHIB KNIGHT, believes ShibaSwap is the main reference point of the entire network. He sees the exchange as becoming the most popular platform in the DeFi space. The token's adoption is progressing rapidly. It has already become a standard payment method in many industries, and the ShibArmy believes this trend will continue. Shiba Inu could become an asset of peace and understanding because the community members come from different places and cultures and speak various languages. Their common interests are spending time together, sharing business ideas and goals, and helping build a strong metaverse.
ShibInformer believes that the community will have an even more significant say on the project's future once the DAO is fully functional. Today it is in Beta, and you can vote for BONE allocation distribution to LP pairs. However, with the 2nd release of the DAO they plan to include more things to vote for. Everything is being done to make Shiba Inu one of the most popular cryptocurrencies in the world. That's why it's essential to onboard as many businesses and companies as possible to use it for everyday payments.
NOWPayments, for example, allows users to purchase goods and services using SHIB tokens. Some other service providers pay out salaries in Shiba Inu, and Venezuela even has a themed food park dedicated to this digital asset. With the development of Shibs L2 solution, the goal is to introduce the tokens to many more shops worldwide. The ShibArmy has even gone as far as contacting local political authorities to tell them about the benefits of using the coin.
The Shiba developers are working on creating a layer-2 Ethereum blockchain solution called Shibarium. The aim is to migrate all SHIB tokens to this L2 to take advantage of much lower fees. The Ethereum network has been suffering from expensive transaction fees for a long time, so this migration is a welcome step because Shiba Inu greatly relies on NFTs and smart contract interactions. It's expected that the layer-2 network will become operational in the first part of 2022.
Store your LEASH Tokens in NOW Wallet
NOW Wallet is a non-custodial mobile wallet focusing on privacy and security of funds. It's available for Android and iPhone and supports over 350 different cryptocurrencies. You can store all your LEASH tokens in NOW Wallet and benefit from quick and hassle-free crypto swaps anytime you want.
Conclusion
No matter what intentions Ryoshi had when he started working on Shina Inu, this doggy coin has become a powerful and community-run project. Humanitarian aid and charitable work are some goals of the ShibArmy that likes to come together and help those in need. Moreover, their network is a zone where professionals from all industries can gather and transform their ideas into real-world projects, thanks to the Shiba Inu incubator.
Shiba Inu seems to continue where Dogecoin left off. Ryoshi is rumored to be an acquaintance (maybe even a close friend) of Vitalik Buterin. That certainly can't harm the success of a project, can it? Shiba's decentralized community has shown that it's easy to create a good coin and make money from it but still aspire to do good in the world.