New York City Mayor Set to Buy Crypto Dip
The Mayor of New York City is set to buy more cryptocurrency after Bitcoin and the crypto market entered a significant dip.
Bitcoin Falls
Bitcoin has seen a further drop in prices within the last week. The coin has reportedly come down 6.65% within the last 24 hours. As of midnight, Friday, 21st of January, Bitcoin was trading at approximately 38,800 USD, the lowest it has sold in five months. The rapid declines seem to be as a result of the Russian government's directive to ban cryptocurrency in the country due to concerns about cryptocurrency's high levels of energy consumption and possible risks to citizens' financial security.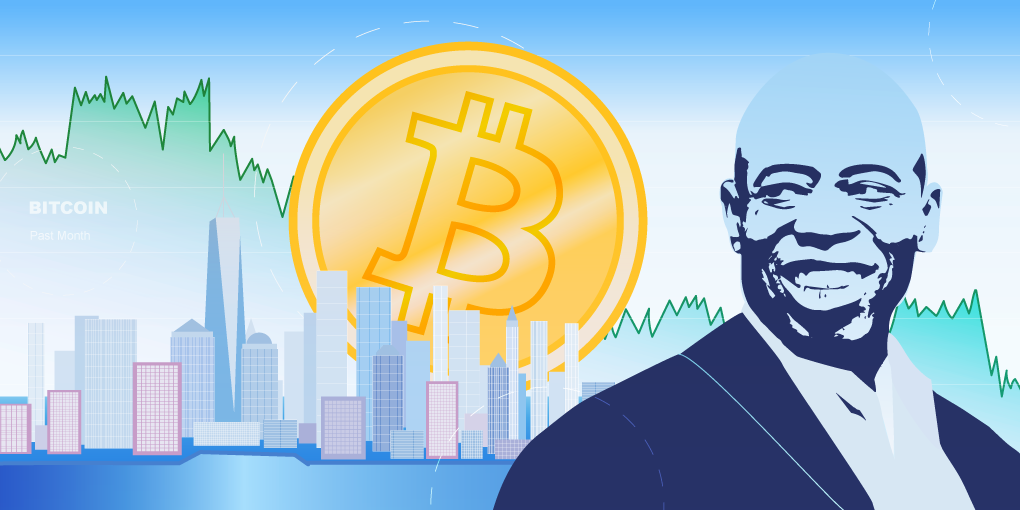 Russia joining the list of countries that have outlawed cryptocurrencies is yet not encouraging, especially for miners, and is yet another hurdle miners and holders alike must overcome.
Bitcoin is not the only cryptocurrency to suffer falling prices. Ethereum (ETH), Litecoin(LTC), and Monero (XMR) have also seen their prices decline, with Ether falling 4.12%, Litecoin falling 3.48%, and Monero falling 1.31% in the last 24 hours.
Mayor of New York City to Convert Paycheck into Crypto
Despite Bitcoin, Ether, and other major cryptocurrencies trading at swing lows, newly elected Mayor of New York City Eric Adams has declared his plans to invest his entire first paycheck into cryptocurrencies.
True to his word, Mayor Eric Adams has announced that he will be converting his whole paycheck into two cryptocurrencies: Bitcoin and Ethereum. The Mayor first revealed his intentions soon after the elections in November, and he appears to be set on carrying out his plans.
In a statement, Mayor Adams explained that he aimed at pushing New York to one of the top cryptocurrency hubs in the world. Adams has plans to engender economic growth in the state using cryptocurrency and insists to see a future where the artsy city is the heart of blockchain technology across the continent. Adams has also hinted at plans to develop New York's own cryptocurrency, NYC coin, and seems to be engaging in friendly competition with the Mayor of Miami, Francis Suarez, who recently launched a cryptocurrency dubbed Miamicoin. Suarez has also announced plans to collect his next paycheck in Bitcoin.
Mayor Adams' actions appear to be met with mixed feelings from different groups. Diogo Monica, President and co-founder of Anchorage Digital, a digital assets platform, has expressed approval of Adams' decision, calling the move encouraging and innovative. However, New York environmentalist group, Seneca Lake Guardian, has heavily criticized Adams' actions, stating that the Mayor was mistaken about the potential of blockchain technology and that the mass adoption of cryptocurrency in the state would create exorbitantly high energy costs and cause several environmental problems.
You can buy, sell or swap any of your preferred tokens for Bitcoin on ChangeNOW without any registration.
Welcome to the NOW experience! The ChangeNOW team presents you with the new community-inspired crypto wallet – NOW Wallet.