Dtravel (TRVL) Token Review 2022
The summer holidays are upon us and for many people that means traveling with your family and loved ones.
Home rentals have become a great hit in the vacation industry in recent years, thanks to platforms such as Airbnb. But there is now a decentralized and blockchain-powered competitor to Airbnb called Dtravel.
The tourism industry has gone through a rough patch due to the COVID-19 pandemic, and things are finally calming down and getting back to normal. People are allowed to travel and socialize again. Thanks to Dtravel, you will now have the chance to finance your travels and accommodations with the platform's TRVL token. For homeowners, this cryptocurrency means greater earning potential and more savings.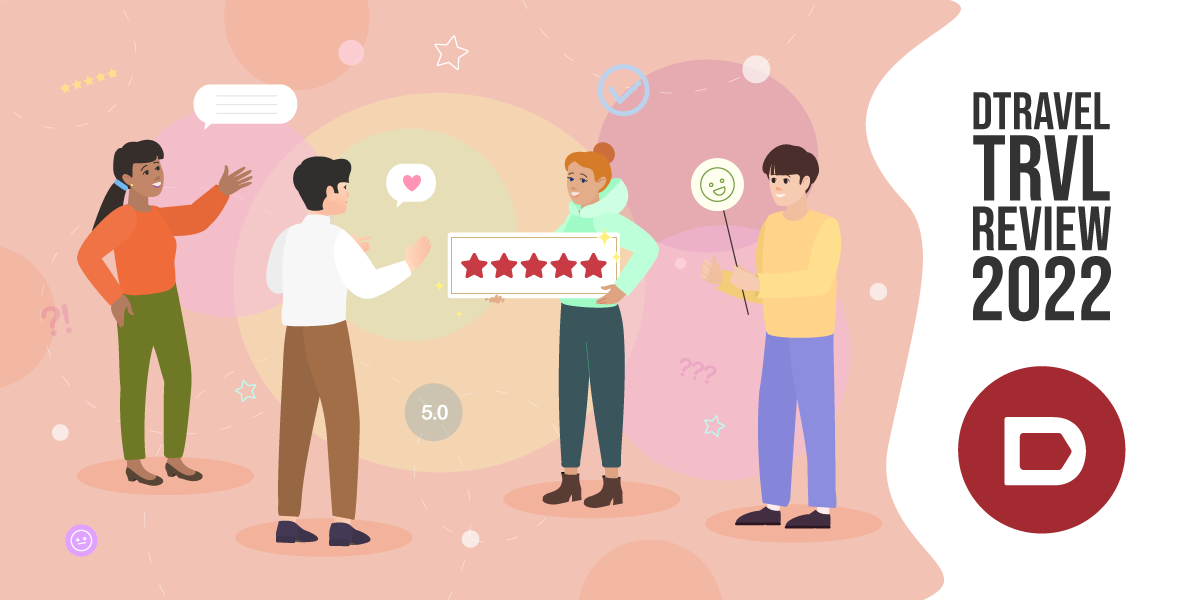 About Dtravel (TRVL)
Dtravel was created in Q4 of 2021. The platform has received backing from one of the world's most popular cryptocurrency exchanges, Binance. In addition, the site has partnered with and became integrated on Travala.com. Dtravel doesn't offer accommodation in hotels and exclusively focuses on home-sharing. Crypto enthusiasts who rent out their properties will benefit from the Travala partnership because over 70% of Travala's revenue comes from digital assets.
Dtravel held a successful fundraising where they collected $5 million from several capital firms and angel investors. The company has also organized a successful IDO that was sold out within 2 hours on Polkastarter. With this investment round, they collected an additional $500.000 to develop their platform.
One of the most significant benefits of this decentralized platform is that it offers travelers a chance to book their dream holidays for less than what they would pay on centralized platforms. At the same time, homeowners receive a larger share of the cake because of the lowest fees in the booking industry.
The site brings hosts and guests closer to each other because, in contrast to centralized booking agencies, Dtravel doesn't use expensive intermediaries. As a result, stakeholders keep most of their money, and no 3rd-party takes a cut from customer payments.
Hosts interested in listing their properties and accepting bookings via Dtravel can join the waiting list on the official website. The site owners plan to incentivize the first 100.000 homeowners who share their accommodation on the platform by distributing $35 million worth of TRVL tokens to them.
Dtravel (TRVL) Team
There isn't much information about the people behind Dtravel on the official website or the whitepaper. However, we know that the team working on the project is called Genesys Partners. This group consists of experienced professionals from the travel industry and former executives of companies such as Booking.com, Travala, Airbnb, Expedia, etc.
Two of the most notable contributors and advisors are Booking.com cofounder Sicco Behrens and DeFi engineer Andre Cronje. Other essential members of Genesys Partners include Business Development Lead Nigel Da Costa, Growth Lead Cynthia Huang, Product Lead Quinn Hubertz, Technology Lead Thai Nguyen, Design Lead Charles Aufmann, and a long list of other professionals.
Dtravel (TRVL) Roadmap
Since the project's inauguration, Dtravel has already reached several milestones. The 1st version of the booking platform is already live. The TRVL token has officially been generated and launched on the Ethereum and Binance Smart Chain. The AnySwap bridge facilitates easy migration between the two chains and supports many other digital currencies as well.
Dtravel's roadmap for 2022 looks like this:
Releasing ver. 2 of the booking platform and onboarding home listings. Dtravel plans to integrate with popular property management systems to make this process for its users as fast and easy as possible.
Enable on-chain accommodation bookings with automated payments through smart contracts.
Increased utility for the TRVL native token. This currency is the central point of the whole ecosystem. It's supposed to make the user's experience with Dtravel both democratic and financially rewarding.
Later in the year, the company will introduce a referral campaign for active users and create a mobile app for when on the go. There are plans to add support for other blockchain networks and build bridges to their ecosystems. Lastly, the team is preparing for the creation of a review and feedback portal and a messaging system between wallets.
The Dtravel (TRVL) Network
Dtravel is an autonomous organization (a DAO) powered by the TRVL token. The project is fully operational on both Ethereum and Binance Smart Chain. Bookings and home rentals are automated thanks to audited smart contracts, which are put in place of booking agents as is common in centralized solutions.
That makes Dtravel community-owned and governed. Token holders can use their positions to vote on initiatives and shape the platform's future. They are even awarded for it.
The TRVL token has several use cases within the ecosystem.
Travelers can use many different cryptocurrencies to pay for their bookings. However, using TRVL includes cashback opportunities of up to 25% of the total fee. In addition, incentives in the same range are offered to hosts who rent out their properties and receive payment in Dtravel's native currency.
Participants in the ecosystem are rewarded for their loyalty and helping with the community's growth. Listing your property and referring other interested parties are ways to take advantage of the loyalty offers.
The Dtravel community has governance rights. They can submit their own proposals or vote on existing ones depending on how many TRVL coins they have locked up. This token is also used as a protection mechanism for hosts in case of property damage. $1 million is deposited in a special pool just for this purpose.
Why Use Dtravel and Not a Centralized Service Provider?
Centralized booking agencies take a significant cut of all home rentals because they are for-profit organizations. These fees can amount to up to 20%. On the other hand, Dtravel is a DAO, so the platform doesn't work with intermediaries and offers much lower costs.
These fees are usually 10%, but they can go lower. Through TRVL cashbacks, they can be decreased to 5%. Participants in growth actions can even enjoy total fees of up to 2%. All profits Dtravel collects are sent to the Community Treasury. Part of that money is then deposited into the Protection Pool for hosts, while other resources are used to finance community projects and improvements within the network. So, as you can see, the funds get funneled back to the same people who earned them, and they don't end up in the pockets of a big corporation.
Additional rewards are offered to early birds in the form of Premium NFTs. These members can take advantage of greater cashback offers, specialized travel experiences, VIP status, and token airdrops. The tokens will, of course, be listed on 3rd-party marketplaces where they can be resold or traded.
How to Mine Dtravel (TRVL)
TRVL is a token running on two blockchains: Ethereum and Binance Smart Chain. The asset is not minable like Bitcoin, but holders can stake it and earn lucrative rewards. TRVL Earn is the official staking platform available to the community.
Users have staking vaults at their disposal with 12 different lock-up periods for the Ethereum and BSC networks combined. The staking durations are 30, 60, 90, 180, 365, and 730 days respectively.
The APR rates increase the longer you stake. They start at 10% for the 1-month vault and go up to 75% for the 24-month variant. The staked tokens and earned rewards can be withdrawn once the lock-up period has expired.
Dtravel (TRVL) 2022 Price Prediction
Dtravel's native TRVL token is far from its all-time high of $1.56 from November 2021. That means the coin has plenty of room for improvement. Let's see what some market analysts believe is in store for this cryptocurrency.
Price Prediction.net
Market experts from Price Prediction.net have posted their thoughts about the future of TRVL. Their predictions go as far as 2031.
They expect that the coin's price in 2022 will bounce between $0.082 and $0.097 before it really takes off in the next couple of years. In 2023, it's speculated that TRVL will break the $0.10 barrier and trade between $0.11 and $0.14. 2025 is when their analysts expect the valuation to reach $0.30.
Bullish movements are predicted after that as well. Price Prediction.net believes that Dtravel's token could move above $1 in 2029. Their estimates show price movements from $1.12 to 1.34. Investors will need to wait until 2031 to take maximum advantage of their TRVL returns when it's predicted that the value can increase to $2.69 a coin.
DigitalCoinPrice
DigitalCoinPrice sees a promising future for Dtravel as well, but they aren't as optimistic as the technical analysts from Price Prediction.net.
It's believed TRVL's maximum price in 2022 could be $0.11. They don't think much will happen in 2023 and 2024, but a jump to $0.16/coin is suggested in 2025. The $0.20 threshold could be crossed in 2027, while $0.30 could be reached in 2029. DigitalCoinPrice has posted its analysis until 2031, when they predict a maximum price of $0.41.
How Can I Buy and Trade Dtravel (TRVL)?
If you are concerned about where to purchase or store your TRVL tokens, worry no more. There are several ways to do that, and we will list them below.
Dtravel (TRVL) Wallets
If you are looking for a secure and private mobile wallet, we recommend NOW Wallet. It works equally well on Android as well as iOS devices. This software wallet can store both the ETH and BSC version of the token.
If you want to try some other apps, Dtravel is also supported by brands such as Trust Wallet, Metamask, Binance Chain Wallet, and imToken.
Dtravel (TRVL) Crypto Exchanges
The quickest and safest way to acquire TRVL tokens is to use the instant swaps platform ChangeNOW. This non-custodial service allows users to purchase Dtravel in exchange for Bitcoin, Ethereum, and other cryptocurrencies or your preferred fiat currency.
This digital asset is listed on several other centralized and decentralized exchanges such as Gate.io, KuCoin, ByBit, UniSwap, and PancakeSwap.
Dtravel (TRVL) Summary
Dtravel is a decentralized and community-operated project with a practical use case in the travel domain. It's the ultimate travel token. Owners of DTRL digital coins are decision-makers and have a say in what direction developments will be carried out.
The project considers itself a competitor to centralized home-sharing services that earn extravagant fees from their users. But Dtravel is significantly cheaper to use, and loyal customers only have to pay a few percent extra. Moreover, with loyalty programs, exclusive NFTs, cashback, and staking capabilities, TRVL has plenty to offer to digital currency enthusiasts.