Dash (DASH) Review 2022
Dash, or Digital Cash, is a peer-to-peer network where users can send inexpensive and instant digital payments across the globe.
Originating from the Litecoin code, Dash has outperformed its predecessor many times in terms of transaction speed and cost.
Currently, the project's team is working at the Dash Platform — a technical framework that will facilitate mobile payments and building decentralized applications on Dash. Why is that important, and will these developments help the DASH coin surge? Let's find out!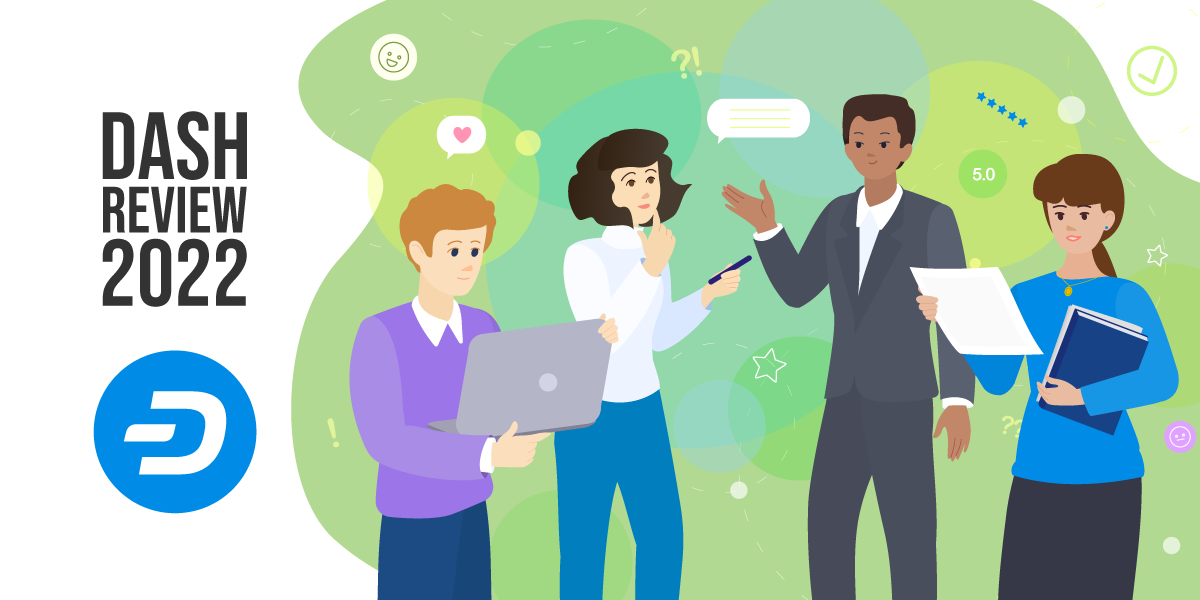 About Dash (DASH)
In 2014, American software developer Evan Duffield ventured to create a new cryptocurrency that was meant to become an alternative to Bitcoin. Duffield focused on several issues of the first cryptocurrency including its low transaction speed and imperfect fungibility.
Dash was originally called XCoin, then rebranded to Darkcoin, and finally, received its present name in 2015. This is when InstantSend was enabled – a feature that reduced the transaction settlement time to 3-4 seconds and ensured that the network fees would not exceed $0.01, which was considered revolutionary at the time. Besides InstantSend, Dash offers a number of extra features, one of them being CoinJoin – an algorithm that gives financial privacy by shuffling Dash coins between users and making them untraceable.

By 2022, Dash has become a global peer-to-peer network where payments worth millions of dollars are sent every day. The coin is secured by two layers of nodes including masternodes that manage the platform via decentralized governance. As of March 2022, the Dash market cap exceeds $1.4 billion.
Dash (DASH) Team
Dash is a decentralized autonomous organization, meaning that it is governed not by a single entity but a decentralized community of developers and managers.
One of the organizations that helps run the network is Dash Core Group, Inc. It is funded from the Dash blockchain on a monthly basis upon the agreement of the community. DCG features about 50 team members – marketing and support managers, developers, researchers, and management who boast profound expertise and experience.
Dash (DASH) Roadmap
At a certain point, the community of Dash has realized: blockchain functionality is not enough for creating a payment app that we would find simple and convenient. Paying users by their nicknames, getting rewards for shopping at favorite merchants, and creating new payment accounts are the features that need something more than just blockchain. Dash had to become compatible with web technologies that everyone is already familiar with.
This is why the team is currently working at the Dash Platform – a technology that allows developers to build dApps on Dash. It turns the Dash peer-to-peer network into a cloud where devs can build their payment solutions.
In Q1 2022, Dash Platform v0.22 was released on testnet. It is planned to implement numerous improvements and launch the Platform on mainnet in Q3. Also, the Dash team will enhance the security and functionality of Dash Core – an official full-featured Dash wallet.
Dash (DASH) Network
The Dash open-source blockchain is run by two types of nodes. First, as Dash is a Proof of Work cryptocurrency, there are miner nodes that build blocks and add them to the blockchain using the X11 hashing algorithm.
Second, there are masternodes that don't add new blocks, but they keep the full copy of the blockchain and validate transactions proposed by miner nodes. Also masternodes:
Manage CoinJoin transactions with increased confidentiality,
Run Dash DAO – a Decentralized Autonomous Organization that governs Dash through voting,
Enable the InstantSend feature that locks transaction inputs and allows for instant secure transactions,
Power ChainLock – a feature for achieving near-instant consensus on the valid chain and mitigating 51% attacks.
Running a Dash masternode requires an investment of 1,000 DASH ($135,000 at the time of writing), but that pays off – masternodes are incentivized by a reward. 90% of DASH coins issued with every block go to masternodes and miners, and the remaining 10% are allocated in the Decentralized Governance Budget. The rewards are also gradually reallocated with a bigger percentage going to masternodes.
How to Mine Dash (DASH)
Dash is a Proof of Work cryptocurrency leveraging the X11 algorithm, so you can mine the coin with any software that supports it. Before you start, make sure you've set up a Dash wallet (we will list the best options below).
Dash has been around since 2014, so mining it with a CPU has become obsolete. Previously, you could mine DASH with a GPU like NVIDIA GTX 1080Ti, but today, only ASICs give you a good chance of finding proper hash for blocks.
Solo mining of Dash would most likely not ensure a good-enough probability of finding a proper hash, so joining a pool is a great option. Antpool, Via.BTC, and Coinmine are the pools that produce most of the hashrate. The current Dash block reward is 2.68 coins, of which 45% go directly to miners.
Top Dash mining pools. Image source
Dash (DASH) 2022 Price Prediction
Most price prediction platforms are bullish on Dash. According to Digital Coin Price, the DASH price will sail between $150 and $185 in 2022 with an average of about $175. The service believes DASH will cost about $186 in 2023 with a peak at $207.
Long Forecast expects that DASH will rise up to $218 by May and then will decline, ending the year at $186. Wallet Investor marks DASH as a good one-year investment and predicts it will cost $155.3 by March 2023.
How Can I Buy and Trade Dash (DASH)?
DASH can be bought and traded on all major crypto exchanges including Binance, Coinbase, Kraken, Huobi, and others. As these platforms own private keys from your crypto, we recommend you trade Dash in non-custodial exchange services that don't control your coins. To use such services, you'll need to first install a Dash wallet.
Dash (DASH) Wallets
Dash features the list of recommended wallets on its website.
Mobile wallets
Dash Wallet is available for iOS and Android and has great user reviews on both platforms. It allows you to make InstantSend transactions, scan QR codes for quick transfers, keep an address book, and pay with NFC. For users preferring multi-asset wallets, Dash recommends Exodus and Coinomi.
On top of Dash Wallet, anyone can install DashDirect to make everyday purchases. This mobile app allows paying at 155,000+ offline merchants worldwide, buying gift cards, and making savings.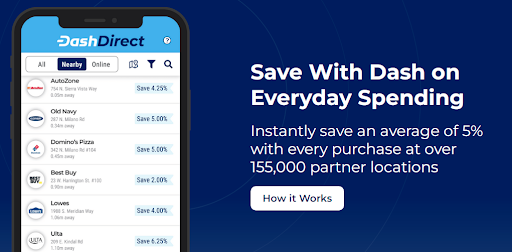 DashDirect. Image source
Desktop wallets
Dash Core is a wallet that allows you to make the most of Dash – run InstantSend and PrivateSend transactions, establish a masternode, and participate in decentralized governance. Dash Core keeps a full copy of the blockchain, so make sure you have several GB of free disk space before installing the wallet.
Exodus and Coinomi, the multi-asset wallets recommended by Dash, are also available for Windows, macOS, and Linux.
Dash (DASH) Crypto Exchanges
You can buy DASH on ChangeNOW without registration and KYC in just a few clicks. 350+ crypto coins are available, and the average swap time is just 5 minutes. If you want to buy Dash with a credit card, you can do so with one of 60+ fiat currencies.
ChangeNOW partners with multiple liquidity providers, which allows us to choose between different rates and pick the best one for you at the moment of the swap. As we never collect your private keys or any other private data, we guarantee your anonymity and the security of your funds.
Dash (DASH) Summary
Dash is a Bitcoin fork launched in 2014 aiming to facilitate peer-to-peer everyday payments. The cryptocurrency offers inexpensive transactions settled in seconds, which has attracted thousands of daily users. Dash roadmap includes the launch of the Dash Platform — a technology that will allow developers to make DASH payments even more convenient.
Dash is a Proof of Work cryptocurrency that you can mine in a pool with a GPU or an ASIC. 90% of block rewards go to miners and masternodes — another security layer that enhances the security of the blockchain and governs the platform.
Dash has been around for years and keeps evolving — which makes many feel bullish on the coin. If you share this sentiment, feel free to buy some DASH on ChangeNOW instantly without registration.