Women in Crypto: ChangeNOW Corporate Insight
Not following a trend, but reflecting the reality: more and more women are engaged in the crypto industry from both sides.
Not following a trend, but reflecting the reality: more and more women are engaged in the crypto industry. Female participation comes from both sides – we see successful female traders, crypto holders, influencers, bloggers, crypto community activists; at the same time, crypto services and projects are run by female CEOs and hire all kinds of female specialists, from software developers to market analysts. 
Curiously, there are more women working in crypto than holding and trading crypto. Teana Baker-Taylor, General Manager for crypto.com in the UK, believes one of the reasons for this disparity is that marketing strategies at crypto projects are generally men-centered. "I'm not suggesting we're being intentionally excluded, but I will argue we aren't being intentionally included either," she asserts, pointing out that most public events in the crypto world are held by men and for men. 
At the same time, many women join the industry seeking job opportunities in alternative economic environments, chasing innovative markets and new technological areas. "After 15 years of working in red ocean projects, from game development to adtech, I headed to the one area of fintech that seemed as blue as it gets – crypto," explains the ChangeNOW CEO. She admits that on the global scale there are still far more men involved in the industry, but the situation is changing as we speak. 
Here at ChangeNOW, we are proud to acknowledge that almost half of our staff – 41% – are female. Our CEO and unquestioned leader is a woman, along with the CBDO, several product-managers, and the chief editor. The ChangeNOW brilliant business development team is almost fully female, and we have two female software developers on board, as well as several L2 support specialists, and more. 
"We don't think of job positions as "more" or "less" female – frankly, we have girls working in all the departments, and it feels natural," says Alice, Product Manager of the Internal Dashboard and AML Officer at ChangeNOW. She got into the crypto industry because it is versatile and ever-evolving – an eternal playground for an acquisitive mind. "Every day is a challenge! We build the rules of the game from the ground up, there are endless opportunities in testing, inventing, innovating,  experimenting."
Interestingly, women in crypto have a tendency for horizontal career advancement. Female professionals often start with general management or assisting positions and swiftly shift to more technical or industry-specific jobs, picking up the necessary skills on the go. Multiple department-hopping stories show that female workers are quick learners and invested, determined, and thorough employees.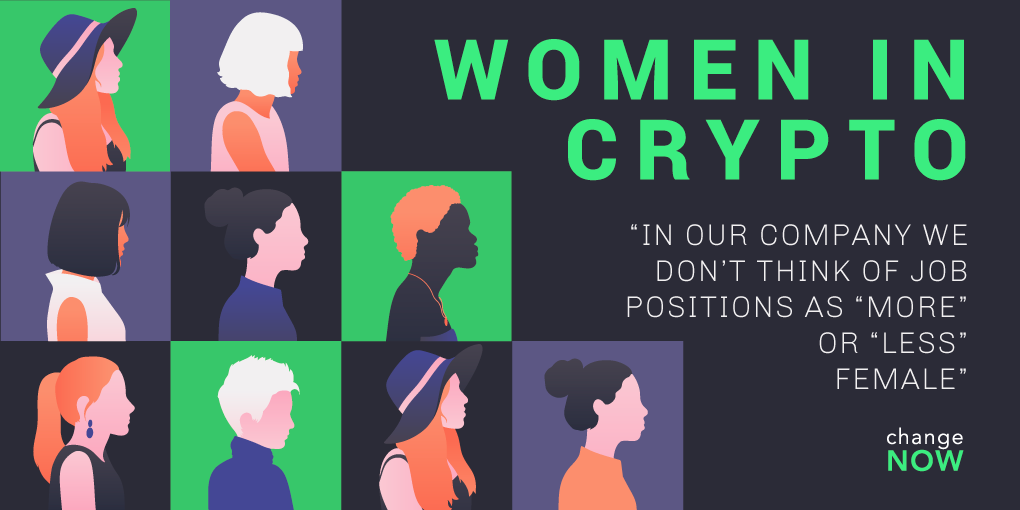 Ann, current ChangeNOW L2 Support Specialist, started as an account manager, then transferred to the L2 support department, and is now planning on taking a shot at the QA engineer position.  "At ChangeNOW, we pay attention to a person's skill set, not their gender," she claims, "I prefer not to distinguish professionally between women and men, and that's how it's done in our company."
According to multiple gender studies, gender-balanced teams are more successful and innovative than homogeneous ones. Why be one-dimensional if diversity leads to new ideas and 360-degree product improvement? 
Elegantly put by the ChangeNOW CEO, "Our goal is to create a top-notch crypto service for the users, and hiring the most skillful professionals regardless of their gender is the only sane strategy. IT and finance allow for precise and adequate assessment of employees' performance, and the outcome speaks for itself. We always look for new talents – their gender is the least that matters."
It is hard to imagine the crypto community achieving mainstream adoption without the participation of a demographic that makes up 50% of the human population. Our Head of Human Resources, 
Helen, points out that both women and men are interested in working in ChangeNOW. "There is no specific rulebook that obliges me to hire female employees over male ones – we rely on common sense, assessing work experience, professional skills, and personal abilities," she comments.
Women underrepresentation in crypto projects is steadily becoming history, but there is still a major gender disparity among holders and traders, only around 25% of them being female. Both finance and tech industries have been traditionally considered a man's world, and the crypto crossroads, unfortunately, followed in the footsteps. Be it a shareholder meeting featuring expensive ties, or a devs unit brainstorming session in a dim cave-like room, we rarely place women in the picture. Pauline, CBDO at ChangeNOW, recognizes that the broader crypto industry is still male-dominated, but notes that the situation is improving. 
"It's way better than when I got involved in crypto 3 years ago. In 2021 women hold, women trade, women take all kinds of positions in crypto projects, not only marketing and sales-related ones, and I'm proud for having brought a lot of my female friends into the company," she reckons. "However, I'd wish for more women with offbeat or less feminine appearances to enter the crypto media landscape – something I can relate to myself. A broader inclusion is a whole different conversation that is perhaps yet to happen for the crypto space." 
The winds have been changing for women in crypto for a while now. It's no longer wishful thinking to say that true gender-equal mass adoption in crypto is on its way. We are confident that as long as crypto projects keep giving women equal opportunities and hearing their voices, the industry is on the right track. 
Stay tuned for more ChangeNOW blog articles and hot crypto news.
Yours,
ChangeNOW team