Elon Musk vs. Crypto
Elon Musk is an exceptional character. He is one of the richest people alive, with an estimated fortune of over $70 billion.
Elon was born in South Africa in 1971 and is an entrepreneur, engineer, and co-founder of PayPal. However, in today's age, he is mainly known as the founder of the space exploration company SpaceX and the CEO of electric car manufacturer Tesla.
One might say that everything this guy touches turns into a success. He is a fan of technology who has recently discovered a passion and interest for cryptocurrencies. The disclosure of an Elon Musk crypto portfolio caused great promotion for digital currencies at the beginning of 2021. One of the wealthiest men today suddenly became a supporter of cryptocurrencies.
The Elon Musk crypto investment in Bitcoin propelled the market to new highs. It was a great promotion, but unfortunately, a short-lived one. Elon has said and done a lot of things throughout 2021, which have affected the market in both ways. So let's now see what he will be remembered for.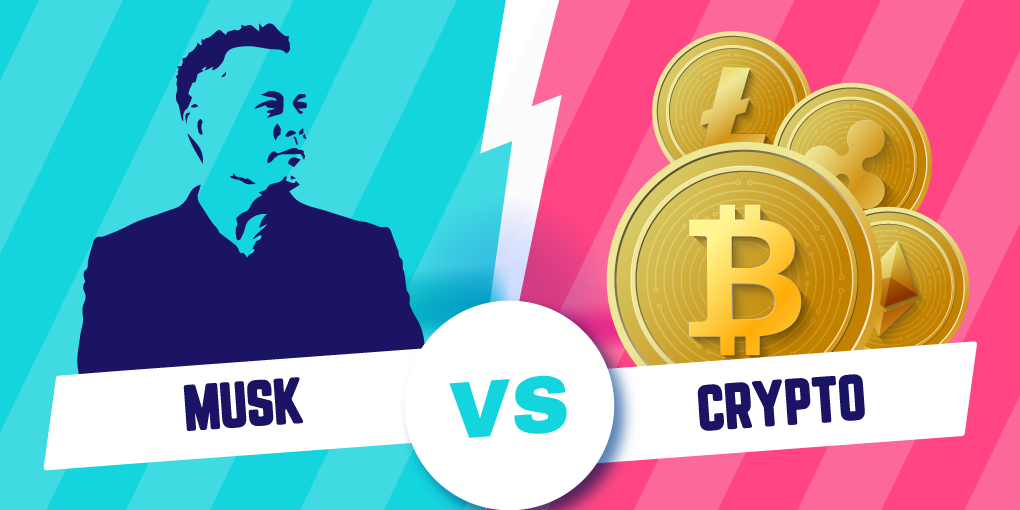 The Elon Musk Crypto Tweet That Started It All
On 29 January 2021, Elon added #bitcoin to his Twitter profile bio. This move of his caused a spike in the value of Bitcoin of almost 20%, and other assets followed suit. It was already speculated that Elon Musk investments in cryptocurrency would soon become a reality, but no one could predict when. Based on some previous social media activity, there was a sign of temptation to purchase digital assets in large quantities.
The Twitter bio update was followed by a message: "In retrospect, it was inevitable". It remains a mystery what exactly he was trying to say. Was it inevitable for him to become a Bitcoin investor, or are cryptocurrencies destined for great things?
Not everyone was happy with the Elon Musk crypto tweet and his open support for Bitcoin. Some investors looked at it as market manipulation. They believed Elon was using his social media influence to increase the value of digital currency assets he had already purchased.
Those opinions didn't stop Elon. He appeared a few days later on the social audio app Clubhouse, where he confirmed his liking of digital currencies.
"I do at this point think bitcoin is a good thing, and I am a supporter of Bitcoin."
"I think Bitcoin is really on the verge of getting broad acceptance by conventional finance people."
Tesla's Billion-Dollar Investment in Bitcoin
What began as a speculation was confirmed at the beginning of February 2021. Bitcoin has been added to the Elon Musk crypto portfolio. In a SEC annual report, Tesla, the company he is the CEO of, confirmed that it had purchased $1.5 billion worth of Bitcoin. The company also stated that it's planning to start accepting this digital currency as a payment method for its cars. That makes Tesla the first major automotive brand that accepts Bitcoin for its products.
According to previous filings with the SEC, this Elon Musk crypto investment is a significant one. At the end of 2020, Tesla reported a balance sheet of $19 billion. A considerable part of that has now been invested in Bitcoin. This acknowledgment of owning cryptocurrencies explained Elon's activities from the previous month when he started openly supporting and recommending them. The info had a positive effect on Bitcoin's value again as it increased market confidence.
What began as a sign for increased adoption turned into a big let-down a few months later. In May 2021, Tesla suspended Bitcoin as a payment method for purchasing their vehicles. So were the Elon Musk investments in cryptocurrency just a farce?
The company expressed their concern for the environment because of the use of fossil fuels, such as coal, in the Bitcoin mining process. According to the statement, Tesla believes in cryptocurrencies and has no intention to sell what they already own. But no more Bitcoins will be accepted for their products until more sustainable energy sources become the standard in BTC mining operations.
This statement proved to be unreliable because only one month later, an Elon Musk crypto tweet confirmed that Tesla has liquidated 10% of its previously purchased Bitcoins. According to him, they only did it to show that BTC could be sold without influencing market prices.
Elon Musk Crypto Investment Expanded with Dogecoin?
Bitcoin isn't the only digital asset Mr Musk has shown an interest in. In January 2021, the subreddit SatoshiStreetBets began promoting and shilling Dogecoin to take its prices to $1 a coin. Elon was one of many celebrities and influencers who joined the movement.
On 28th January 2021, he tweeted a picture of a dog on a magazine cover with the word "Dogue" written as the headline. For many, this was a sign of support for Dogecoin and maybe a new addition to the Elon Musk crypto portfolio. The momentum and recognition brought the coin up the ladder. They took it to the Top 10 on CoinMarketCap according to market capitalization.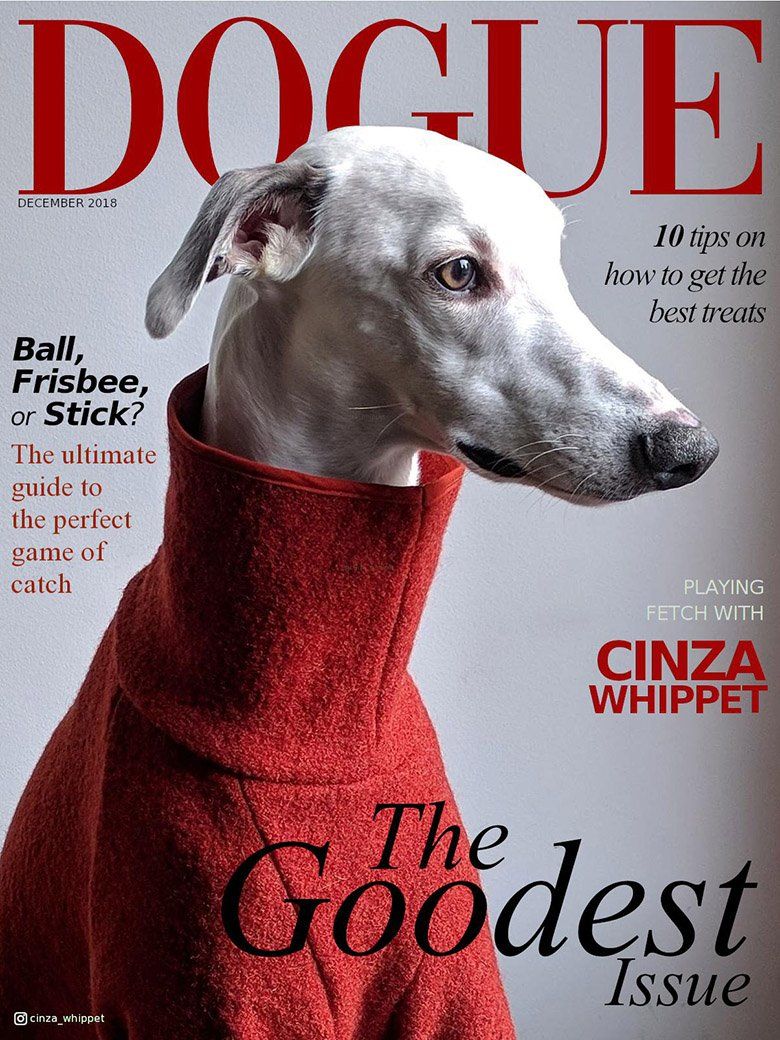 Among other notable tweets about Dogecoin, we could single out the one where he called the asset "the people's crypto" back in February 2021. But, of course, Elon wouldn't be Elon if he didn't show his other side as well. On May 9th 2021, he was a guest on Saturday Night Live. During the live program, he called Dogecoin "a hustle", which caused a massive drop in the asset's value.
In July 2021, Musk had another change of heart. He wrote two tweets of support for this joke currency. The first one said, "Release the Doge!" It had a picture of the famous movie character from The Godfather. The second one looks like a song that repeats the word "doge" over and over again. People rightly thought that Dogecoin had again become part of the Elon Musk investments in cryptocurrency.
More recently, Elon's influence intentionally or unintentionally spilt over to a different dog-inspired coin. After getting a new Shiba Inu puppy, he wrote a short tweet saying, "Floki has arrived". This move caused the value of the Floki Inu coin to explode. It remains unknown if this was skilled marketing on Elon's part to promote Floki Inu or if his intentions were to give Dogecoin some more endorsement.
Elon had some important advice for the developers of Dogecoin. First, he wishes to see an upgrade to improve the asset's security and further decrease transaction fees. The fees need to further drop for Dogecoin to become a viable payment method, Musk says.
Elon Musk's Take on The Chinese Crypto Ban and US Government Regulations
Mr. Musk took part in a crypto conference on 28th September 2021 in Beverly Hills. When asked what he thought about US crypto regulations, he said that the government can't destroy crypto. All they can do is slow down its adoption. He advised the government to not waste time and do anything about it.
China's central bank made all cryptocurrency transactions illegal in China on 24th September 2021. The government also wants to prevent international exchanges from serving Chinese nationals. Elon feels that the decentralized nature of cryptocurrencies reduces the power of a centralized government like that of China. The country is also releasing a national cryptocurrency, and banning the competition is just part of the policy.
However, China also has problems with electricity shortages. Bitcoin mining is the cause of some of those issues.
The Market Movements of Bitcoin and Dogecoin Following Elon Musk Tweets
An Elon Musk crypto tweet can have dramatic consequences for the cryptocurrency market, both positively and negatively. Let's take a look at some examples.
When Elon said that Tesla will again accept Bitcoin as a payment method for its cars once the mining process becomes cleaner, Bitcoin's value rose by almost 10%. Earlier in the year, when the car manufacturer announced that Bitcoin would no longer be accepted, the price for the currency dropped around 15%.
It fell to its lowest point in months after the entrepreneur confirmed that his company would sell its initial Bitcoin investment. It was later confirmed that the Elon Musk crypto portfolio and Tesla's was lighter by 10% less Bitcoin.
After a discussion he had with the North American miners, Musk expressed satisfaction about their plans of using renewable energy sources for mining operations. This tweet of his increased Bitcoin's value by 4%.
After his message of breaking up with Bitcoin in June, the coin lost 5% of its price valuation. When the $1.5 billion Elon Musk crypto investment in BTC saw the light of day, the currency reached its all-time high.
Dogecoin has been equally impacted by one of the wealthiest men alive. Its price increased by 30% when Elon made it public that he was working with Doge developers on "transaction efficiency". A positive movement was also triggered after he called on crypto developers to help with the further development of this meme coin.
Elon Musk Crypto Currency Scams and Fake Giveaways
During the summer of 2020, we witnessed a massive hack of verified Twitter accounts of famous individuals. It began with an Elon Musk crypto giveaway, but he wasn't the only celebrity affected by the breach. Businesses and individuals worldwide had their accounts hacked, and the culprits posted fake Bitcoin giveaway scams. Apple, Bill Gates, Kanye West, Donald Trump, Jeff Bezos, Warren Buffett, Joe Biden, Barack Obama, and Floyd Mayweather were just some of the victims of this hack.
It is being reported that fake Elon Musk crypto currency scams netted hackers over $2 million of profit since October 2020. These types of schemes are known as Bitcoin doublers. Scammers promise to double any coins deposited to their addresses, but that will never happen. Unaware that such offers are never genuine, the victims send massive amounts of money to what they think are famous celebrities.
In this particular Twitter scam, the hackers promised to multiply anything sent to the posted Bitcoin address.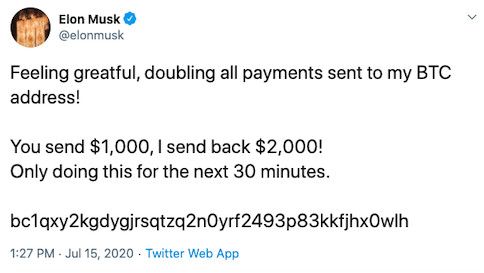 This was, of course, not the first time that Elon was targeted in scam and phishing campaigns. Back in 2018, a similar attempt was recorded. However, this time the hackers stole Ethereum from Elon Musk followers.
Following the launch of Falcon 9 as part of the SpaceX program, a fake Twitter profile appeared that impersonated Mr. Musk. It claimed that the business mogul decided to give away 3000 ETH to his supporters. Everything you needed to do to get some coins was to send between 0.5-4 ETH to a specified address, and you would get back 5-40 ETH.
To stay safe from these and similar scams, consider any giveaways and promises of wealth to be fake. Also, don't send money to people you don't know over the internet. As we have seen above, even celebrities and tycoons can get their accounts stolen.
Bottom Line
Elon is a fascinating character who has proven that he significantly influences what happens in the cryptocurrency market. Even though that sounds optimistic at first, it only positively affects the market if Elon speaks well of Bitcoin. But as we have seen, his points of view can change frequently.
His support for digital currencies was made public after Bitcoin became part of the Elon Musk crypto portfolio. Throughout 2021, he has tweeted and shown to be an advocate of the coin and someone who wishes to see specific changes in the world of crypto. An environmental-friendly mining process and lower transaction fees are some of the things on his agenda.
Whether or not he can be considered an influencer remains a topic for further discussion. But Elon Musk has shown us that there are plenty of those who listen to what he has to say when he speaks out.
Also Read: