Another Week in Crypto with Pauline Shangett. Mar 16 – 22
Blockchain against corona, Ethereum 2.0 perspectives, great news from the countries that lifted their crypto bans, and tokenizing bourbon – the hottest topics of the last week commented by ChangeNOW Chief Marketing Officer Pauline Shangett. Dig in!
Coronaresistance
Last Monday, after that crazy week when all the markets were going nuts, me and my team at ChangeNOW were doing everything possible to help our dear readers relax and realize that this turmoil is not a total collapse – though it seemed such to many. Last week, after the mood turned more positive and calm, it was a great time for the crypto enthusiasts to consider their potential and to think of how they could help fight the COVID-19 outbreak. Here are several crypto and blockchain projects that contribute to common efforts: The power of thousands of computers involved in mining on the Ethereum blockchain will be redirected towards research to find a cure for the coronavirus. 6,000 specialized computer chips of CoreWeave miner are going to be used in Stanford University's research. I just love this wonderful example of how responsible and attentive people can act in front of a common threat, using their own resources to contribute. The Public Health Blockchain Consortium, a Netherlands-based community of health authorities, universities, health care providers and innovators, announced the release of a blockchain that will be tracking coronavirus-free zones. Along with the artificial intelligence and geographical information systems, PHBC is striving to follow the track of uninfected persons to protect communities and workplaces, allowing safe movement between COVID-19-free zones.
Almost 3 BTC were raised in the Italian Red Cross campaign in order to set up an Advanced Medical Post - a special unit of medical infrastructure for fighting the outbreak. 29 supporters have made their donations – with the next aim being 5.52 BTC. This will allow equipping the post with all the necessary supplies. … and many other projects. In these challenging times, the power of simple communication between people, their trust and desire to help each other is something we need most – both for maintaining our physical and psychological state. But stay careful! Like always, there's a number of people who put their profit first, even after others' health. At least $2 million in cryptocurrency were stolen last week from the consumers who succumbed to the common fear and started to massively buy face masks, hand sanitizers, and medication. Another group of hackers were spreading malicious coronavirus maps to infect their victims' computers with malware. This is another great reminder to all of us to trust only official and reliable sources.
Ultimately, this paragraph needs to be finished on a good note. Very inspiring news came last week from Italy, the country that seems to suffer most from the virus – despite the outbreak, Italian challenger bank Hype has released a Bitcoin wallet that allows its customers to customers buy, sell, and transfer BTC. A great example of how productive the work can be in a quarantine regime!
Ethereum 2.0 roadmap
Another person who doesn't seem to complain much about the quarantine is Vitalik Buterin. He announced Wednesday his vision for Ethereum 2.0 roadmap spanning the whopping 10 years from today: https://twitter.com/VitalikButerin/status/1240365047421054976 One month ago, Vitalik already revealed his plans for Ethereum 2.0, making the project's future more clear. This move was very much anticipated as Eth2 is one of the most ambitious projects in the modern history of crypto. Transition to Ethereum 2.0 implies the simplification of the system, switching to Proof of Stake algorithm of consensus, and widening the functionality of the network. We wish luck to the team of Ethereum, and may no virus, biological or virtual, affect your work!
What lifting crypto bans does to the industry
As you may remember, several weeks ago we were celebrating a great step towards the adoption of cryptocurrency – South Korea and India, one within a day after another, have lifted their crypto bans. And see where this brought them today! Government agencies in South Korea are going to support the nation's blockchain sector. Up to $3.2 million will be contributed to local businesses to help integrate the technology into various platforms. 9 projects will be chosen through free public offerings. In India, Binance and WazirX – bitcoin exchange acquired by Binance in 2019 – have set up a $50 million fund to help local blockchain projects develop and prosper. Initiatives that help develop a full crypto market infrastructure for India will be supported. This news is not just about the adoption itself. It shows us how enthusiastic people can get possibilities for the new breakthroughs – thus developing the country's infrastructure when appropriate conditions are created. I hope more and more governments around the world take this policy for their good.
One type of industry that should not be suffering from the quarantine
I'm not really familiar with the statistics, but I guess there is one type of industry that may have a great profit from the fact that for many people, many of the usual ways to entertain themselves are not accessible at the moment – thus making it necessary to look for a substitution. Whatever substitution people ultimately find, Kentucky-based Wilderness Trail Distillery is enjoying a very promising moment in its history. Last week it reached an agreement with a digital asset manager called Wave Financial to tokenize 10,000 and 20,000 barrels of bourbon whiskey, worth up to $20 million. This has been made so that global investors could gain exposure to the growing U.S. whiskey market. The new type of assets will be publicly available through a specialized digital asset fund.
Another alcohol+blockchain news is not about the money, but about safety: a Japanese branch of Enrst&Young, consulting and advisory service, will use blockchain to protect customers from buying fake sake. 'SAKE Blockchain' will provide information about the quality and accuracy of ingredients, the brewer's location, and temperature records. I guess it's clear enough now that we should use blockchain to make sure we eat fresh food, breathe pure air, and don't do anything inappropriate after taking a sip of Kentucky bourbon last night. Dear developers, are you with me?
Thanks for reading!
This was the third Another Week In Crypto with Pauline Shangett. I hope you enjoyed reading it, and see you in a week! Take care. And look at this nice graph. Aren't we on the right track with all this green?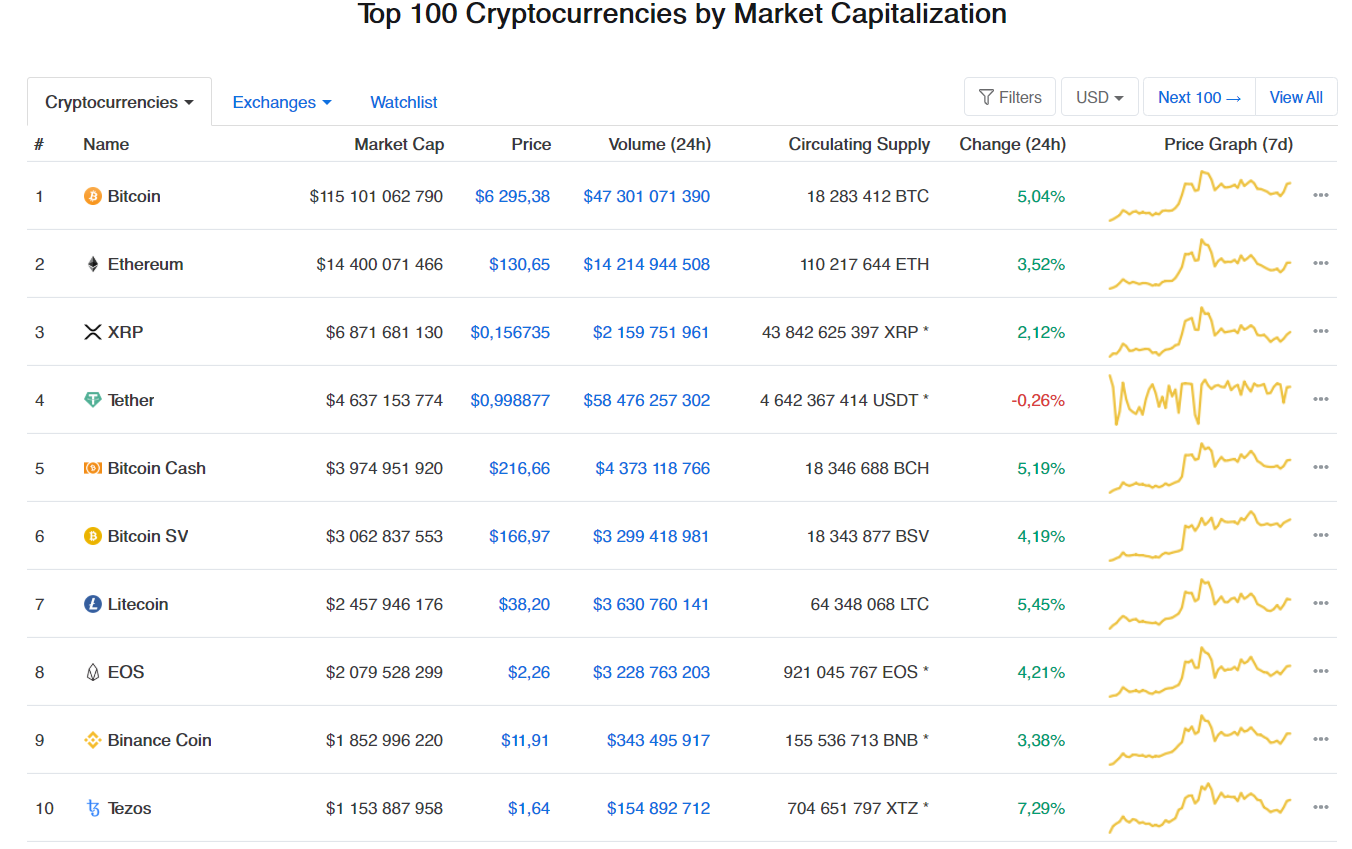 Also Read: