Where to Buy BitTorrent Coin
How and where to buy BitTorrent Coin? Is BitTorrent Coin a good investment? Read our step-by-step guide of buying a BitTorrent Coin.
The BitTorrent network has been around for nearly eternity. It was created long before internet users first heard of blockchains. BitTorrent is a peer-to-peer network for file sharing. It connects millions of users around the world and is insanely popular.
Two years ago, BitTorrent introduced its cryptocurrency - the BitTorrent coin. You can use BitTorrent coins for making payments, increasing BitTorrent speed, and storing files. This guide will show you how and where to buy BitTorrent coins.
What is BitTorrent Token?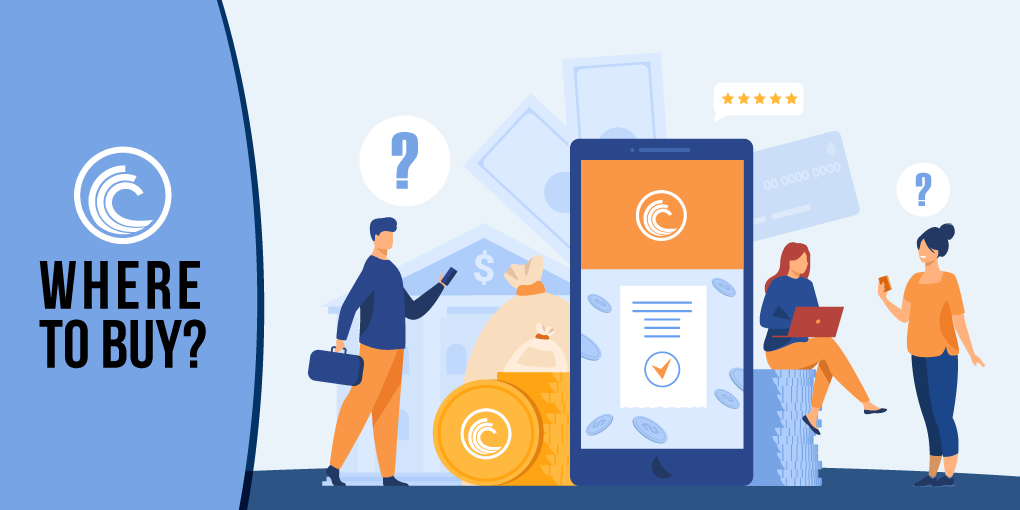 The history of the BitTorrent coin starts with the BitTorrent peer-to-peer file-sharing system created by Bram Cohen in 2001. This decentralized protocol helps users worldwide exchange all sorts of data - musical tracks and albums, movies, texts, software, etc.
Accessing the protocol takes using a BitTorrent client. This piece of software lets users search and download files stored within the protocol. Users may also upload their data to share it with others.
As you see, such a decentralized fashion that serves as a founding principle for BitTorrent bears a certain resemblance with blockchain technologies that we know today. In 2018, this drew the attention of Justin Sun (a CEO for Tron foundation). That same year, he bought BitTorrent. Sun's plan was to create a new cryptocurrency that could operate within the BitTorrent platform and be issued on Tron's blockchain.
Ironically, but as famous and well-known as the BitTorrent network is, not many people know that the same network now has its token. Today, you can trade BTT on most exchanges just like you do with Bitcoin, Ethereum, and any other cryptocurrency.
What is the BitTorrent price today?
As of today, the BitTorrent price is $0.001656. The cryptocurrency's trading volume is $15,776.58. Its market cap is estimated at 0.00000889.
Is BitTorrent coin a good investment?
NOTE: The information below should not be regarded as investment advice or financial advice. The section below is for the reader's discretion only.
With a market cap of $1,624,905,864, BitTorrent might be a good investment. Many crypto exchanges support BTT and let you buy BitTorrent (BTT) tokens with other crypto assets or with fiat currencies via a credit or debit card, bank transfer using several other payment options. You can also sell and exchange your BTT crypto assets.
However, if you're new to crypto exchanges, before you start investing, you should remember that, as with other crypto money, the BitTorrent coin is highly volatile. So there is a risk of losing your investments.
As statistics show, about 70% of retail investor accounts tend to lose their assets when trading CFDs.
Are there ways to earn BTT?
Besides buying BTT, you can earn the token. To earn a BitTorrent token, you will need to download a piece of data using a BitTorrent client and keep the downloaded torrents on your computer for seeding. While seeding, you will be earning BitTorrent tokens. Later, you can use your BTT coins to get a faster download speed.
Where to Buy BitTorrent Coins?
Just like any other crypto coin, you can buy a BitTorrent coin on a cryptocurrency exchange that supports this token. You may use your credit/debit card, a bank transfer, or several other supported options to buy a BitTorrent coin. You should also think about getting yourself a crypto wallet for safer transactions and to surely secure your BTT assets.
But there's an issue: not all wallets support BTT cryptocurrency.
In the final section of this guide, we will look at the best crypto hardware wallets that you can use for trading a BTT crypto.
But now, let's proceed with the step-by-step instruction to buy a BitTorrent token.
In a nutshell, buying a BitTorrent coin looks like this:
Get a BTT-compatible hardware wallet (in the sections below, we will explain why hardware wallets are better than software ones);
Visit a cryptocurrency exchange that supports BTT;
Buy BitTorrent coins and transfer the purchased assets to your hardware wallet.
Buying BitTorrent (BTT) step-by-step
1. Go to a crypto exchange
Cryptocurrency exchanges that support BTT include:
We would recommend ChangeNOW since it has more options than other exchanges. And the platform is very user-friendly. Besides, ChangeNOW supports many other cryptocurrencies, so if you choose to exchange your BTT to another cryptocurrency (Bitcoin, Ethereum, Ripple, etc.), you will do it within the same platform.
2. Buy a Crypto Wallet
While some would say that this is unnecessary, we insist that you get yourself at least a software crypto wallet. But the best option, of course, is getting yourself a reliable hardware wallet.
But what are crypto wallets in the first place?
Crypto wallets are pieces of software or physical devices that let you perform safe cryptocurrency transactions and securely store your crypto assets. Therefore, using crypto wallets is a measure of security. With such a wallet, you get a private key that you use to authorize transactions.
Why do we advise getting a hardware wallet?
When you use an online crypto wallet (a hot wallet), your private key is exposed online, and there is a risk that the wallet might be hacked. In contrast, a hardware wallet - online or cold wallet - provides higher security standards. With a hardware wallet, your private key cannot be hacked since it always stays offline.
So if you plan to trade crypto coins regularly, it is critical to purchase a reliable hardware wallet or utilize one of the trusted online wallets' options, e.g. ChangeNOW's NOW Wallet. When dealing with blockchain technology operations, security is essential.
3. Purchase BitTorrent coin
When you have created a software wallet account or purchased and activated a hardware wallet, you may proceed with buying a BitTorrent coin.
Crypto Wallet Options
In this section, we will list a few wallet options you may consider.
Software wallets
BitTorrent coin is part of the Tron blockchain platform. So it is only logical that you can use a Tron wallet to buy/sell/store BitTorrent assets. This option is also preferable if you're new to the world of crypto trading.
Atomic wallet is one of the most secure and highly-rated software wallets; it is free of charge and has a mobile app. It supports many cryptocurrencies, including Bitcoin, Ethereum, Ripple, Litecoin, Bitcoin Cash, Stellar, and many more. And, of course, Atomic software wallet supports BitTorrent coin.
Hardware wallets
Ledger Nano S is among the world's most appraised hardware wallets. It supports over one thousand (!) coins, including Tron and BTT, and its price is quite affordable.
Wrap-up
If you want to buy a BitTorrent coin, you should do it while the BitTorrent price is still not high. Cryptocurrencies are incredibly volatile, and there is no way to predict the price behavior in the near future. Who knows, maybe tomorrow, BTT will skyrocket, becoming one of the world's most expensive digital coins.
Frequently Asked Questions (FAQ)
Will BTT reach $1?
Today's BTT price is under $1. Its market cap is 0.00000889. Whether BTT will reach a one-dollar mark or not is subject to speculation. However, as unpredictable as the world of crypto gets, anything can happen, and we may see BTT reaching a one-dollar mark in the near future.
How do you buy BTT on ChangeNOW?
ChangeNOW is one of the several exchanges that support BTT. Therefore, you can buy BitTorrent coins on ChangeNOW, just as you can buy any other digital coin. First of all, to buy BitTorrent coins on ChangeNOW, you don't even need to create a user account on that platform since it is registration-free. So you can search for the preferable trading pair to purchase BitTorrent coins.
What makes BitTorrent unique?
BitTorrent is a file-sharing network that connects millions of users worldwide. People use the network for downloading and uploading data of various sorts: tracks, albums, books, films, etc. The platform operates in a decentralized manner.