Weekly Recap: Adoption and Regulation Take Steps Forward
This week, more companies came forward with new crypto releases. Meanwhile, CEL and Harmony are still caught in the aftermath of attacks.
Ethereum Co-founder Vitalik Buterin Doubts Meta's Metaverse Will Succeed
In a Twitter exchange early on Sunday, Vitalik Buterin shared his thoughts on Meta's plans for a metaverse.
As the metaverse concept gathered steam amidst 2021's crypto and NFT boom, many large corporations joined the bandwagon. Facebook announced a rebrand to Meta as the company shifted its focus to metaverse-centered rollouts. However, the notedly outspoken Ethereum creator revealed that he doesn't think the Zuckerberg-led company's attempts will go anywhere.
According to Buterin, the metaverse will come to life but not how the corporations intend it. His assessment is that the metaverse does not have a concrete definition at the moment. Hence, the venture capitalists trying to build around it do not actually know what the people want. It's too early, Buterin explained: "So anything Facebook creates now will misfire."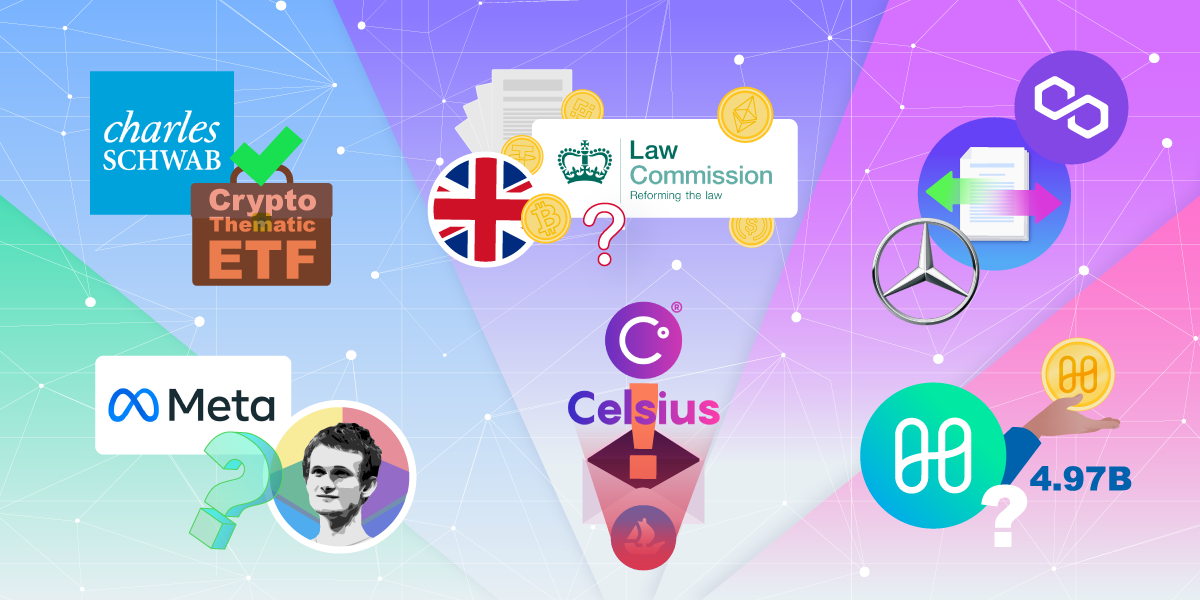 Schwab Corporation to Release its First Crypto-exposed ETF on NYSE
Global financial institution, the Charles Schwab Corporation is set to roll out the Schwab Crypto Thematic ETF (NYSE Arca: STCE). The company's asset management arm, Schwab asset management made the announcement via a release on the 29th of July.
According to the publication, the crypto-exposed, exchange-traded fund will commence trading on the New York Stock Exchange by Thursday, August 4. While ETFs typically track the performance of a broad range of virtual assets, Schwab's will operate somewhat differently.
The fund will follow the Asset Manager's new proprietary index, the Schwab Crypto Thematic Index. Investors will have exposure to companies worldwide that leverage crypto assets and related products to generate profit.
David Botset, Head of Equity Product Management and Innovation explained that the fund "seeks to provide access to the growing global crypto ecosystem along with the benefits of transparency and low cost that investors and advisors expect from Schwab ETFs."
Law Commission of England and Wales Suggests That Property Rights Should Cover Digital Assets
On July 28, the Law Commission of England and Wales published a digital assets consultation paper.
This comes as the UK continues to pursue a robust crypto regulatory structure. The apparently crypto-friendly paper addressed the need to protect the rights of crypto users. It highlighted how industry participants view certain digital assets as "objects of property."
Hence, it pushed for cryptocurrencies and non-fungible tokens to fall beneath UK property policy. The commission acknowledges the uniquely intangible quality of digital assets, hence the paper excludes tokens that simply function as a means of exchange. Rather, the commission honed in on assets that are a store of value or represent other items.
"Property and property rights are vital to modern social, economic, and legal systems and should be recognized and protected," it read.
Celsius User Data Stolen During OpenSea Attack
Crypto lending firm Celsius shared on Thursday last week that it lost a list of customer data to a Customer.io worker.
Celsius broke the news in an email to its customers stating that the Customer.io employee had made off with a list of client emails. The culprit then forwarded the addresses in question to an unidentified bad actor. Notably, they have since been fired and reported to the authorities.
The data theft occurred during the same attack that leaked addresses belonging to OpenSea users. 5 other companies reportedly also fell victim to the data breach. This goes back to late June and at the time, Celsius had received news that its data was safe. Regardless, the platform chose to withdraw all its files from Customer.io.
This comes at a bad time for Celsius given its ongoing liquidity problems. The platform halted withdrawals in June and filed for bankruptcy shortly after.
Mercedes-Benz Brings Polygon Onboard for Data Sharing Platform
Daimler South East Asia, a subsidiary of Mercedes-Benz Group, has partnered with Polygon to launch the blockchain-based data sharing platform Acentrink. Polygon co-creator Sandeep Nailwal announced the collab via a tweet last week Wednesday. "Mercedes Benz @MercedesBenz is the latest brand to be #PoweredByPolygon" the post read.
The platform in question provides a decentralized model beneath which firms can buy, sell, and generally trade data. Acentrink is compatible with various kinds of information such as clinical trials, scientific research, and insurance details. The Polygon network comes in as a way for it to process transactions.
Interestingly, Acentrink stores data in sets with an NFT token representing each dataset along with its metadata hash. The day after the initial announcement Polygon CEO Ryan Wyatt further confirmed the news. He posted a tweet highlighting Polygon's integration with top brands as proof of its great potential.
Harmony Reimbursement Strategy Incites Backlash From Users
Following its $100M hack in June, the Harmony blockchain team revealed a plan to reimburse affected users on Wednesday, July 27. The reimbursement plan will take into consideration more than 65,000 wallets across 14 different assets.
The team put forward 2 suggestions either of which would span 3 years. Option 1 suggests a 100% reimbursement that involves the minting of nearly $5B ONE tokens. Whereas Option 2 calls for a 50% reimbursement with 2.48B ONE tokens instead.
After sharing the proposal with the community, the team received dominantly negative responses. Users were in an uproar over the inflationary pressure the token would experience. They also called out the team for mirroring Terra's recovery strategy. A 2-week long vote on the proposal commences today, however, users have already begun clamoring for validators to vote against it.