ChangeNOW September Media Digest
ChangeNOW constantly monitors all the latest crypto news released by media including the ChangeNOW services' reviews. It is rewarding to see that our efforts are appreciated and covered by respected media channels.
In September 2021, ChangeNOW witnessed lots of events, reviews, and exclusive news. They include the release of our new tracker mobile app, the return of $15m to Compound Finance, several exclusives from our CMO and Head of PR, etc. Let's have a closer look at what media sources have written about us.
NOW Tracker Mobile App Has Been Fully Released
ChangeNOW has officially announced that its mobile tracker app, NOW Tracker, has left beta stage and is now ready for use. The app is available in App Store and Google Play.
Mike Ermolaev, Head of PR at ChangeNOW, says, "Our main goal when adding new elements to the ChangeNOW ecosystem is to cover all the bases for our users, so that anything crypto-related they need or any question they may have, we can help them out with. We want the ChangeNOW experience to be all inclusive, a system where users can solve any queries without leaving it. And our NOW Tracker release is a big step towards this goal."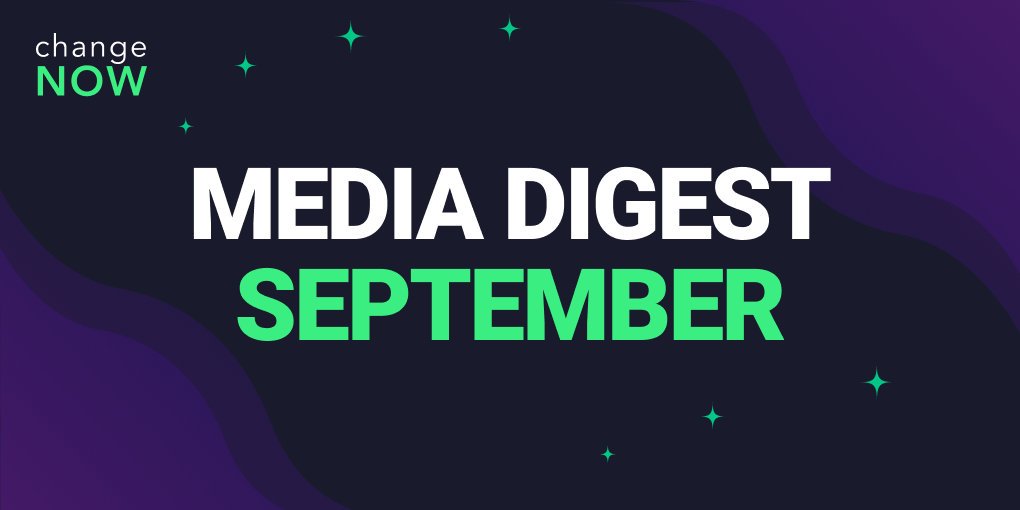 A number of media outlets wrote about our news:
Cryptodaily.co.uk | ChangeNOW Fully Releases NOW Tracker Mobile App
Invezz.com | NOW Tracker by high-speed exchange ChangeNow: Universal, analytical, and free
Coinjournal.net | ChangeNOW releases full version of portfolio tracking app NOW Tracker
Bitcourier.co.uk | ChangeNOW Releases NOW Tracker App out of Beta
Cryptimi.com | ChangeNOW Launches The NOW Tracker App
Visionary-finance.com | ChangeNOW Announces NOW Tracker App Out Of Beta Stage
Cryptoarmy.io | ChangeNOW Announces NOW Tracker App out of Beta
Bestbitcoinexchange.io | ChangeNOW launches portfolio tracking app NOW Tracker
Cryptostart.nl | ChangeNOW lanceert volledige versie van de NOW Tracker portfolio tracking app (in Dutch)
Guiadobitcoin.com.br | ChangeNOW lança versão completa do aplicativo de rastreamento de portfólio NOW Tracker (in Portuguese)
Coin24.fr | ChangeNOW lance la version complète de son appli de suivi de portefeuille NOW Tracker (in French)
Coin-hero.de | ChangeNOW veröffentlicht Vollversion der Portfolio-Tracking-App NOW Tracker (in German)
Acheterbitcoin.info | ChangeNOW lance l'application de suivi de portefeuille NOW Tracker (in French)
Ethereum-kaufen.de | ChangeNOW launcht Portfolio-Tracking-App NOW Tracker (in German)
Comprarbitcoin.com | ChangeNOW lanza la aplicación de seguimiento de carteras NOW Tracker (in Spanish)
Exclusives of This Month
Last month ChangeNOW also had some exclusive news to share. Here are the op-eds written by our team.
Bitcoin Price Hits $50,000, Its Highest Price Since Spring
The cryptocurrency surpassed 50,000 USD in August for the first time since mid-May, after it set its minimum record back in July. Serge Dryamov, CMO at ChangeNOW, wrote an article about the news as a guest author for Cryptonews.com. It was dedicated to the recent Bitcoin fluctuations and bullish moves. Serge commented on the current Bitcoin market position – and on how institutional, social, and economic forces got Bitcoin where it is now.
"No one would doubt that today bitcoin has significant weight and has proved to be a worthy opponent to worldwide regulators. Governments contend with digital assets as they have become indisputable reality." – Serge Dryamov, CMO at ChangeNOW
Read the whole op-ed here: Cryptonews.com
Why Do People Say "It's A Scam"? ChangeNOW Explains The Confusion
In his new article on CryptoDaily, Serge Dryamov explains why some people might wrongfully call our crypto exchange service a scam. The CMO at ChangeNOW describes how we cope with these misunderstandings and improve the exchange experience for customers.
"As an exchange that cares about its users and the quality of the service they are providing, ChangeNOW keeps an eye out for negative feedback from its users. Of course, it's nice to be praised and thanked when things go well. However, learning from mistakes and real-life user issues is often more effective and useful. This is why we always check user reviews and do our best to help in any way we can." – says Serge Dryamov, CMO at ChangeNOW.
The full article is available on ​Cryptodaily.co.uk
China Moves to Ban Crypto but Market Marches On
Our Head of PR, Mike Ermolaev, reviewed the fluctuations of the market after the People's Bank of China had announced it would block all the crypto operations in the country. The article was published as an op-ed on CryptoNews.
"When all is said and done, the crypto movement is unlikely to be hampered much by this latest proclamation out of China. Unfortunately, those most likely to suffer as a result of this action are the Chinese people who will be deprived of the enhanced economic freedom that so many digital assets provide." – Mike Ermolaev, Head of PR at ChangeNOW.
Read the full article on Cryptonews.com
ChangeNOW: What Moves the Crypto Exchange Industry?
Mike has also teamed up with DailyCoin and discussed the values and strategies of crypto exchange platforms in a video interview that's about to be released in October. This article includes an excerpt of the exclusive interview with Mike's views on what forces exchange services to go forward.
"Why does the crypto market need one more crypto exchange service? In my opinion, diversity is what any market demands. If you have only one big service, it doesn't push the industry forward and only in rivalry and in the competition you can see the real move." – added our Head of PR.
To read the whole article, go to Dailycoin.com
ChangeNOW: What Is Crucial for Crypto Exchange Platforms?
This article is another excerpt from the exclusive interview of Mike with DailyCoin. Here they discussed the main values a crypto exchange platform should have to achieve success on the market. For ChangeNOW, one of the main principles when dealing with customers is transparency.
"I think it is [being] honest with your customer. In my opinion, it is the number 1 point in all that transparency. Being honest with your customer even in the tiny details. It is important. That's why we are here, and I can say that we are going to stay here for a long time." – says Mike.
The whole abstract is available on Dailycoin.com
ChangeNOW Reviews
We value opinions shared by independent media sources. Honest reviews help us improve our services every day. It is an honor to receive such comments about us:
"ChangeNOW has indeed created a benchmark in cryptocurrency swap service. By integrating with prime exchanges and wallet service providers, it has become a supportive infrastructure in the cryptocurrency ecosystem." – Invezz.com
"The user interface of ChangeNOW is so simple and intuitive that even a novice trader can swap cryptos instantly without any hassle." – Cryptimi.com
Here's the full list of reviews media wrote about us in September:
Invezz.com | Review of ChangeNOW
Cryptimi.com | ChangeNOW Exchange Review
Coincodex.com | ChangeNOW Crypto Processing and Exchange Service. What Is It and Why You Should Try It Out
Appadvice.com | ChangeNOW Crypto Exchange pro: Exchange Bitcoin and 250+ tokens and coins with great rates
Compound $15m Return: Media Shoutout
Our team is utterly grateful for the support ChangeNOW received from various media outlets after our company helped return $15m worth of COMP to Compound Finance. We are happy that such an important piece of news has been spread quickly after the incident happened. Here's what the media wrote about it:
Invezz.com | Exclusive: Almost $15M in missing funds returned to Compound
Cryptoarmy.io | ChangeNOW returns $15M worth of COMP to Compound Finance
Coinchapter.com | DeFi platform Compound gets back $14.5M in missing funds, thanks to ChangeNOW
Cryptimi.com | ChangeNOW's AML Action Lead To The Return Of $15M COMP
Bitcourier.co.uk | ChangeNOW Returns £10.5M Worth of COMP Lost to Compound Finance Heist
Cryptodaily.co.uk | $15m Worth Of COMP Returned To Compound Finance Thanks To ChangeNOW
We greatly appreciate both praise and criticism coming our way. That is why we are grateful to receive subjective comments concerning our service. And we always value the time and effort media channels take to help spread the news about us.
Cheers,
ChangeNOW Team